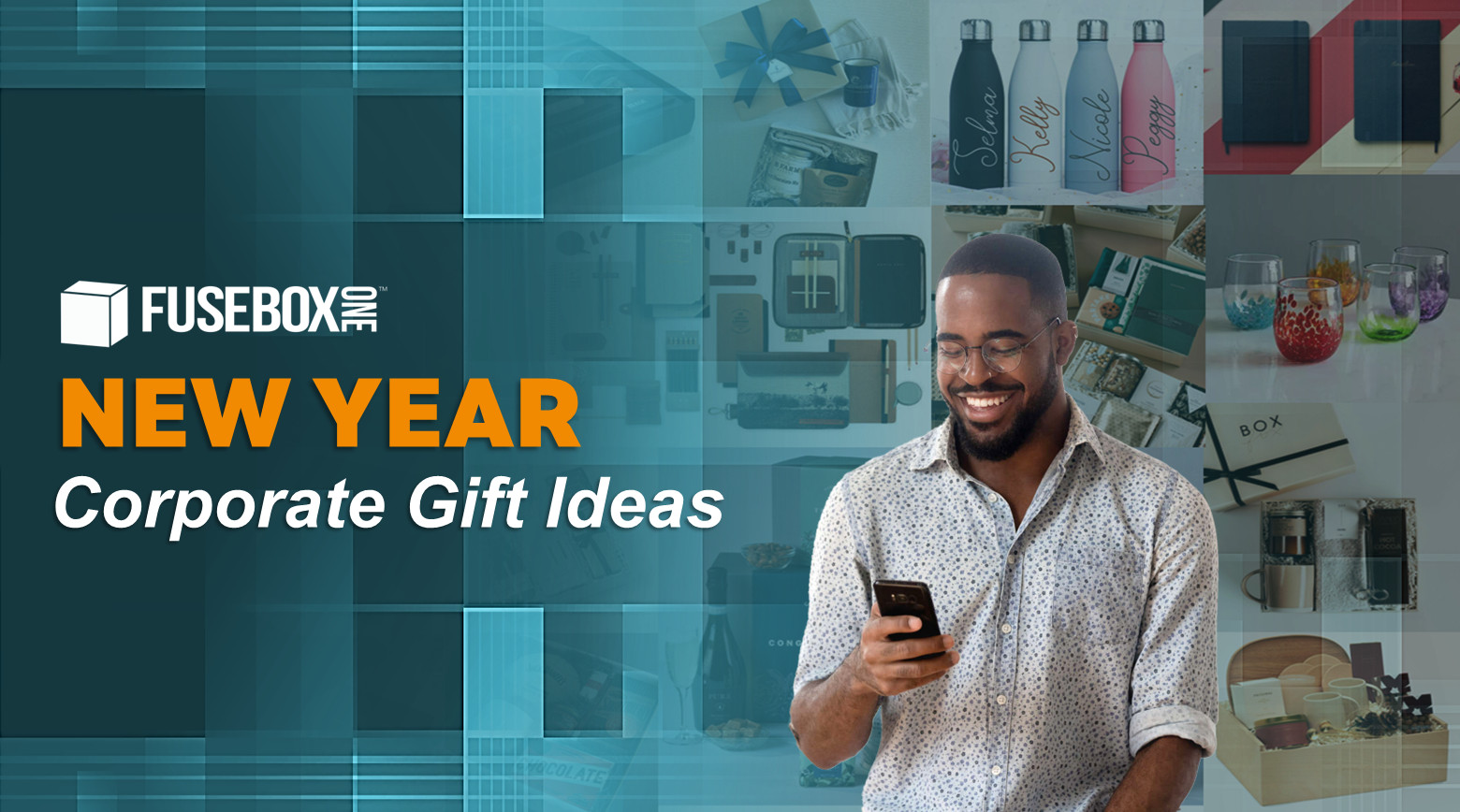 It's that time of year again. The holidays have come, and New Year's Day is on the horizon. It's a time of reflection, gratitude, and of making resolutions for the coming year. That applies as much to businesses as it does to consumers.
One way for a business to express gratitude is through corporate gifts. And giving gifts around the New Year offers a way to cement relationships, build loyalty, and tell those who've supported your brand throughout the previous year how much you appreciate them. Of course, it can be challenging to determine the right corporate gifts at the best of times.
It doesn't have to be a problem, though. We've created this blog to help you explore unique corporate merchandise that can be used as corporate gifts to welcome the new year.
Why Are New Year Corporate Gift Ideas Important?
Before we discuss the many different options available for custom merchandise for business gifting needs, let's address why they're important in the first place.
Corporate gifts allow you to achieve many things with a variety of audiences, including:
Thanking customers or clients for their patronage
Welcoming new customers or clients to your business
Thanking specific employees for their efforts throughout the year
Giving personalized gifts to employees
Corporate gifts also allow you to enhance your brand reputation, show respect (and receive it in turn), increase positivity and motivation within the workplace, and so much more.
A Note on Choosing the Right Corporate Merchandise for Gifting
You'll find that options for custom promotional merchandise abound. However, they're not all created equal. Nor are they all ideal for every need. For instance, suppose you run a small tech company focused on serving B2B clients. You want to say thank you to your biggest client who just gave you over $1 million in business.
Giving them a handful of customized stress balls is not the best way to express your appreciation. However, stress balls work very well as giveaways and swag at in-office events, tradeshows, and conventions.
So, how do you ensure that you're making the right choice? Here are a few tips to guide you through the process.
Gauge by the audience. To whom are you giving the gift? Is it to another business's CEO or management team? Is it to your own employee of the month or an in-house team? The audience will play a major role in determining what you want to give.


Judge by reason. Why are you giving corporate merchandise? Are you saying thank you? Are you showing appreciation? Are you trying to build goodwill or boost motivation? Each of these requires a different type of corporate gift.


Determine by scale. How many people are involved? Are you giving a gift directly to the CEO or is it to a team within the business? Are you rewarding your entire marketing team? Or recognizing the efforts of a single employee? In most instances, having more people involved means you can spend less per individual gift, or you can choose a single large gift that applies to the entire team (think an excursion for the entire team). However, if you're buying for an individual, then the needed value increases.
So, there's no one-size-fits-all solution to questions like how much should you spend or what type of gifts should you give. However, there are ways to chart a path forward. Now, let's talk about some of the best custom merchandise for business gifting needs.
The Gift Ideas
When you think of custom promotional merchandise, do you automatically think of branded T-shirts, pens, and mugs? Those are all popular options, sure, but there's so much more out there! And with the right printing partner, it's easier than ever to customize them with your business's name and logo, as well as text like taglines or personalized messages.
A Selection of Items
One option is to go with no single option! Confused? Don't worry. It works like this. You choose a selection of items with similar price points and then combine them all into a gift guide, complete with descriptions of each item. Your intended recipients are then able to choose one gift from the guide. This ensures several things:
Your recipient can choose something that they like.
You're able to offer variety rather than giving a gift that might not be used or wanted.
You stand out from the crowd.
Of course, this is not the right option if you want to send a personal thank you or give a gift that resonates with an individual. In that case, you have other choices.
Coffee
Coffee – it's the great motivator, beloved by all. And with the wide selection of options out there today, you can give the gift of gourmet coffee that anyone will appreciate. You can offer assortments, coffee and cookie combinations, and so much more. You'll also find that it's easy to personalize and brand these gifts, too!
Champagne
At the risk of sounding a little cliché, a bottle of bubbly makes an excellent option for a New Year corporate gift. You can up the ante with other additions, including a branded gift bag for the bottle and a box of gourmet candies to go along with the champagne. This is a classy, elegant gift ideal for a CEO or other executive.
Don't want to go the champagne route? Almost any decent type of wine will do, from chardonnay to rosé and everything in between. Giving a gift to someone who doesn't drink wine? Craft beer is incredibly popular (and more widely available than ever) or you could go with a tried-and-true option like whisky or a good rum.
Socks
Sure, when you were a kid, socks were horrible gifts. Fast forward to today, and they make great gifts for adults. They're simple and popular, and with the wide range of options out there, they can work for almost any type of corporate gifting need.
For instance, Happy Socks offers holiday-themed socks that are pure fun to wear. Of course, this does mean that you'll need to go beyond the three-pack of tube socks for $5.99 at your local big box store, but your recipients deserve it.
Water Bottles
Do you have someone who's focused on their health and wellness? A water bottle could be just the thing. This type of custom promotional merchandise is cost-effective but can also be customized and personalized very easily with names, logos, tag lines, mottos, and so much more.
You'll also find a very wide range of gift options on the market, from standard water bottles to smart bottles that help your recipient track their water intake over a day.
Headphones and Earbuds
Everyone needs to block out the outside world from time to time, whether that's when they're working on a big project, hitting the road for a jog, or something else. Headphones and earbuds help them do that while ensuring they can enjoy their favorite music (or just block outside sounds depending on the type you select).
You have many different options out there, too, from noise-canceling, over-the-ear headphones to earbuds designed for marathon runners. And you can easily personalize and customize headphones and earbuds with your business name and/or logo, so every time the recipient uses them, they'll think of your brand.
Luxury Candles
Candles have been popular gifts for decades. However, luxury candles allow you to up the wow factor. Elegantly colored and beautifully scented, these aren't your typical store-bought candles. You can choose from many scents designed to brighten the mood, lift the spirit, calm the mind, soothe stress, and more. Plus, you can easily customize the label with your brand name and logo or even a personalized message for your recipient.
Handmade, Personalized Mugs
From coffee and tea to hot chocolate and everything in between, everyone loves a good mug. And with handmade, personalized mugs you can tell your recipient how much you appreciate them. These small but thoughtful gifts will be treasured for years to come, and they're relatively inexpensive, making them great custom promotional merchandise when you need to give gifts to multiple people.
You can personalize these mugs in several ways:
The recipient's name
Something the recipient is passionate about
A hobby the recipient loves
A Mug Warmer
Do you want to say thank you to a particularly dedicated employee who is also a coffee or tea lover? Chances are good that they endure many cold cups of coffee at the office as they push to get big projects through or when burning the midnight oil. Now you can say "I see your efforts and appreciate you" while ensuring they never have to suffer through a cold cup of coffee or tea again! Mug warmers plug right into the USB port on a computer and keep hot beverages warm for hours.
A Wireless Charger
No one wants to be tied down by wires anymore. Today, we're more active and engaged than ever. That demands an agile approach to life. With a wireless charger, you help your recipient cut the cords that tie them to their desk, add convenience, and enjoy the flexibility that they deserve. You'll find many brands out there, and many of them can be easily customized with logos, brand names, recipient names/monograms, and much more. Some wireless chargers are pretty cost-effective, but if you have a bigger budget or are only buying for one or two corporate recipients, some higher-end options offer better aesthetics and unique colors while still being customizable.
Diaries, Notebooks, Journals, and Planners
Giving a gift to someone who needs to write things down? Maybe they keep a daily meditation journal. Perhaps they're into planning out their day down to the hour, or they need to add more structure to their week.
You'll discover an incredible wealth of diaries, journals, planners, and notebooks out there to suit just about any preference or need. Some come bound in leather, while others are better suited for vegans with canvas or faux leather covers. Almost all of them can be customized and personalized with logos, business names, personal names, and monograms to create memorable gifts.
Hoodies and Sweatshirts
While they might not be office-approved, hoodies and sweatshirts are incredibly popular outside of work. They're worn after working out, when it's cold outside, or just when someone wants to feel a little more comfortable. You can choose from many different styles, brands, colors, and types, from full-zip to half-zip and pull-overs. Plus, you can add your business logo and name almost anywhere. As a note, you can customize sweatshirts and hoodies through screen-printing, but you can also use embroidery, which is not just a higher-quality process but will last for years and years to come.
Cheese and Charcuterie Boards
Need to say thank you with some class? Want to make a great impression on a new client? A cheese board or charcuterie board could be just the ticket. You get a savory spread of gourmet delights, including delectable cheeses, cured meats, fruit, nuts, and much more, along with a hand-crafted board that can be used again and again. Of course, you'll want to make sure that your recipient isn't lactose intolerant or vegetarian/vegan before giving this type of gift.
Work with FuseBox One for the Best Custom Merchandise for Business
We've covered a lot of ground in this post, from establishing why New Year corporate gifts matter to discussing a range of different gift types. What we haven't talked about is the need to work with a trusted printing partner that can create customized corporate gifts.
At FuseBox One, we offer industry-leading equipment and technology to personalize and customize just about anything. From sweatshirts to coffee mugs and everything in between, we make it possible to create corporate gifts that send the right message and that will be appreciated for years to come. Get in touch with us to explore the many different options available for corporate merchandise, and to learn more about how we can customize them.
Source:
https://snacknation.com/blog/corporate-gifting-ideas/#VIP
https://blog.vantagecircle.com/new-year-gift-ideas/
https://brandazzlers.com/corporate-gifts-ideas/top-new-year-corporate-gifts-ideas-employees-clients-customers/
https://www.businessinsider.com/guides/gifts/best-corporate-gifts#an-atlas-tea-club-subscription-to-some-of-the-worlds-best-teas