At FuseBox One we have some of the best people around. In addition to their day jobs, our employees have a wide variety of interests that make them unique individuals. Below are some questions and answers that aim to introduce our community to the bright, brilliant, witty members of the Fusebox One family. Our first employee spotlight will be Ashley Thayer who was recently promoted to Customer Experience Representative.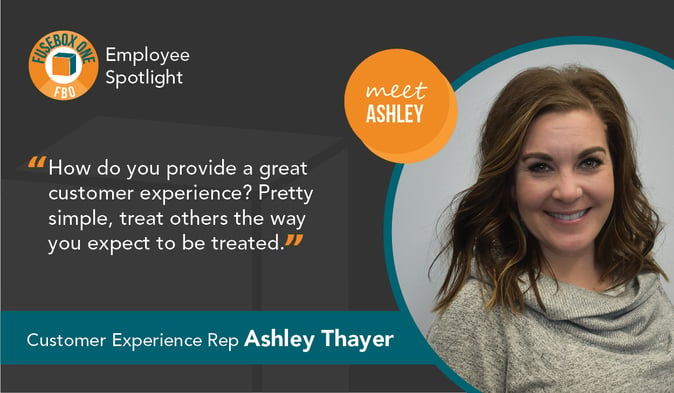 How long have you been with FuseBox One, and what do you do here?
2018 – I started off as an Account Manager and have now been promoted to Customer Experience Representative
What is your favorite thing about working at FuseBox One?
I love the family feel atmosphere. The culture of the people fit my personality and makes it fun to come to work everyday. Small but Mighty!
What has been one of the best projects you worked on at FuseBox One?
My favorite project is the Napa Fulfillment project. It had many moving pieces which called for a lot of collaboration with the client, production and project management.
What was your first job?
I worked at Victoria Cleaners (drycleaners). My work involved interacting with clients and tagging their clothes.
What hashtags best describe yourself?
#happygolucky #flybytheseatofmypants #confident #kindandcaring #livinthemomlife
Where is your happy place in Des Moines?
I have a few places, Valley Junction, East Village, Saylorville Lake
Tell us something that might surprise us about you?
After I graduated High School, I wanted to go to Cosmetology School. Hair, Skin care and makeup has always been a passion of mine. I like to make everyone look and feel beautiful!
Who would you most like to have dinner with?
I would like to have dinner with Mark Walhberg. The fact that he has been a singer, currently an actor and now a restaurant/business owner, he would have a lot to talk about and a lot to teach.
Craziest thing you have ever done?
I wouldn't say that I am much of a risk taker, but I do enjoy a little rush occasionally. I went cliff jumping at the Lake of the Ozarks.
What hobbies do you have outside of work?
First and foremost, my 3 Kids take priority. After that I love to do crafts, girls night out, and lounging around watching my favorite TV shows.
Connect with Ashley ---> LinkedIn
---
Thank you, Ashley, for all you do for the FuseBox One family!