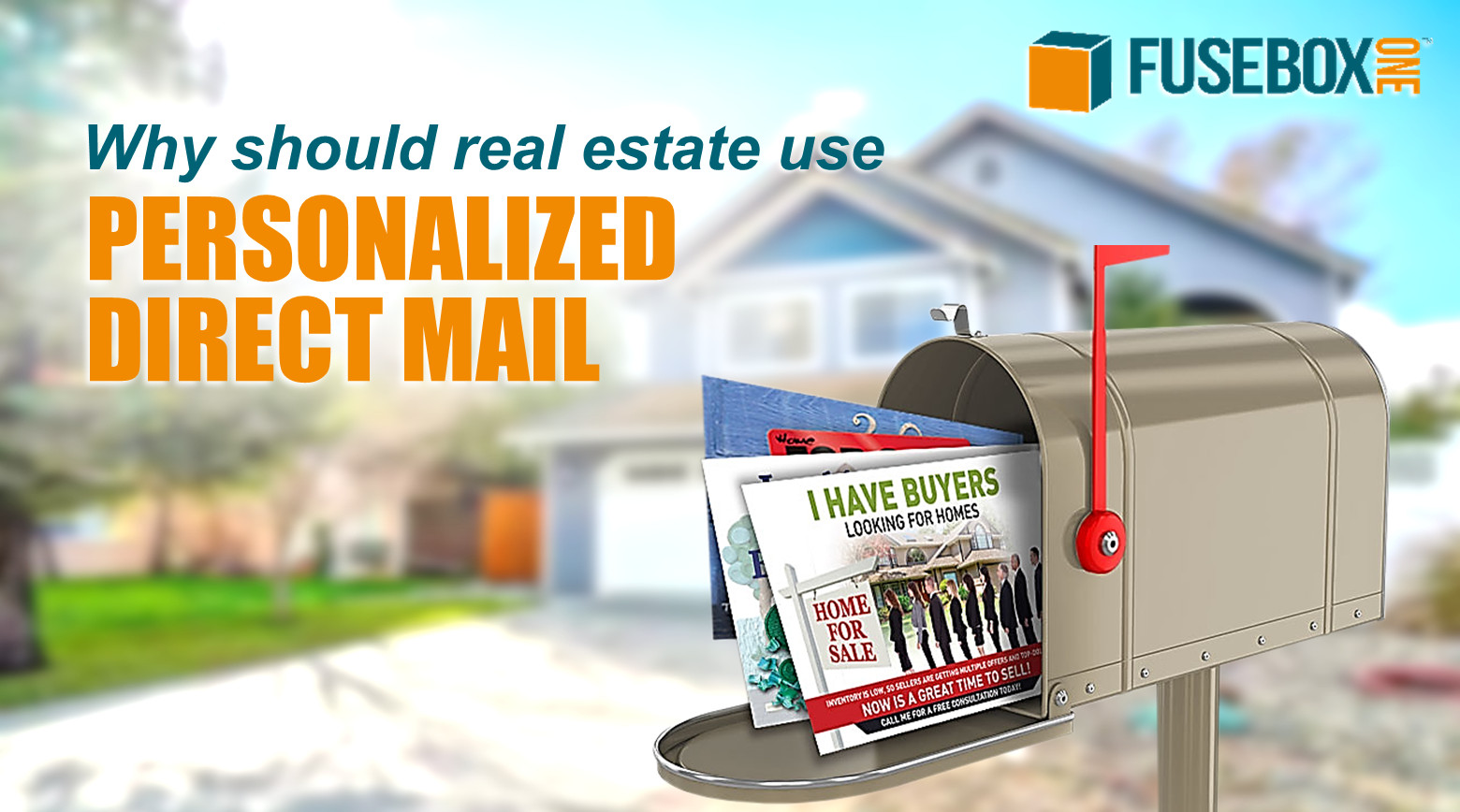 It's easy to be seduced by the lure of digital marketing. After all, if everyone's using social media and checking their email inboxes, why would you want to invest your marketing budget anywhere but digital marketing?
The answer is simple: traditional advertising is still very much alive, and direct mail marketing remains one of the most effective tools for any real estate agent.
In this post, we will explore direct mail for real estate, including what it is, why it is a must-have tactic, and even how to choose between different direct mail services available.
What Is Direct Mail?
Before anything else, let's discuss what direct mail for real estate might consist of. You can probably think of one or two types, like postcards or glossy one-pagers. However, there are so many different direct mail advertising options that can work for real estate agents and agencies. Here are just a few samples:

Postcards

One-pagers highlighting a couple of properties

A magnet emblazoned with your name, logo, and contact information

Newsletters

Holiday-related content

Calendars (wall, desk, and magnetic)

Brochures and flyers
To sum it up, direct mail is a physical object that you send to prospects. It makes a direct connection with them in the real world, and, unlike emails or social media ads, direct mail tends to stick around, giving you more bang for your marketing buck.
Why Does Direct Mail Advertising Work for Real Estate?
Now that we've established what direct mail is, let's delve into why it's a must-have for your marketing toolbox.
Over 70% of Gen X consumers see direct mail as more personal than digital communications.

Direct mail's average response rate is 2.7% to 4.4%. Compare that to email's 0.6% response rate.

The open rate for direct mail can reach as high as 90%. Email sits at just 23%.

Over 40% of people who receive direct mail read it.

Almost 75% of consumers in the US prefer direct mail over digital marketing because they can read it at their convenience.
Those statistics should highlight two things. First, direct mail is very much alive. Second, it's a very powerful tool that deserves a space in your toolbox. Of course, you need to do things correctly. Developing a direct mail strategy is an important step.
Create a Hometown Feel
One of the advantages of direct mail marketing for real estate professionals is that it gives you a direct connection with people in your local area. However, you need to cultivate that hometown feel.
Your recipients shouldn't feel like they're being contacted by some faceless real estate agency they've never heard of, but by a local real estate expert who might live right down the road from them. That local connection is one of the most powerful things about direct mail. So, how do you cultivate it?
First, make sure you're using relevant imagery. Go with photos of well-known local landmarks if possible. That might be a historic town hall or library, or it could be something else – a park, a famous stretch of beach, or the gates of a local college or university could work.
Second, focus on you as the real estate professional, rather than on your agency's name. Yes, some of those might carry a lot of weight, but let them do their talking from the background. Include it in your logo or somewhere else in the graphic design, but don't make it front and center.
Third, find a neighborhood without a go-to real estate agent. This provides an underserved area with access to a trusted professional and ensures that you're not stepping on anyone's toes.
Be Choosy with Your Leads
Too many real estate professionals assume that the best option is to send a postcard or letter to every home within a specific zip code. The idea is that casting a wide net will bring in more leads. The problem is that your real audience is only a fraction of the people living within any given zip code, so you're essentially throwing away your marketing budget without any hope of a matching return.
Instead, make sure you're targeting your recipients. How do you do that? By harnessing a combination of offline and online technologies. For instance, you can work with a lead generation provider that tracks consumer behavior online.
Say someone visits Zillow regularly, or they're searching for ways to sell their home online. Maybe they're checking out moving guides and how-to content. These are all flags that indicate someone may be interested in selling their home. You can then use those lists to target your direct mail marketing efforts.
Go Graphic-Heavy
You've seen them before. You open your mailbox and pull out a postcard. One side features a generic image of a house with a "sold" sign in the front yard. The opposite side of the postcard has a message that appears to be handwritten, explaining that so-and-so wants to buy your home. Most of the postcard is text and it just feels heavy and overloaded.
Avoid that. This is the type of direct mail content that just gets tossed into the trash. Instead, focus on creating graphic-heavy postcards and other printed material that communicates your message loud and clear. For instance, you can feature:
Your logo in full color

Your name and contact information are featured prominently

Imagery that speaks to your experience and professionalism

Imagery that creates a connection

Imagery that speaks to your specialty in the real estate industry

Imagery that speaks to the location, including city skylines, well-known landmarks, etc.
Keep the text minimal. It should comprise less than 25% of the total design (including both front and back).
Here's an example. Let's say that you know many people who are interested in owning a local condo. You have a prime property. Invest in professional photography and then use those pictures in your marketing. Several shots of the interior and then the city skyline framed through the unit's sliding glass doors would make a great collage for one side of a postcard or use on a brochure or flyer, for instance.
You do need to avoid some missteps when it comes to graphics, though.
Don't use stock photos.

Don't use images that might mislead your audience.

Don't use images that make it seem like you're marketing a particular property when you don't represent that seller or have that property as part of your portfolio.
Use the Front and the Back
Each piece of direct mail you send has two sides. Make sure you're using both effectively. This is easy to see with postcards, but it applies to brochures, flyers, reminders, and even letters.
Here's an example. Let's say you're an Atlanta-based real estate professional and you're looking to use direct mail marketing to your advantage. You decide to send out a postcard to targeted addresses, and you opt to change things up.
Instead of the standard horizontal design, you decide to go with a vertical layout. That allows you to use a photo of the city's skyline, along with a relevant headline promoting Atlanta's status as a great place to live. Under that, you can show off several images of the properties you have to offer, along with your professional photo and a brief blurb.
On the back of the postcard, you can include a well-laid-out calendar of local events, supported with relevant imagery. This allows you to provide value to your recipients and increases the chances that they'll save the postcard so they can remember the events they want to attend. That also means they'll be saving your name, bio, and contact information.
FuseBox One Commercial Printing
Be Seasonally Relevant
What are the busiest times of year for real estate agents? If you've been in the game for very long, you know that it's the summer months, plus the holiday season. You can use that information to your advantage by investing in direct mail printing that leverages those times of the year.
As an example, let's say you wanted to send out a holiday-themed postcard to share season's greetings, but also to remind your audience that if they find themselves moving during that time, you can help.
Go all in on the happy holidays messaging and use a card design that stands out yet is tasteful. Include your photo and contact information, as well as a personalized message wishing your recipients the happiest of holidays, along with a note that if they find themselves changing addresses, you can help them streamline the process.
The back of the card should look like a holiday card, increasing the chances that your recipients will keep it since many people showcase the lovely greeting cards they receive during the holidays.
You can riff on this during the summer months, as well. Pull together a summer-themed collage or go with something classic like a beach theme. Combine that with wishes for a great summer experience and a reminder that you're there to help should they find themselves facing a move.
Be Consistent
It's easy to get discouraged if your initial direct mail campaign doesn't lead to your phone ringing off the hook. However, it might be time to check your expectations. If you assume your first campaign is going to be a smashing success, it pays to remember that it takes over eight contacts within 30 days for someone to remember your name. One direct mail campaign might net you results in people who need to sell right away or are thinking about moving very shortly, but it does little for those who might be longer-term prospects.
What's the solution here? Rinse and repeat. You need to keep your name and message front and center, and that means continuing to remind your audience that you're available and specialize in helping them find their dream homes (or sell their properties if they're moving to another area).
The good news is that with the right direct mail printing partner, this is an affordable option. A quarterly postcard strategy could cost you very little, and with a trusted partner, you'll get high-quality paper, vivid photo reproduction, and even help with sorting and sending the postcards!
Get Personal
While some of your communications might not be very customized, it's important to take a personal approach when possible. For instance, you can personalize each mailer with the person's name, as well as any other information you're able to learn about them, such as the property types they're considering or the area they're thinking about moving to.
The more personalized the message, the more directly you're able to speak to that individual. However, remember that the point of most of your direct mail marketing is going to be just keeping your name front and center, so there's no need to get super personalized.
The Right Direct Mail Solutions
As you can see, direct mail has a place in your marketing efforts. It can offer much better traction than digital marketing and allows you to cut through much of the noise online. Your recipients are much more likely to read your direct mail postcards and other material, and many people will save items they find interesting for reference later.
The most important element to your success is working with the right direct mail printing partner. You'll find a wide range of direct mail solutions on the market today, but that doesn't mean they're cut from the same cloth.
Make sure that the company you choose has a reputation for high-quality printed matter, uses modern equipment and tools, and can help you personalize the content you send to potential clients in your area. With the right commercial printing company, the sky's the limit for your direct mail campaign!
At FuseBox One, we're proud to support our customers through effective, wide-reaching direct mail solutions. We can also offer additional services, such as list acquisition, graphic design, and full project management if you want to take a hands-off approach. Get in touch today to schedule your free consultation!
Free Resources:
Source:
https://agentfire.com/direct-mail-marketing-benefits/?gc_id=19080883115&h_ad_id=&gclid=CjwKCAiAqaWdBhAvEiwAGAQltiw4ha-g8LmDOFgvP4cx3aOP2ohjyq6-gIY8ku9Xz_AAOpDjgwCYjhoCfsAQAvD_BwE
https://www.inkit.com/blog/why-are-real-estate-direct-mailers-so-effective#:~:text=In%20fact%2C%20real%20estate%20direct,your%20sales%20and%20marketing%20goals.
https://www.nar.realtor/direct-mail
https://www.cresinsurance.com/direct-mail-marketing-effective-realtors/
https://www.postalytics.com/blog/real-estate-direct-mail-marketing/
https://www.linemark.com/the-most-important-direct-mail-marketing-statistics-for-2022/
https://www.pebblepost.com/blog/15-statistics-that-prove-the-power-of-direct-mail-in-2022/