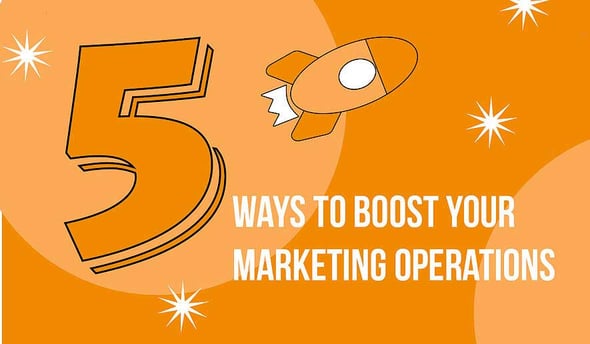 Like all aspects of business, marketing is an ever-changing industry that requires constant research and tracking to determine whether your team is utilizing time effectively. It can sometimes be difficult to tell what's working and what isn't. But chances are there's something that can be improved upon. As your company continues to grow, your marketing department will become more complex. Get a handle on how marketing operations are working now before it grows into a team that utilizes less efficiency and wastes more time.
As departments keep expanding, data gets split up and likely entered into a multitude of different systems. Keeping track of this can be increasingly difficult, especially without a marketing asset management system to expedite the organization, sharing, and publishing process. It's no secret that content marketing is one of the best ways to increase ROI, which makes it all the more vital that your company improves its marketing operations as fast as it can.
Here are our Fusebox One team's top 5 tips for boosting your marketing operations starting right now.
1. Learn Your Audience
Do you know who your customers are? Is your marketing team aware of your audience's interests, needs, demands, favorite social media platforms, and consumer habits? If not, one way to find out quickly is to take a look at your company's analytics. Numbers will show what marketing campaigns were a hit, and which ones fell short of the mark. If you did something right, it's likely that you stayed consistent and unique enough with your messaging to stand out from the rest.
Your consumer audience is likely receiving loads of ads, promotions, and messages from different companies all over the world – and in your local area. What can you do to be different? How can you get your company's message out while offering something new to the table? Assign this research task to your marketing team so they can optimize their marketing efforts exactly where and when it counts. Plus, making use of an automated business intelligence report as part of your marketing asset management system will take you straight to the numbers so you can start formulating the next steps in your optimization plan.
2. Churn Out Content Consistently
A huge part of marketing strategy has to do with content development. Without creating new content on a consistent basis, your company will fall behind in the world of social trends, and your relevancy ratings will start to drop. It's important to stay on top of the game by dedicating a portion of your marketing team specifically to content development.
This can be made even easier with the use of a marketing asset manager, which will do the busywork of creating repeated assets and new content using your branded templates so you can spend more time with the new stuff.
3. Look at Your ROI
Each of your marketing campaigns presents a certain return on your investment. Ultimately, your goal is to isolate the campaigns that are giving you the best ROI, and work on growing those. When analyzing the way your campaigns work, and whether or not they were a financial success, keep in mind that your focus should be on the tools that allow you to grow.
With your marketing team, determine the campaigns with the best returns, identify what's working about them, and then make them a top priority. You can increase your ROI by over 200% with campaigns that really work. However, it's important to know that ROI increase is not always immediate. Do not expect your value to skyrocket overnight; but with that in mind, plan to make back your return on your investment within 5-7 years of your initial campaign launch.
4. Make Communication a Regular Thing
Do you know that the three rules of real estate are "location, location, location?" Well, the three rules of effective marketing are certainly "communication, communication, communication." Only when your departments can talk with each other effectively will your operations begin to improve. Cross-departmental work is to be expected every day, and so better forms of communication should be normalized.
Establish a workflow that functions well between all the different divisions in your company. Make sure that everyone is on board with this workflow, as an "all hands on deck" approach can really keep the cogs of the company wheel turning smoothly. Make sure every team is aware of the other team's tasks, and has a solid understanding of their timeline, so they know when to expect finished work. Stay in touch with deadlines and schedule follow-ups to make sure everything is executed well from start to finish.
5. Keep Your Brand Close
Whatever you do, make sure not to lose sight of your branding. Plan for all marketing operations to focus on the original vision and aesthetic style that your brand has already put out. If you have been in business for a while now, you likely already have a strong brand voice that your consumer base is familiar with. Staying on brand is important to both the integrity and the growth potential of your company. Without brand recognition, you can get lost in the sea of voices who are trying to promote a business similar to yours.
Staying on brand is made much simpler with the use of product templates through your marketing asset management system. Fusebox One's MAM is designed for you to customize your marketing campaigns to stay close to your brand's voice. Add all of your brand's assets and content to your management system, which will place it into templates that can be reused and automatically reworked to fit more specific audiences. That way, your marketing team can spend their time focusing on new content production and furthering your brand's voice. Let the automated tools do the busywork.
Meet Your Marketing Operations Goals with An Automatic System!
At Fusebox One, we understand how massive of an effort it takes to constantly produce effective marketing. While it's important to research your campaigns and recognize the successes, it is also imperative to know how you can be utilizing your marketing team more efficiently. For more information about our marketing asset management tool, request a demo today!