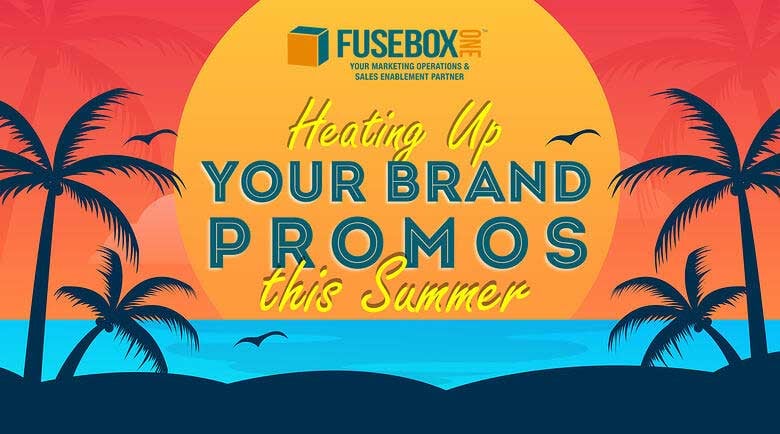 Summer is often the time when retail sales slow down, but this doesn't have to be the case for your business! When you use brand promotional merchandise at your events and for your marketing operations to gain customers, people everywhere will see your company's name and seek out your products. FuseBoxOne makes getting these products into the hands of your business — and then, your customers — streamlined and easy.
One of the reasons retail sales slow down during the summer is that people are outside — exploring, vacationing, relaxing, etc. — instead of inside shopping and consuming. However, when you concentrate your brand promotional merchandise on things that people are using outside, you're targeting your market while using the season's activities to your advantage.
Let's take a look at some of the ways you can use summer activities to heat up your marketing operations with brand promos this summer season.
Beach Towels
Everyone is hitting the beach all summer long! There's no better way to get your brand name out there than by splaying it across an oversized beach towel. Use your company's recognizable colors and logos to get noticed no matter how far down the beach your potential customer is.
Baseball Caps
When someone pulls out your baseball cap for all those summertime pickup games, they're thinking of your company. Then, no matter where they wear it all day long, everyone who passes them will be thinking of your company and wondering how your products can benefit them, as well. Pass out some baseball caps and bring in the customers.
Beach Hats
Your target market wants to block out the sun's rays but you want to shine in! Place your company's name and logo around the rim of an oversized beach hat and you'll be remembered long past the end of summer.
Bucket Hats
All that nostalgic wear from the 80s and 90s is coming back, and there's nothing more fun than a bucket hat to fit in with the trends. The best thing about bucket hats? They can be reversible! Double up on your marketing with your company colors and name on one side and your logos mapping out the other. People will love that they get two hats in one!
Visors
Visors are great during the summer because they easily fit inside a beach bag or suitcase and hold up well to being packed along for any adventure. They're also great for gals who have a lot of hair that they want up off their neck, but still need face protection! So, order some in your company colors that people will recognize from far away, and stamp them with your name across the brim or the band.
Lanyards
When you've got a beach bag laden down with "stuff," finding your keys can be a struggle! Everyone loves a good lanyard so that their keys can either be easily spotted amidst the day's supplies, or so that they can wear them around their necks for easy access. Every time your customer (or potential customer) turns on their car, unlocks their house, or scans their member card at the grocery store, your brand name is right there.
Tank Tops
Who doesn't love a good summer tank? Splash your name across the front, back, or both for a great way to advertise both to the customer wearing the shirt and everyone else they know.
T-Shirts
T-shirts are an easy addition to someone's summer wardrobe, as well as something that lasts year-round. Even when the temperature drops, people use t-shirts to exercise in, sleep in, and simply to lounge around. If you want something that will get your name out there no matter the season, t-shirts are the way to go.
Sandals
You might not think of sandals as something that people notice, but they get kicked off most of the time and you can see the whole shoe! Use a non-wearing material with your logo or colors on the sole of the sandal, and choose a wide strap that can display your company's name. Whether your target market is hitting the beach, the pool, the park, or just going for a beautiful sunny walk around the neighborhood, your promotional sandals will be easy to slip on and remember.
Tote Bags
Summertime is full of adventures! People need drinks, food, towels, extra clothes, outside toys, etc. You know what else they need? A huge bag to lug it all around! Tote bags are a great promotional item because your customer base automatically associates your company with something helpful and resourceful. You give them a bag; they give you their business (and advertise for you with each use!).
Coolers
On a hot day full of adventure, there's nothing better than pulling out a cold, refreshing canned drink that's been waiting for you in your insulated cooler. When your customer pulls out their favorite refreshment from a cooler that you gave them, they'll remember how much they appreciate your products. Associate yourself with relaxation, refreshment, and accessibility with an insulated cooler.
Koozies
Once you've pulled that cold drink out of the cooler, you don't want to rush to finish it! Enter: the koozie. Pass these out in multiple colors and designs so that your target market can keep their drinks cold, keep their hands comfortable, and no one forgets which drink was theirs as the day (or night) gets going.
Pins
Everyone loves to add flair to their get-up! Pins are fun because they can be added anywhere: lanyards, hats, beach bags, backpacks, cooler handles… the sky is the limit! You're doing double duty here when you also add one of the above products to your promotional pins… the more people see something, the more they know they need it!
Pens
Everyone always needs a pen, no matter how many they already have. Do you know how many times a day you reach for a pen, even in this age of computers and technology? More than you'd think. Pens are an inexpensive way to get your brand's name in the (literal) hands of your customers. The best thing about pens is that not only do they last a long time, but they get passed around from person to person and place to place — effectively spreading your company's name further than you could even imagine.
Laptop or Tablet Cases
Although pens are great for those everyday tasks where you don't use an electronic device, technological machines are our go-to. Everyone needs to keep theirs safe, though, so a laptop or tablet case is perfect for connecting your company's name to safety and tech-savvy thoughts.
Laptop or Tablet Sleeves
You can never keep your precious laptop or tablet sleeve too safe. Whether or not you have yours in a case, a sleeve keeps it extra protected. Make your sleeve in your company colors inside and outside, and use your name and/or logo on the case itself or on the zipper.
Travel Neck Pillows
Most of the population does their traveling in the beautiful summer months. Associate your brand's name with comfort when you pass out neck pillows that your customers can use whether they travel by plane, train, or automobile.
Magnets
Who doesn't love (and need) a good magnet on their fridge? People love to collect magnets from their favorite places, but they also love magnets that have easily accessible information on them. Magnets are inexpensive and you can load them up with your company's phone number, email address, and other info that your target market would find helpful.
Water Bottles
It's important to stay hydrated no matter the season, but during the summer your water intake should be upped even more! The best way to do that is with an easily carried water bottle that keeps your drink cold and refreshing. With every sip, your company's name will be remembered, no matter where your customers go.
Stickers
One of the trendiest fads right now is to cover up a plain water bottle with stickers of your favorite places and brands. What better place to put your marketing operations to good use? Stickers are easy to make and order in bulk and don't take up a lot of space when you're carrying them with you to events. People can put your stickers on their water bottles right away, instantly beginning to advertise your brand!
Car Stickers
There's no better way to get your company's name out there to as many people as possible than by a car sticker. These can be put on the classic bumper of a car, the window, or the trunk. No matter the place, hundreds — or even thousands! — of people a day will see your company's name and logo wherever your customer drives.
Keychains
Everyone uses a keychain still, even for their keyless entry cars. You need to know where your keys are in your bag or purse, so a keychain helps keep those handy and easily found. These are fun because they can be made in the actual shape of your company logo, which associates your brand's uniqueness in your customer's mind even more.
Boat Floats
Who doesn't love floating around on the lake, soaking up the sun with their favorite people all summer long? But, alas — sometimes in the fun of the day, those keys fall overboard. Not to worry when they're attached to a boat float keychain! Your customer won't be left on the water in a jam, and they'll always appreciate your company's extra useful promo product.
Backpacks
Backpacks are an investment that might be reserved for the best of your customers, but they're still an incredibly useful promotional product. Not only can they be worn everywhere with all the summer gear inside, but wherever your customer goes, your name will be displayed. Backpacks are also useful year-round, especially if your target market is in school, so your promo product won't get stashed away for most of the year.
Fanny Packs
Just like the bucket hats, fanny packs are the 80s and 90s trend that is coming back! Not only are they fun and funky, but they keep just the right amount of "stuff" inside, and at a safe and easily accessible place. Let your company remind your customer that you care about their ease of life and safety with a promotional fanny pack.
Picnic Blankets
Ahhh… a beautiful picnic on a summer day at the park. No better way to make your name large and in charge than displayed across a picnic blanket that can be used for anything else all year long! Your customers will always want to keep this in their car to be used wherever they go.
Bleacher Seats
Summertime is filled with sports, and although we all love a day at the ballgame, sometimes those hometown bleachers just aren't the most comfortable. Hand out company-branded bleacher seats at your next event and everyone in the stands will have their eyes on your name — as well as the ballgame.
Reusable Tote Bags
Everyone is thinking about the environment these days, and a reusable tote bag will get used, well, over and over again! Not only will your customer think of you every time they hit the grocery store, but so will the checkout clerk, others standing in line, and everyone else who spies your company colors, logo, or name displayed across the bag.
Camp Chairs
This is another option that costs a bit more and might be reserved for your best customers or as rewards, but they'll last forever and will be great advertising at sports games, the beach, camping, the lake, or anywhere else.
Sunglasses
Everyone needs plenty of sunglasses: in their purse or backpack, in the car, in the beach bag, in the second car, etc. How fun to have a pair of shades in bright summer colors that have your favorite company's name on the arms? Cool sunglasses never go out of style, no matter the season.
Beach Balls
These are inexpensive to make, small to transport, and full of fun! With every volley of the inflatable beach ball — whether it's at the beach, the pool, or just the backyard barbecue — people will associate your company's name with a great time all around.
Bottle Openers
No matter the type of drink your target market loves to consume, there are always a few brands that come with non-twistable caps. There's nothing more satisfying, though than that sound of your favorite refreshment being opened up and ready for you to enjoy on a hot summer's day. Unless you're using a bottle opener that has your favorite company's logo on it! It's inevitable that when one person opens a bottle, it gets passed around to a few more, too, so handing these out to your customer base ensures that your name gets in plenty of people's hands.
Hammocks
Here's another item that is an investment as far as marketing operations go, but that will keep your name remembered as quality and appreciated. Hammocks are all the rage for hanging in between trees at the park, the beach, the lake, or even just in your own backyard. When they come in your company's recognizable color scheme and/or with your logo stretched across the bottom and on the bag, you guarantee that every time people set it up they'll remember and appreciate your company's work.
Mini Fans
A sweltering summer day always needs a handheld fan! You want your customers to associate you with comfort and an enjoyable atmosphere, and a handheld mini-fan will do just that. Once one person cools down, they'll probably pass the fan off to another friend or family member who needs some relief, so this is another product that will get your name out there in exponential numbers.
Floating Drink Holders
Whether it's in the shape of a flamingo, a pineapple, a palm tree, or your own company's mascot, floating drink holders are the epitome of a vacation-style day. Make sure your name is easily visible when the drink is in the holder, and every time your customer (or potential customer) reaches down to take a sip of their cool, refreshing beverage, they'll think about how they need more of what you have to offer.
Zippered Sunscreen Cases
With every year that passes by, sun protection is more and more important. You can get your name put not only on the case but the travel-sized sunscreen and lip balms that could go inside of it. Everyone needs something that's easily carried, and the easier it is to bring along the more it'll be used — getting your name out there with each sunshiny day.
Water Squirters
What could be more fun? Water squirters bring back the nostalgia of summer days on the neighborhood block, with all the kids chasing each other around and laughing without a care in the world. Get some done up with your company name and logo on the side, and no one will even realize they're advertising for you as they play their summer water games.
Acrylic Tumblers
Just like water bottles, acrylic tumblers make it easy for people to stay hydrated. These can come in a ton of different colors and have the space for your company's name, logo, motto, or even contact information to be displayed easily so that everyone notices your brand whenever your customer takes a sip.
Toiletry Cases
Since people are doing a ton of traveling over the summer, a small case for all their toiletries is essential! Do yourself up one more level and add in a few logo-printed travel-sized bottles and your customers will think of you both day and night during their vacations.
Hand Sanitizer Holders
No one wants to spread germs, but every company wants to spread its name! Silicone hand sanitizer sleeves are the perfect way to have your logo on the outside of someone's purse, backpack, food cooler bag, or any other place where they want to make sure they have easy access to clean, germ-free hands.
Frisbees
If you want your name flying everywhere, whether it's through the air in conversation or through the air on a frisbee, then putting your name on one of these classic summer sports pieces is essential. Frisbees are easily portable, inexpensive, and associated with fun from sunup to sundown, at any summer activity.
Final Thoughts
There's a time and a place to give out every type of promotional product. A good marketing operations manager is always thinking of the next best thing to emblazon with the company's name, logo, colors, mascot, or marketing slogan. Don't let your company get left behind this summer without the newest, coolest, trendiest brand promotional item to catch your target market's attention.
If you want more great ideas, hands-on support, or for FuseBox One to handle your promotional product strategy then
Remember that there is a spectrum of options for promotional products. Part of smart marketing operations means having inexpensive, easily portable items to bring along to every single company activity and to have out in the office for everyone who walks in, such as pens, stickers, and magnets. Hand these out with abandon and watch your company's name get spread far and wide! Then there are those coveted pieces that might be an investment for your company but which will associate your brand with quality and desirability within your target market, such as hammocks, camp chairs, high-quality blankets, insulated food, and drink coolers, etc. These are the products that your customers will carry around summer after summer (and often, during the seasons in between).
There is so much competition out there, and you want to be thought about first. Make sure that your company is remembered for whatever it is that you value: accessibility, comfort, reliability, safety, trendsetting, style, quality, refreshment, and entertainment… choose summer promotional products that go along with your brand's feel!
The marketing operations is one that is constantly evolving, and FuseBoxOne is here to help you make sure that you are always at the height of competitiveness within your market. We make staying outfitted with new, trendy brand promo items easy.
Check us out for other ways to keep your marketing operations running smoothly as well, such as email and postal marketing campaigns, social media streamlining, and business asset insights. Running a business is a lot of work, but it doesn't have to be hard when you utilize FuseBoxOne.
Check Out Our Related Tools And Resources:
Avoid These Mistakes With Promotional Items
Resources:
https://www.pinterest.com/brandspirit/summer-promotional-pro