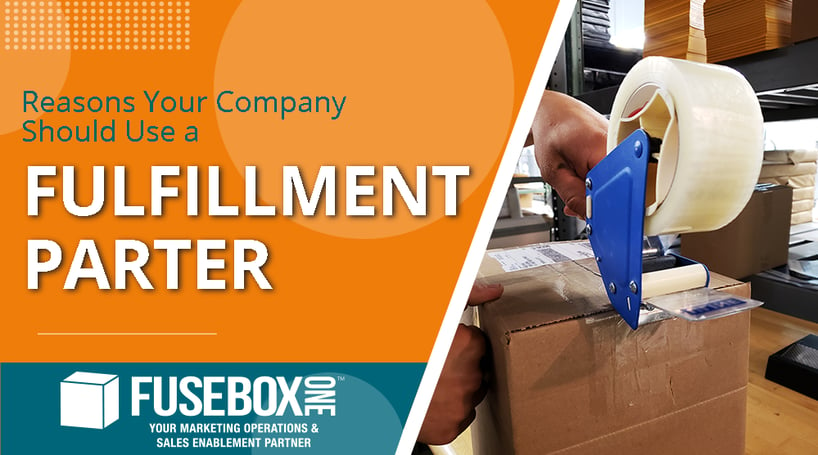 Many companies want to expand, but they have problems with things like logistics and warehousing. They might not have warehouses of their own and they might be limited on space. They might have trouble keeping up with the shipping for their growing business. There could be any number of problems, but the answer is the same—work with a reputable fulfillment partner.
What Is a Fulfillment Partner?
A fulfillment partner is a company that can provide the specialized services your business needs when it comes to things processing orders, shipping items, and managing the inventory. Typically, these things are all handled by you and your employees, and you know how much time and effort it eats up. The fulfillment partner can provide you with a wide range of benefits that will help to make running your business easier.
How Does It Work?
In most cases, the fulfillment company will receive inventory from your company, which then gets stored at their warehouses. The goods are sorted and shelved, so they can be stored until they are purchased. At that point, they will be picked, packed, and shipped. The partner will update the inventory, so you know if you need to stock more, and so that your customers do not order items that are not available. In some cases, they may also process returns, but this can vary.
Some fulfillment companies also offer commercial print services. This means that they can print and send direct mail that you create. They may also be capable of providing branded promotional products that can be shipped to customers.
Of course, partners may have different features, benefits, and options from which you can choose. Not all are created equal, and this means you will want to have a discerning eye when you are making your choice.
When Should Your Company Start Using a Fulfillment Center?
This is one of the most important questions that you will need to ask. The answer will vary from one company to the next. However, there are some simple guidelines you can keep in mind when you are trying to determine whether you might need to start using a fulfillment center.
The first question is whether you are having trouble maintaining your shipping schedule right now. If you are finding that you are spending a lot of time and energy getting everything packed and shipped, it could be time to work with a fulfillment center. It could free up your employees to work on other aspects of their job. The employees that you have handling the fulfillment right now may be better utilized elsewhere in the company.
Have you had trouble keeping up with the inventory? Are customers getting upset because items they order aren't actually available or because they never receive their orders or because they are late? If your customers are upset, there is a chance that they could be thinking of switching to a competitor. You will need to do something about this before it's too late.
Have you noticed inefficiencies in your current fulfillment process? Is your business growing to the point that you will not be able to keep up in the coming years? Are you actively trying to expand?
Take the time to think about these questions. The answers will let you know whether it is the right time to start working with a fulfillment partner. You will find that doing so can help you to save time and money, reduce stress, eliminate inefficiencies, and provide you with a host of other benefits.
Even if you aren't feeling overwhelmed quite yet, you might still want to start thinking about using a fulfillment partner. It will help you to bypass getting to the point where things start to become difficult, and you can still enjoy all of the benefits that a fulfillment partner provides.
Top Reasons to Use a Fulfillment Center
If you are still on the fence about working with a fulfillment partner, explore the following benefits that they can offer. You will see that these benefits will far outweigh the cost of getting started. Below are some of the best benefits.
Reduce Costs
Although there is cost associated with using a fulfillment partner, you will find that it still tends to be one of the most cost-effective options. It has the potential to help you save money in several ways.
First, when you outsource your fulfillment, you will not need to have dedicated employees on your staff handling the picking, packing, and shipping. They could be used in a different capacity in your business, which can reduce your labor costs. It can also reduce your overhead costs since you will not need to have space, equipment, and utilities for a storage warehouse.
Another way that the fulfillment partner could help you save money is on shipping costs. They may have working relationships with shipping companies, which can allow them to have lower shipping costs because of the amount that they ship.
Don't Waste Space in Your Facility
Most companies have a limited amount of space available. Getting warehouse space can be expensive. Having a building that's large enough to hold and house items that you are selling is not cheap either. Many small companies simply run out of space for storing products, and it gets even worse as their company starts to grow.
Those small spaces quickly become disorganized, which could mean lost shipments and late shipments, as well as problems with inventory. If that happens, you can be sure that your customers will not be happy with the level of service they are getting. When you use a fulfillment center, you will no longer need to worry about space restrictions. Everything will be kept in a proper facility where it will be easy to find, pack, and ship.
Eliminate Inefficiencies
Many in-house shipping operations will have inefficiencies that you may not even realize exist. They are problems that could stem from many different areas, such as poor organization, inventory mistakes, incorrect labeling, etc. These issues, even if they are "little problems" can cause big headaches for you down the road if they aren't already. It can be difficult to find and eliminate all of those little inefficiencies when you have your own warehouse.
When you put your fulfillment in the hands of a reputable partner, though, you will not have to worry. They have already sorted out the problems and have the processes and technology that streamlines everything from storage to picking, packing, and shipping.
Customized Printing Could Be an Option
In some cases, you might need to have customized packaging for items or kits that you are selling. While not all of the fulfillment partners will have the capacity to produce custom boxes and packages, some will. If that's something that you might need, find a company that can offer commercial print services.
Additionally, some companies may have printing services that can provide you with the direct mail material you need for your marketing operations. They can send the mail out for you, so it is one less hassle you will have to deal with.
Pick and Pack Services
The fulfillment partner can take care of the picking and packing of your products. They will ensure that they have picked the correct products from the shelves and will then pack them securely so they arrive at your customers' door in good condition.
Consider how much time, energy, and frustration you are dealing with trying to do all of this in-house. Whether you are the one who is doing the picking and packing, or you have employees that are doing it, there is no arguing that it is a hassle. When you have a partner taking care of it, you no longer have to think about it.
Easier Inventory Management
Most companies have run into an inventory issue at some point. Keeping track of inventory can be difficult even when you manually check the shelves. If you have customers that place an order for an item that you do not have in stock, what do you think will happen? They will not be happy about the situation and they might end up going to a competitor for their future purchases.
You need to know what items are available at any time, so you can keep the channels you are using to sell updated. When you work with a high-quality fulfillment partner, you will have real-time inventory monitoring. This will allow you to know what items you have on hand and which items will need to be restocked. You can also learn which items are not selling as quickly, which could tell you that it might be time for a sale or to change up your marketing methods for that product.
Reach More Customers
You have the potential to extend your reach and work with more customers when you have a fulfillment center. They allow your company to grow at a faster rate than you would be able if you were confined to the limited amount of space and resources that you have now. The fulfillment partner will make it easier for you to ship to more customers, as well as customers that are further away.
Focus on Other Parts of the Job
This is one of the biggest benefits of working with a fulfillment partner. Take a moment to consider how much time you spend working on and worrying about your shipping and inventory. You and other employees might be at a point where you are spending almost as much time worrying about inventory, stocking items, and shipping as you are about all of the other aspects of your job.
If you are losing focus on the core parts of the business, things are going to stagnate. You will not be creating new products, creating content for your site, etc. Instead, you are simply working on shipping everything out on time.
By taking all of those mundane responsibilities out of your hands and putting them into the hands of the professionals, it will help you to free up time and resources. You can shift your focus back to the other important parts of the business. Doing so will reduce the amount of stress that you feel.
Easier to Scale
Trying to scale your business when you are working with a limited amount of space is impossible. Many smaller companies are operating out of garages, homes, and small facilities. They can't simply add more warehouse space. Even larger companies have a problem when it comes to scaling their business.
Having a fulfillment center that takes care of so many different tasks makes it far easier. Just be sure that you are working with a company that has the capacity to scale when your business starts to grow.
Happier Customers
When customers are placing an order and when they are expecting certain pieces of mail to be delivered to them, they don't want to wait. They don't want to have missing items or late packages. If they feel that your customer service is underwhelming, they may no longer want to order from you. They know that there are other options available to them, and nothing is stopping them from seeking out your competition.
By working with a fulfillment partner, it can improve your overall customer satisfaction rate. There won't be issues with inventory, the shipping is fast and streamlined, and they will get the items they need quickly. Happier customers mean more loyalty to your brand.
The Fulfillment Partners Have Experience
This is a benefit that you do not want to overlook. If you are like many business owners out there, you do not have a lot of direct experience when it comes to fulfillment. You have been focused on running other aspects of your business. This means that you could have issues with your fulfillment without realizing it. When you work with the professionals, though, you get their expertise and technology that will provide a seamless experience for you and your customers.
Now that you have a better idea of what types of benefits you can expect from a fulfillment partner, it's time to find a company that can help. You don't want to choose just any partner.
What to Look for in a Fulfillment Partner
When you are choosing a company to act as your fulfillment partner, you need to be sure they are the right choice. Take the time to consider what services the company is capable of offering. In addition to picking, packing, and shipping the items, can they help to ensure your inventory management is being handled? Can the company offer other types of services, such as commercial print materials, direct mail, and the creation and shipping of promotional products? Some may even offer marketing services and tools, such as digital asset management (DAM).
In addition to finding a company that can meet your needs, you need one that makes it possible to grow your business. Will the company allow you to easily scale as your business gets larger and has more needs?
Reach out to FuseBox One to see how they are best suited to your company's needs.
Resources:
https://www.thefulfillmentlab.com/blog/why-ecommerce-use-fulfillment-centers
https://www.fuseboxone.com/shipping/
https://www.shipmonk.com/blog/when-is-the-right-time-to-use-a-fulfillment-center