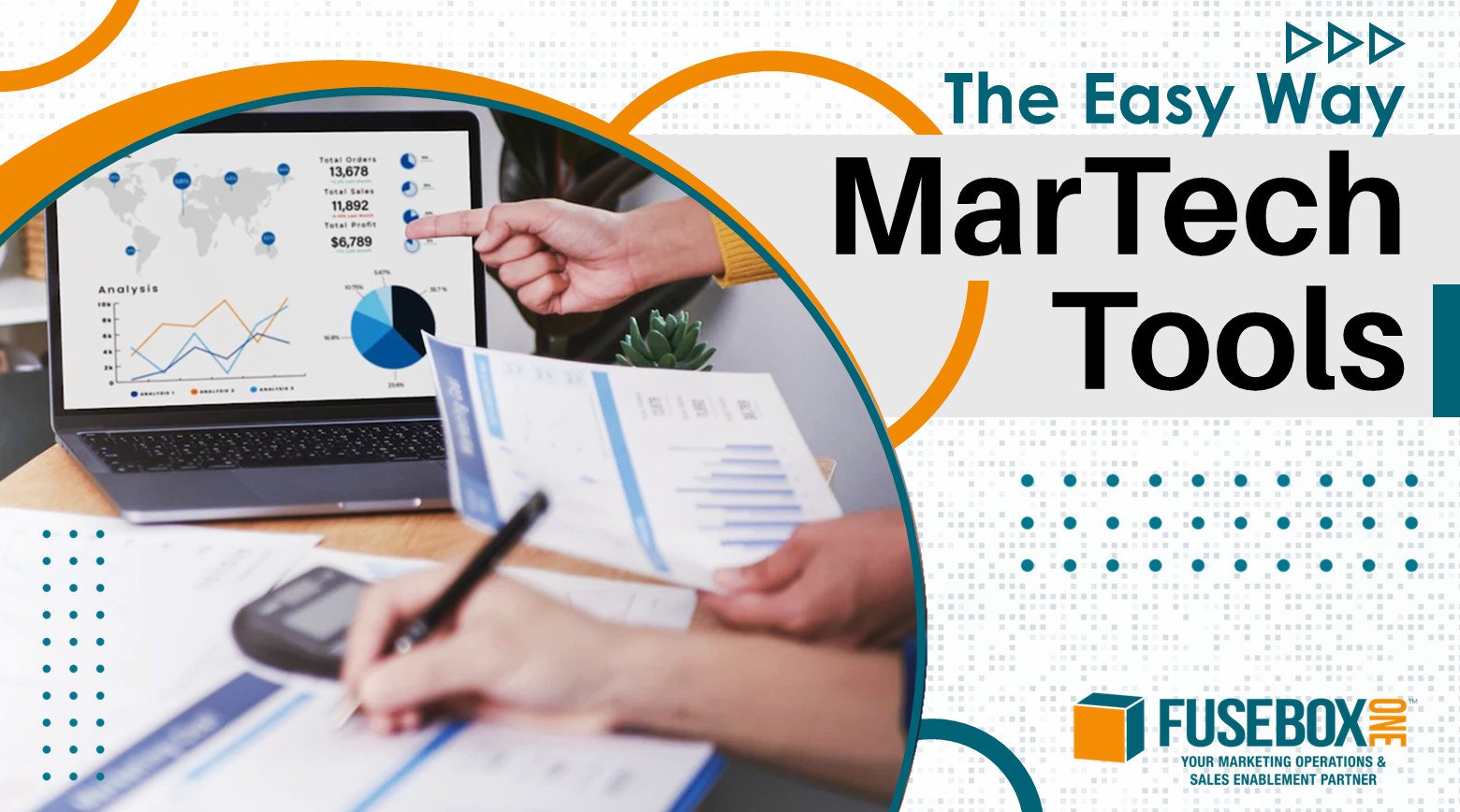 It's a digital age. Rather than fight it, businesses should embrace it and increase their digital marketing savvy. Whether you run your own digital marketing business or you want to learn how to improve your internal marketing, you should understand how to build an effective MarTech stack.
Before you can build a MarTech stack, you first must understand what MarTech is. In this blog, we'll attempt to clarify MarTech and discuss some of the most popular MarTech tools available at the moment. Hopefully, you will also understand how a MarTech stack can benefit you, whether you are a small business creating social media marketing or a company specializing in marketing for others.
What Is MarTech?
MarTech is an abbreviated form of the phrase marketing technology. Clear as mud, still? MarTech is the software, including apps, that a marketing team uses to create a marketing strategy from the planning stage through implementation and analysis. The term can refer to anything from a social media campaign, an email marketing strategy, or website design to digital asset management.
Marketing professionals use a MarTech stack to implement marketing strategies. A MarTech stack is a set of marketing tools that are designed to help streamline your marketing process. Choosing the right set of tools can simplify your marketing procedures and have other intrinsic benefits for your company.
How Does the Right MarTech Stack Benefit You?
The right group of MarTech tools can benefit your company beyond a better marketing campaign. Here are some of the benefits the appropriate MarTech might provide you:
Integrated technology: Marketing tools can work independently from each other, or they can integrate with one another. The tools that integrate seamlessly help to streamline your tasks for a reduction in your workload.
Automated processes: Some MarTech tools compile data and analyze it automatically, reducing the number of manual tasks your team must complete. Fewer tasks mean a renewed focus on other work.
Increased productivity: MarTech tools help you save time by prioritizing automated processes. Saved time means you can complete tasks more efficiently and quickly.
Improved results: Your marketing campaigns can garner better results if you consciously review and act upon the results of in-depth analyses provided by your MarTech stack.
Optimized strategies: Improve marketing strategies by identifying patterns and trends revealed by MarTech data.
Your MarTech stack can be an invaluable tool for gathering data to incorporate into future marketing strategies. The automatic compilation of analytical data saves you time, and even money, to focus elsewhere. If you efficiently use the data to plan your next marketing campaign, you'll likely recognize improved results from your marketing efforts.
Building An Ideal MarTech Stack
There is no one-size-fits-all MarTech stack that works across the board for the corporate world. Your ideal MarTech stack might look quite different from your neighbor down the block. To find the right tools for your business, you need to consider what you want to accomplish with your marketing. Additionally, you should consider the services your offer before building your stack.
Your ideal MarTech stack could include a combination of the marketing tools mentioned here.
Business Intelligence Tools
Business intelligence (BI) tools help you perform market research and identify patterns and trends in consumerism. They are designed for data processing and analytics. These tools help your marketing team make better decisions regarding marketing strategies and work more efficiently toward realizing marketing goals.
Social Media Management Tools
Social media is a powerful marketing tool. These management tools allow you to manage your social media accounts. They help you with post-publication, comment and message moderation, and audience analysis. Social media management tools also monitor mentions of your brand, keywords, and hashtags associated with your company.
Email Marketing Tools
An email marketing campaign can be an effective way to engage with consumers if it's managed properly. Email marketing tools help you share your brand with potential clients. You can use integration tools to sell your services or products via e-commerce. Provide customers with informational content about your business offerings and then cultivate their business.
Digital Advertising Tools
Digital advertising tools give you access to the benefits of paid promotions. Improve awareness of your brand and run seasonal events or limited-time discounts. You can reach more of your target customer base with a paid promotion and potentially convert more of your interested parties into paying customers.
Content Management Tools
Content management systems (CMS) allow you to create materials and promote them more easily. Use these tools to develop such content as blog posts and e-books. The tools enable your team to work together on each portion of the digital content publication process. They also allow you to monitor how often your content gets viewed or shared along with other essential analytical data regarding your publication.
Digital Asset Management Tools
Digital asset management (DAM) tools organize, store, and catalog your digital assets. These tools help you ensure that team members can access the company or brand-approved versions of content. You can store a wide range of media, from images and photos to video and audio. Setting permissions for who accesses what files improve data security.
E-Commerce Management Tools
E-commerce tools are critical for those businesses that provide products directly to consumers. These tools are designed to facilitate easy online selling experiences. They:
Integrate with website management tools or replace them altogether.
Monitor inventory and provide real-time displays of available stock.
Support the most used payment methods and facilitate tax collection.
Initiate shipments.
Process any returns.
If you are in the business of selling products to consumers, e-commerce management tools are necessary for a successful online selling platform.
Website Management Tools
In the modern world, it's almost mandatory to have a digital presence. Many consumers expect to shop for products and services online. Website management tools help you establish your online presence or improve it if necessary.
With these tools, you can build your company's website. Create new pages or posts using appropriate search engine optimization (SEO) protocols to improve company visibility. Update your content and track metrics that report about visitor traffic, views, and e-commerce statistics.
Customer Relationship Management Tools
Customer relationship management tools (CRM) track your customer base. They collect information regarding potential customers and those who are current or former clients. They create a database of contact information for these clients.
CRM tools also help you track purchase data allowing you to identify your top customers and trends in shopping habits. These tools integrate with tools that monitor information about product views or when emails are opened.
Marketing Automation Tools
Marketing automation tools work with or alongside email, CRM, and e-commerce software to focus on customer relationships and build customer loyalty. They collect data about customers and nurture leads to create conversions. They manage email, SMS, and social media promotions. The advanced analytics of marketing automation tools help you to scale your brand.
Analytics and Reporting Tools
You must be aware of metrics to understand how well your promotions are doing. Analytics and reporting tools are the tools to use to monitor those metrics. Analytics and reporting tools help you to establish company-wide marketing benchmarks.
Monitor the performance of your marketing campaigns and optimize them for the desired outcomes. Identify which campaigns succeed and which ones fail. Improve your company marketing strategies to meet and exceed the benchmarks you've set.
Digital marketing is the wave of the future. To continue to remain relevant in the business world, incorporating MarTech tools into your marketing strategy will help you optimize your presence in the digital marketplace. Once you understand the kinds of MarTech tools available for your use, you can begin to choose the specific tools that will work for your company.
Don't Overdo It
Before adding anything to your MarTech stack, consider your needs and determine if you want complexity or simply the necessary tools for your goals. You could add multiple marketing tools to your MarTech stack, but it's important to realize you can have too much of a good thing. Adding more tools than you actually need can overwhelm your team, leading to confusion.
Strive to choose quality tools that meet your needs without letting your enthusiasm for marketing overwhelm your choices. It's crucial to consider your business makeup before investigating the tools available for your MarTech stack.
Top MarTech Tools to Consider
We've talked about the kinds of MarTech tools available now let's discuss specific tools to have in your MarTech stack.
Elementor
Elementor is a web creation platform and all-in-one marketing tool. It allows anyone to create a website in WordPress without coding or any knowledge of coding. WordPress is a flexible CMS (content management system) that has become one of the most popular options available. However, WordPress can be intimidating if you don't know how to code.
Elementor takes away the need to code in order to create your own WordPress site. Whatever your imagination can create, Elementor can help you make. It integrates with the most popular customer relationship management (CRM) tools as well as sales enablement tools.
Webflow
If WordPress is not for you, Webflow might be the right web design tool for you. Webflow is more flexible than WordPress, but the learning curve might be harder to overcome. It doesn't require any coding for you to use Webflow, and once you learn how to use it, your websites will be as professional as if you could code.
When you integrate the CMS and the designer feature of this software, you can create collections that allow you to upload hundreds of assets at one time. Webflow is easy for marketing pros without tech skills to understand. Webflow doesn't limit you.
Airtable
Does your company run on spreadsheets? If so, Airtable may be the solution you've been wanting. It takes spreadsheets and databases and merges them cohesively into a cloud-based service. Airtable stores information in easy-to-use spreadsheets, but it can be used for a CRM database or for planning purposes, or inventory management.
Beyond spreadsheets, Airtable allows you to add photos and ratings within a sheet. You can also connect tables by relationship and create apps without coding anything.
SEMrush
SEMrush is an SEO staple. SEO is the way to optimize your web content for the best performance. SEMrush consistently improves its services, features, and functionality keeping them relevant in marketing tools.
SEMrush offers more than SEO optimization, but their optimization tools help you create organic content. Topic research, keyword research, and competition-based content templates are all available with SEMrush making it the SEO tool to beat.
Demandbase
Demandbase is an ABM (account-based marketing) tool that lets you create and send personalized ads. Demandbase is an excellent tool for B2B marketing as it allows you to send ads to specific companies. Not only that, but you can target a particular person within a company with your ad.
Customize the ad using a variety of criteria. Data such as industry, revenue, and the previous purchasing habits of the customer allow you to personalize the ad further. If you rely on ABM for your marketing strategy, consider adding Demandbase to your MarTech stack.
ClickUp
A good task management tool is critical in a world where working remotely is becoming more popular. Task management tools help a team collaborate across platforms and locations with little effort. All task management tools—Trello, Asana, ClickUp—have features that are worthy of consideration.
ClickUp is a task management tool that is flexible and offers several notable features. You can assign priorities, track time, use a real-time chat feature, and set custom goals and objectives. Collaboration is simple with in-app docs. Also, ClickUp integrates with several other tools such as Google Drive and Zoom.
Mixpanel
Mixpanel is one of the SaaS tools used by businesses worldwide. It's an analytics tool that monitors visitor interactions with web and mobile apps. You choose the events you want to track using your dashboard. There is a quick learning curve associated with Mixpanel, and setting it up on your website is the closest to coding you will have to get when using this tool.
Mixpanel is different from other analytics tools because it measures actions taken by site or app visitors rather than simply counting page views. Various things can be considered an event for this analytics tool.
SkedSocial
Social media marketing tools are everywhere. Businesses have followed the crowd to visuals-driven media platforms. Think Hootsuite, SproutSocial, or Buffer. SkedSocial is an Australian SMM that capitalizes on one niche—Instagram.
SkedSocial allows you to schedule Instagram stories and posts to your news feed. It will enable you to integrate with Facebook, Twitter, and LinkedIn as well. However, Instagram is where you'll find the best value. You can:
Schedule your next post.
Auto-post videos, images, and stories
Scheduling and reminders for IGTV
Instagram Reels scheduling and reminders
Auto-posting of first comment hashtags
Tagging user and location
Product tagging
LinkedIn integration
Drag-and-drop planner and calendar capabilities
Small and mid-size businesses seem to benefit from this program more than larger businesses.
Salesforce
Managing your customer relations is a critical step in growing your business. Customer experience seems to be the most important factor in customer satisfaction above cost. Relationship trumps both cost and product quality in customer loyalty factors. Salesforce is a tool that is designed to manage that relationship.
Salesforce is one of the most customizable of CRMs. Marketing automation, sales data and lead management features, and a visual workflow with drag-and-drop capabilities help you manage your customer relationship experience. It's a good MarTech tool for businesses of all sizes.
Zoom
In our current work-from-home economy, it's hard to function without video conferencing and streaming tools. After the pandemic hit in 2019, many individuals and companies became familiar with Zoom quickly. With Zoom, you can host meetings, have webinars, demonstrate new products, and host an entire conference, all from the comfort of your living room (or home office).
Features like screen sharing and HD video quality kept Zoom the number one video conferencing platform. Incorporated analytics could move Zoom into the lead generation market and the video conferencing niche.
Voluum
Are you a fan of affiliate marketing? Voluum is software that was designed with the affiliate marketing realm in mind. The intuitive interface makes tracking campaigns or analyzing data for insights into the success of campaigns a more straightforward process. Voluum has built-in templates for a variety of online marketing traffic generators such as Google Ads and Facebook.
Voluum supports the most advertising formats. If you use native ads, social media ads, and even the occasional video ad, the tools in Voluum could be precisely what you need to add to your MarTech stack.
Segment
A customer data infrastructure such as Segment allows you to store your digital data after receiving it. Collecting data is just step one in the world of customer data infrastructure.
When you need a hub for all of your data, look no further than Segment. It can be used to collect as much information as you need. Then Segment consolidates data from multiple places into one database.
Wistia
Wistia is a video hosting tool. Like YouTube, you upload videos to the site. Unlike YouTube, Wistia drives consumers to your site via SEO tools. You can stream webinars and videos on your website using Wistia.
Using Wistia tools, you can customize your video to help strengthen your brand presence. The customization helps to ensure your customers see only your relevant video instead of embedded ads. Built-in analytics allow you to understand the scope of your video's performance.
Aircall
Many people think that phone call services are obsolete, and instead, they incorporate chats—live or with chatbots—for their customer service platform. However, sometimes a chatbot just doesn't do the trick, and a customer needs one-on-one contact with someone in customer service. Aircall allows a phone call to begin from almost all of the major software systems.
A chat can become a one-on-one customer service call in a matter of just a few minutes. Bots can do the initial work, and your team can take over and speed up the sale. Aircall is compatible with virtually all the major software systems like Slack and Hubspot, and it offers collaboration and call center features and provides analytics regarding usage.
Uberflip
You want the right buyer to see your content at just the right time. Content marketing and managing tools like Uberflip help to facilitate that goal. Uberflip pulls all of your content from blogs to videos and allows the marketing team to categorize them and optimize the content to tailor it to your buyers.
Getting your content seen quicker helps improve your customer's experience while boosting lead generation. Marketers can organize your content by topic or category into a customized content hub. This helps your buyers find the answers they need to their problems by using your content.
Trackr
Influencer marketing is a strategy that has been criticized, but when used correctly, it helps you realize a significant ROI. If you appropriately leverage the power of influencers in your field, you can experience ROI that is comparable or better than the ROI from other marketing channels. Trackr is an influencer marketing platform that is data driven. It allows your marketing team to streamline marketing campaigns, scale programs, and optimize influencer investment.
You can filter influencers from 43 countries and who speak 19 different languages based on bios, their performance ratings, content from 13 different social media platforms, and at least 22 other criteria specific to audiences and influencers. Trackr lets you run influencer campaigns that have customized workflows with influencer insights.
Final Thoughts
Regardless of your marketing strategy, MarTech tools can help you to optimize your online presence for the best possible customer engagement. Know your goals and company needs before structuring your MarTech stack, so you don't overwhelm your team by incorporating too many tools for your marketing strategy. There is such thing as too much of a good thing when adding tools to your MarTech stack. Your goal should be to have the ones that benefit your overall marketing plan.
Resources
https://www.pinkpowerco.com/blog/top-39-martech-tools-that-boost-website-traffic
https://landbot.io/blog/martech-stack
https://neilpatel.com/blog/martech-tool-stack/
https://blog.hubspot.com/marketing/how-to-build-a-marketing-stack
https://martechtribe.com/blog/12-tools-to-integrate-your-martech-stack/
https://www.agorapulse.com/blog/martech/
https://www.fuseboxone.com/blog/what-makes-a-tool-part-of-a-martech-stack