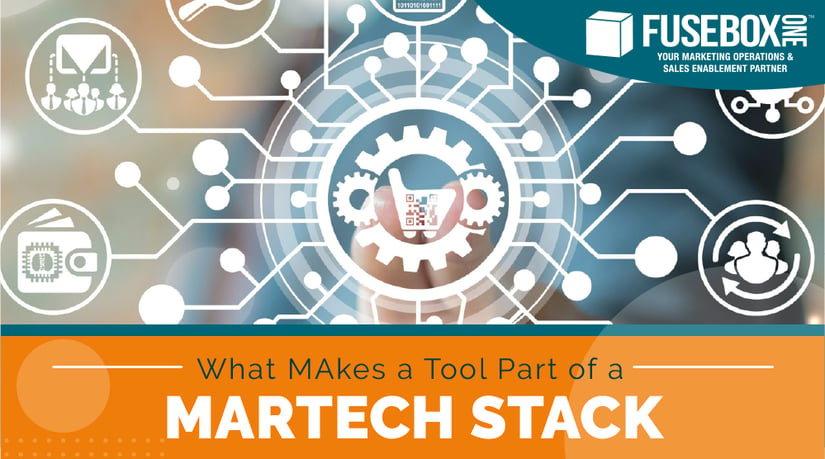 A marketing technology stack, commonly called a MarTech stack, is a combination of technologies that marketers use as a means to improve their marketing capabilities. The goal of these stacks is to help reduce the difficulty of processes, to provide automation, collect and analyze data, and help streamline and measure the impact of marketing.
All companies with an online presence need to have a marketing technology stack in place. However, the types of tools that are used by each company can vary. Some may find that they need to have more tools and a more complicated stack. Your company may only need to have a few tools to get the benefits you need. Keep in mind that even after you've built your stack, it's not set in stone. You can always add to or remove items if you find that they are not providing you with the benefits you need.
Benefits of a Good MarTech Stack
When a company utilizes a quality grouping of marketing technology solutions, the business can experience a range of benefits. Using marketing technology can allow companies to become more efficient and faster thanks to automated tools that can handle various repetitive tasks. This may include things like converting file formats or finding assets.
Marketing technologies can help to improve internal communication, as well. It's possible to work on the same projects, view project statuses, provide team goals, track team members, and much more. It's also possible to communicate with third parties, such as freelancers or other agencies that may be working on one of the company's projects. With everyone on the same page and able to communicate, it helps to reduce confusion and errors.
The insights taken from the tools provide marketers with a better understanding of their customers. Some tools can provide access to past interactions and conversations, information about subscriptions, orders, and more. The knowledge allows the marketing team to create better content and advertising, and to deliver targeted content.
The tools in the stack are meant to work together to reduce slowdowns in the workflows. Companies that use quality tools in their MarTech stacks allow faster and smarter operations.
Common Types of Tools Found in a MarTech Stack
Below are some of the most common types of tools found in marketing technology stacks that you will want to consider using. These are just some of the options available but are the ones that most companies will find beneficial. Understanding what each of these does will help you better determine the type of features that you want for your company's marketing tech stack.
Digital Asset Management System
The digital asset management system, commonly called a DAM system, is the heart of the marketing tech stack. This is where all of the digital assets and content your company owns will be collected and managed. Considering that content is a vital resource for marketing, having a system that can collect and keep all of the content in a single location is a massive benefit. This is one of the technologies in the MarTech stack that should be considered an essential rather than a potential tool.
DAM systems can do more than just hold assets, though. They have tools that make the content faster and easier to find. They store metadata about the assets including things like the origin, specs, copyright, and keywords. The system makes it easier for all members of the team and all departments to have the same updated versions of the assets. It is usually possible to handle the permissions to determine who gets access to different information in the system.
Quality DAM platforms are secure and will help to keep assets and other information secure. Because the content will all be in the cloud, it is possible to access it from any location as long as there is a connection to the Internet. Better asset management also means that the visual assets used on all platforms and channels will be the same. This has a beneficial effect on the company's brand image.
DAM solutions allow for faster processes, which can reduce the time needed to complete various projects. It also allows for better coordination in the team. Ultimately, this leads to more savings. When choosing a DAM tool, check to see what other features it offers that will help to make it the perfect solution for your MarTech stack.
Marketing Automation
Marketing automation tools will help you to streamline many of the processes in the marketing workflow. It can help you to improve the customer experience, and it may even offer tools for personalization. Providing personalized ads and emails to customers and leads is a good means of getting them more invested in what you have to offer. People are more likely to read and pay attention to an ad that has their name on it.
It may also be possible to offer personalized offers and ads. For example, you might want to provide a discount to all customers who made a purchase from your business in the last month. Automation tools, along with email tools, can help to make this possible with a few clicks.
CRM
Customer relationship management tools allow users to track and manage interactions that have occurred with customers. CRM technology will help companies to keep their customers happy and retain them, while also helping to nurture leads. Some of the options will integrate with different aspects of your MarTech stack.
There are many options available for CRM tools today. One of the most popular options is Salesforce, which can also provide multichannel marketing benefits. The popularity of Salesforce also means that it will integrate with many of the other tools that you may want to use in your MarTech stack.
When choosing a CRM management tool, you will want to take the time to learn more about the features it offers to ensure it will be a good choice for your company. Some tools are geared toward large businesses, while others could be a better option for small to mid-sized businesses. Find the solution that works well for your needs.
Website Analytics
Another tool that is commonly used in the stack is analytics. It's also considered one of the most important and is often one of the first that companies start to use. The analytics provide companies with important data about customers, the effectiveness of marketing campaigns and individual ads, and much more. Analytics can also let companies know where and how people are finding information about their company. Does it originate on social media? Do the visitors and customers come from online ads or email and newsletter marketing?
The information will provide companies with deeper insight into who their customers are, where they are, and what they want. This information is as good as gold to marketers that can take it and use it to improve their marketing campaigns going forward.
Additionally, you may find that your digital asset management tool offers internal analytics. This information will let you see which assets are being used most often and who is using them. You can get a stronger sense of which of your assets are most important and which ones may not be working as well as you had hoped. The marketing team can determine which of the assets they should stop using, which ones they should use, and which ones may need to be updated.
Analytics, similar to digital asset management, is considered one of the essentials that should be in any marketing technology stack. Keep in mind that it's not just about adding the technology, but using it, obtaining the data, and making use of that data to improve marketing efforts going forward.
Social Media Management
Social media can no longer be an afterthought for companies that want to survive and thrive in today's world. Of course, social media can be a chore to keep up with, and it's often difficult to ensure that you have all of the right images and content to use on the posts that are made. Add to the fact that it takes time to write and post to all of the various social media sites, and you can see why some companies let their social media fall by the wayside.
However, when you have tools that provide easier social media management, it becomes easier to keep up with Twitter, LinkedIn, Facebook, and other outlets. Some tools can help you schedule your posts, which you can write ahead of time. When you use a DAM platform, it's often possible to easily access a repository of appropriate, branded images and other content that can be added to the posts.
Rather than ignoring social media or trying to keep up with it and failing, utilize a marketing tool that can make it easier.
Email Marketing
Email marketing is a tried and true strategy for digital marketers, and you don't want to ignore it now even though there are other means of getting customer attention. It should be one of the cores of your brand, so you can stay connected with customers and leads. You can often find email marketing tools that can do more than just keep your email lists handy. Some can provide automation, while others can make it easier to format and create branded emails thanks to templates and easy access to digital assets for use in the emails.
As with all of the technologies you use, it's important to make sure that the email marketing tool allows for easy branding. You need your customers to know that the emails are coming from your company. It should also make it easy to create and segment your email lists, so you can send different emails out to different groups of customers. Consider looking for options that allow for personalization, as well.
Blogging CMS
Most companies have realized the potential and the importance of having a blog for their company. Blogging has evolved over the years, and it has become a valuable means of marketing and communicating with customers. While it's true that not all brands will have a blog, many have adopted this strategy due to the benefits it can provide.
Blogging provides a fantastic means of helping to get a site noticed thanks to the constant flow of content published on it. The blogs should include keywords, phrases, and other SEO-friendly content, which will help them rise to the top of the search engines. This means it will be easier for potential customers to find your company.
When integrated with other marketing technologies, it is possible to add branded photos, logos, and other assets to the blog before publishing. This helps to ensure that the blog aligns with your brand and represents your company properly.
WordPress is a common tool that can help make it easier for you to control publishing the content that goes onto your site. A good blogging content management system, regardless of which option you choose, will make it easier to schedule, upload, and edit content for the blog.
What to Look for in MarTech Tools
There are many tools on the market today that could be good additions to a MarTech stack. However, there are certain things that you should look for when making your choice. First, consider the features of the tool you want to implement. Does it just do one thing, or can it provide a range of benefits to the stack? For example, does the DAM only provide asset organization or does it also provide features that could be useful with email and social media?
You also need to consider how the tools work with one another. Will the tools integrate with the other tools that you plan to use? The interface and ease of use will be important elements to consider, as well. Ideally, you will have systems that are easy to understand. After all, the goal is to ensure that they provide a faster, smoother experience for everyone who has to work with them. Of course, not all tools will integrate, so you may have several "chunks" that make up your stack. As long as they don't interfere with one another and are easy to use, this is not a problem.
While pricing can be a factor for many companies, it's important to think beyond just that initial cost. You have to consider all of the benefits that the tools can provide. The quality of the marketing technology you choose is more important than finding the cheapest available options. You need to have a combination of value and features.
Determine What Your Company Needs
While it's possible to add a wide array of software and tools to your MarTech stack, there is the risk of overdoing it. There could come a time when you have more tools added to the stack than your company needs, and this can lead to confusion. Some companies prefer complex stacks, while others use only those tools they find necessary.
The goal is for companies to think about the most important elements that need to be in the stack that are essential for their business to operate. Then, the business can find solutions that can integrate and work well together.
Want to Learn How We Can Help?

Resources:
https://gripped.io/martech-marketing-automation/essential-martech-tools-for-every-b2b-marketing-team/
https://marketinginsidergroup.com/content-marketing/what-tools-should-be-in-my-martech-stack/
https://blog.saleslayer.com/10-benefits-digital-asset-management