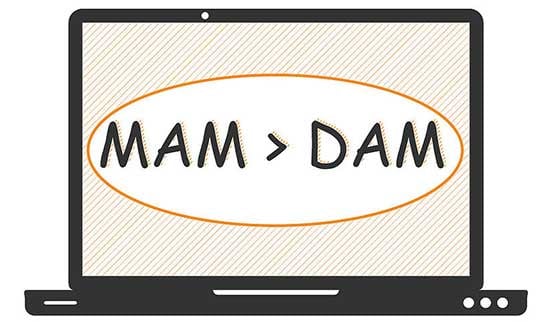 If you are like most growing companies, you are looking for an automated content management system that can help you store, customize, and share marketing assets. In fact, there are a number of systems to choose from that offer different sets of tools and features to cater to your specific needs. When consulting with marketing representatives, you may have come across two different terms: DAM and MAM.
While these two have sometimes been used interchangeably, they actually mean two different things. DAM stands for digital asset management, and it defines a type of software that lets you store and share files. Marketing asset management is a more specific tool that can create workflows of production, distribution, and management on an automated level while simultaneously keeping with your brand consistency.
Digital asset management software is an older technology than the MAM software that is a part of FuseBox One's Marcom Platform. There are plenty of reasons why professional and multi-channel marketers say that DAM just isn't enough anymore. With over 60% of all marketing departments creating brand-new content for their company every single day, it's time to put outdated tech behind and focus on something that can provide better work efficiency and more diverse asset marketing solutions.
DAM is Just a File Sharing System
With common innovations like Google Drive, Dropbox, and OneDrive, it is easy to share and manage files between departments in your organization. The file storing systems that a DAM provides you have become almost irrelevant in today's marketing world, with so many other free storage systems to take advantage of.
Marketing asset management systems take a dynamic approach to filesharing. The intuitive user interface doesn't just share and manage files, but it can actually complete steps that are a part of your company's policies and procedures. Getting a piece of artwork approved for print can take days using traditional methods; with Job Direct as part of your MAM, you can upload your content and watch it go through the approval system through our cloud-based storage drive.
Plus, you'll be able to customize each file under different sharing parameters. If there's a file you want every employee to be able to access easily, you can make that happen. Alternatively, if some assets should be reserved for marketing use only, you can set permissions so that only the marketing team can handle those files.
DAM Software Needs a Designated Manager
Not all companies are large enough to sustain an employee whose position it is to manage the DAM system all day. Automation is the key to saving time, and it is a thing that's trending towards the future. Whether a DAM is a physical product on your computer, or just stored on a cloud server, you still need someone to manage every aspect of it. This includes uploading and processing files, customizing each asset, and distributing content after it is produced.
Any forward-thinking marketing asset management system can automate all of these chores for you. No longer will you need to designate a single individual to manage the whole system, but rather you can utilize it as a multi-tool that is easily accessible by all divisions in your company. You can also create custom workflows that will be automated to deliver the same content and quality every day.
You Can't Distribute Multiple Assets at Once
A digital asset management system only lets you download a single asset at a time. While this might be useful for small companies who don't push new content too often and want to scrutinize the quality of their work, it can waste time for larger companies on tight schedules. A MAM can engineer assets on its own and give marketing departments the ability to push content on all platforms at the same time.
Any multi-channel organization looking to make more efficient use of their marketing department's time will be able to save an astronomical number of hours with automated direct marketing. Our Fusebox One MAM system can push physical printed items, HTML website updates, social media posts, email campaigns, and documents all at once. You can even create a workflow that allows for the creation and publication of MS Word or MS PowerPoint documents without needing each piece to be individually downloaded first.
DAM Does Not Report Data or Contribute to ROI
A versatile marketing asset management system will give constant updates and write reports on marketing data so you can optimize your strategy in real-time. A DAM doesn't have the ability to provide business intelligence reports or insights about how specific assets are doing. Ultimately, the best way to grow your ROI is to work with a system that can actually make use of what you invest.
You can manage varying asset types at once, publish them automatically, and leverage your return on investment based on the clear optimization that comes from a marketing asset management system. Strengthen your brand cohesion through business reports and workflow automation that will make future marketing efforts a breeze.
Get Your Marketing Asset Management System Today!
At FuseBox One, we believe in powering your business up to the best of its potential through a tool that will actually do intelligent marketing work right alongside your marketing department. A DAM does not have the ability to meet your company-specific, industry-specific, or customer-specific needs while also juggling a multitude of assets for customization and delivery. A digital asset manager serves digital storage and individual delivery purposes, but not much else. Global companies and professional marketers are realizing that the way of the future is with automation and personalization.
Want to Speak With A Specialist?
Sources:
https://fuseboxone.com/marketing-resource-center/
https://www.cmswire.com/cms/digital-asset-management/5-good-reasons-to-avoid-dam-software-019130.php
https://marcom.com/blog/distinguish-mam-from-dam/
https://digitalassetmanagementnews.org/opinion/digital-asset-management-is-not-content-management/
https://www.mediavalet.com/blog/dam-vs-mam/
https://www.emarketer.com/Article/Driving-Engagement-B2B-Marketers-Put-Premium-on-Content/1009790