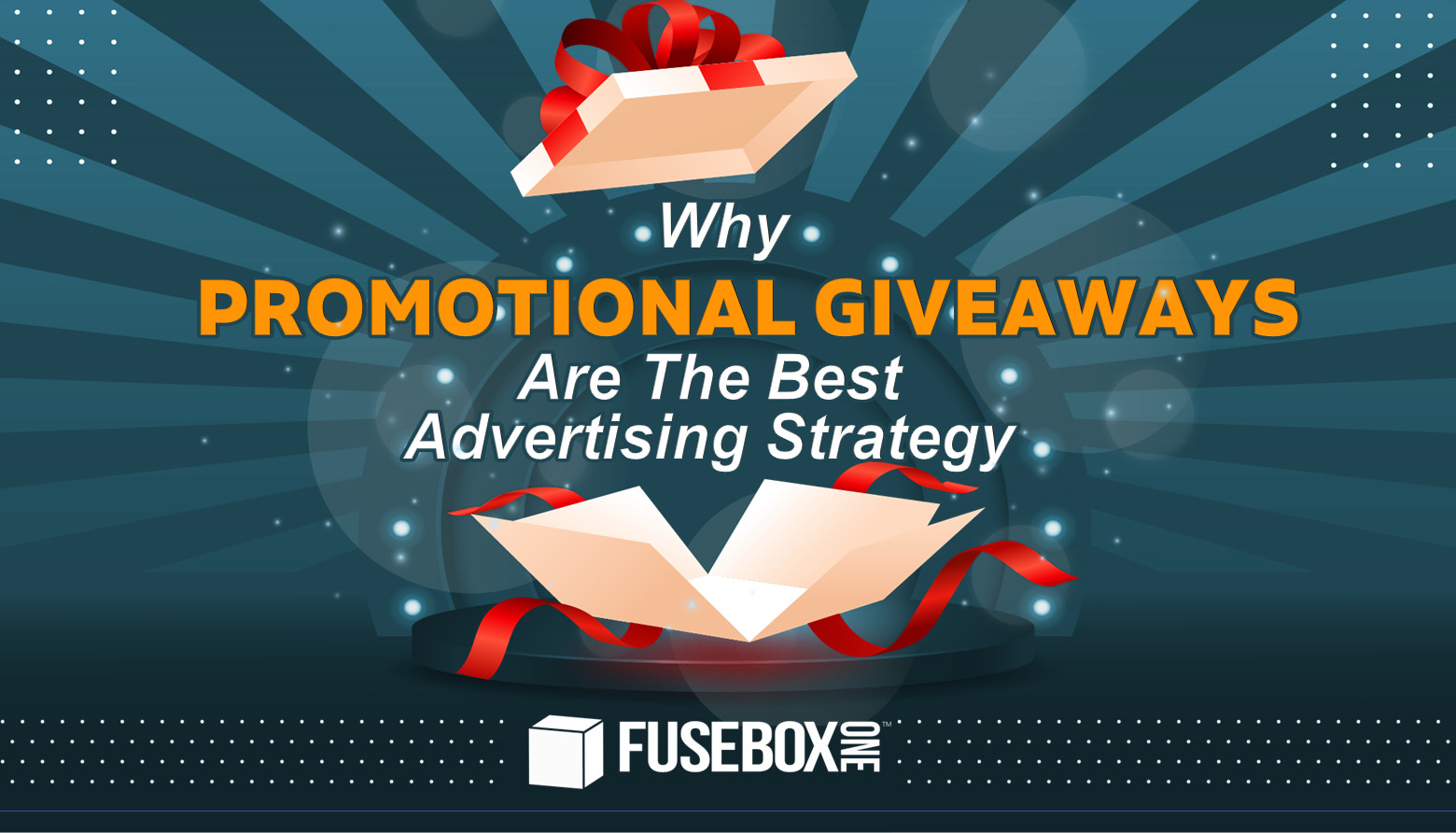 Does conventional advertising seem like it's a bottomless pit that consumes your marketing budget without giving you a return? Are you struggling to make the most of digital marketing and not seeing the traction you need with your audience?
You're not alone. Thousands of business owners and decision-makers face this situation every single day. Unfortunately, too many of them simply throw good money after bad without realizing that there's a better way.
Promotional giveaways can be one of the best advertising strategies for your business. They let you build buzz, give your potential customers a tangible reminder of your business, and everyone loves free stuff. Why should you focus on adding promotional corporate merchandise within your wider advertising strategy? We'll discuss that and more in this post.
What Are Promotional Products?
Chances are good you're familiar with promotional products. Most people have come across them a time or two in their lives, even if they've never used them to promote their business before. They're nothing more than corporate merchandise – products that have been customized with your business's name, logo, contact information, and/or other details. It could be something as simple as a stress ball with your company's logo on it, or as complex as a branded wine sampling set.
Examples of Common Custom Promotional Products in the USA
While almost anything can become corporate merchandise, there are some commonly used options that you'll find across the board. These include:
Of course, those are just some of the options available. A careful look at your options will reveal products that might be more aligned with your brand, audience, or your product/service offerings. We'll explore that concept more later in this post – why you need to pay attention to the corporate merchandise that you use. But first, let's dig into the benefits you can reap by using promotional giveaways.
The Benefits of Printed Promotional Merchandise
You've seen stress balls, ballpoint pens, t-shirts, and more being used as promotional merchandise, but why do so many companies go this route? What benefits do you stand to gain with printed promotional merchandise? Below, we'll discuss some of the most important advantages.
Low Marketing Cost
When you compare marketing methods, promotional items offer more return for a lower investment (on a dollar-to-dollar basis). Many custom promotional products in the USA are available for very low prices and customization is also very affordable. That means you have access to a high-performing marketing method for very little money upfront.
Build a Fan Base
Let's face it. People love to get free stuff. That's why so many brands use giveaways to build attention. Think about banks – it's common practice to offer freebies to new customers as an enticement to sign up for a savings and/or checking account. Of course, that's just one example. Plenty of others exist, from radio stations giving away branded T-shirts to retailers offering freebies to the first 20 customers to walk through their doors on a certain date. And when you give people free stuff, they instantly become fans. You've given them something of value in exchange for nothing, which immediately puts your brand in a positive light.
Increase Engagement
As mentioned, everyone loves free things. And giving people corporate merchandise gets them familiar with your brand while opening up potential channels of communication. Anyone who's received a giveaway item is much more likely to communicate with your brand on social media, through email, and more. They're also more open to offers that you might make because you've already engaged them – you've connected with them on a deep level through the giveaway item.
Build Brand Recognition
One of the most important challenges for any company is building brand recognition. It's a slow process when it's based strictly on your products or services. Giveaway products help you accelerate that process, while also ensuring that your brand-building efforts are more positive. It all comes back to giving away freebies – it's immediately seen as a positive thing and will have ongoing ramifications for your audience, and even those outside your direct sphere of influence. For instance, that branded ink pen might not cost you very much, but the return can be incredible when you realize that it's exposing your brand not only to the person who uses it every day but to everyone that sees them using the pen. The same goes for reusable totes, bags, t-shirts, travel mugs, and all the rest. They amplify your messaging and expand your ability to build a strong brand.
Keep Your Name Front and Center
The right printed promotional merchandise consists of things that your recipients will use regularly. They hold onto those items and use them in their daily lives. They'll use branded pens to create grocery lists or at their office desk. They'll carry that travel mug with them to gas stations and on vacation. And, no matter what type of item it is, every time they look at it, they'll see your brand name and remember your company. It's an incredibly simple and cost-effective way to keep your business's name front and center.
Long Lifespan
Most marketing is pretty brief. How many people will remember that Facebook ad in a week? Probably none. How many people will remember seeing your logo on the side of a bus or a park bench? Depending on the scale of your commitment and the amount of spending, it could be very few. Giveaway products, on the other hand, can last for years. And they communicate your message and build your brand the entire time. This is particularly true when it comes to certain types of promotional products, like high-quality shirts, nice keychains, durable water bottles and travel mugs, and the like.
Showcase Your Innovation, Dedication, Commitment to the Environment…
Another benefit of promotional products is that they give you the chance to showcase something your brand is all about. Are you dedicated to innovation? The right corporate merchandise can amplify that message. Passionate about being a good steward of Earth's limited resources and protecting the environment? You can send that message with promotional products made from recycled, green, or renewable materials. With the right corporate merchandise, you can amplify unique aspects of your business and get the word out to more people.
Foster Loyalty
Want to increase the loyalty of your existing customer base? Give them additional chances to win freebies, whether that's more entries, early access to giveaways, or something else entirely. That tells them you value their history with your brand and also increases the chances that they'll discuss your brand favorably whenever someone asks them about the logo on their hat, shirt, pen, mug, or bag.
Gather Information and Contact Details
Every business needs new ways to gather contact and demographic information from its audience. Promotional giveaways make that easier. You can request that your audience members give you their name and email address to qualify for a giveaway or use giveaways in contests that involve collecting demographic information. It's never been easier to get to know your audience better.
Build Employee Loyalty
Giveaway promotional items aren't just great for building loyalty with customers. They can also be used to increase the loyalty of your employees. Corporate merchandise works great in swag bags at corporate functions and, when you choose the right items, can even be used as rewards and recognition for employee anniversaries, employee of the month contests, and much more. This can be a fun way to offer something of value, build loyalty and longevity in the ranks, and benefit from the additional reach and brand exposure offered by giveaway items.
The Importance of Choosing the Right Corporate Merchandise
By this point, you should clearly understand the benefits offered by printed promotional merchandise. However, it's just as important that you realize not all items are appropriate for all brands. Sure, almost every company can benefit from using branded T-shirts as giveaway items, but what about other things?
It's really about perception. How do you want customers and potential customers to see your brand? To an extent, low-value giveaway items may give the appearance that your brand is low-dollar. Think about it this way: if you operated a luxury brand with high-dollar merchandise, you wouldn't want to use low-quality giveaway items. Instead of stress balls and ballpoint pens, you might consider logoed polo shirts or branded charcuterie boards.
Of course, it's not just about how your audience sees your brand. You also need to consider the setting. For instance, will you be attending a tradeshow? Then, depending on the reputation of the event, you may be able to use lower-cost giveaway items than if you were using the items as direct prizes in a company-sponsored contest or rewarding employees for their years of service.
You must also consider your audience. Will you be offering free stuff to anyone and everyone? Is your audience comprised of more affluent people? Do you market primarily to women? Your audience makeup will affect the promotional items that you choose.
Finally, consider brand compliance. How do the giveaway products tie into your brand? We're not just talking about product type or even quality here. Where does your logo go? How well will your brand color stand out against the surface? How well will your name and logo hold up over time and through use in the real world?
Here's a quick checklist to help you decide on the type of corporate merchandise to use in your giveaways and promotions.
Define your target. What do you know about them? How does that knowledge affect your choices when it comes to promotional products? What is appealing to them? What's unappealing?


What is your brand positioning? Are you a value brand? A luxury brand? Your brand positioning will dictate the type of promotional items you choose, but also the quality of the items in question.


What is your budget? How much are you willing to spend on the items? What about the customization process? For instance, screen printing is pretty affordable, but embroidery is longer lasting and of higher quality, although it comes with a higher price tag.


Choose items and then narrow down your list. We recommend that you cast a wide net to start with, and then discuss each item and its possibilities/tie-ins with your brand, audience, and budget. Narrow down your choices to a few favorites.


Decide how you will distribute your items. This might be a given, like handing them out in person at a tradeshow or convention. However, it might be less well-defined. For instance, how will you get giveaways to your audience if they win an online contest? In that case, you'll need to consider not just the cost of shipping, but also the logistics process, how you'll gather contact information, and more.
Creating Great Giveaway Items
Traditionally, it's been challenging to create great promotional products. In many cases, you had to work with one vendor to source the items, another vendor to handle the commercial printing and customization aspect, and yet another vendor to handle shipping…it was quite the headache.
Today, that doesn't have to be the case. You can work with an all-in-one partner that offers a proven solution from sourcing the products to printing to delivery and everything in between. For instance, FuseBox One offers the chance to scale back your slate of vendors while ensuring you have access to the highest-quality promotional products. We also offer industry-best printing and other customization options to create vibrant, color-matched logos and prints that stand out from the crowd.
Interested in learning more about our capabilities? Get in touch today for a free quote. We'd love to help you spread the word with high-quality promotional products and make your life easier with our industry-best printing, inventory management, and distribution solutions. From brand-aligned giveaways to reducing vendor glut, we're here to help.
Free Resources:
Source:
https://www.fuseboxone.com/apparel-promotionalproducts/?hsCtaTracking=a9d425c9-9f58-4883-8383-6faf0719a0f4%7C133344cd-8894-42fb-b7ba-92540975038f
https://www.brprinters.com/promo-merch-in-marketing/
https://blog.submittable.com/contest-marketing/#:~:text=Lower%20Marketing%20Costs&text=They%20often%20bring%20exposure%20and,amount%20of%20quality%20brand%20awareness
https://business.landsend.com/articles/why-giveaways-important
https://www.forbes.com/sites/forbesbusinesscouncil/2022/02/03/using-promotional-products-to-improve-your-business-marketing-strategy/?sh=70a1e2e1598c