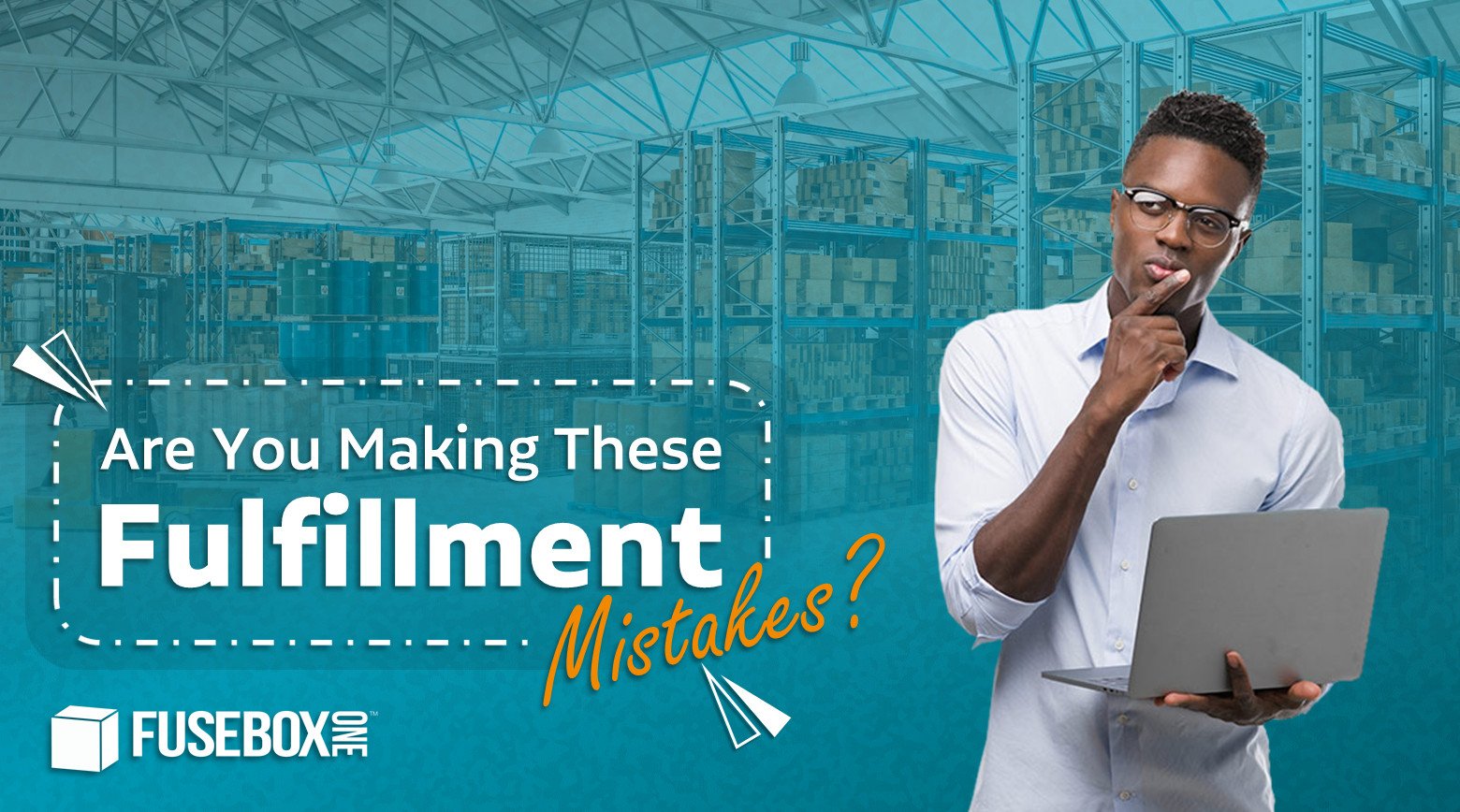 When you provide a product, crafting and marketing that product is just one part of your business. Getting people to order your product is the next step to gaining profit. But another vital factor, which is a make-or-break customer service aspect and key to high satisfaction levels in your customers, is your ability to fulfill those orders.
Fulfillment mistakes will make a lasting impression on your customers. So many reviews don't even talk about a product if it took too long to process, ship, or didn't make it safely to their business or residential address. That means it's not enough just to have an amazing product if you can't quickly and accurately deliver it. Poor fulfillment practices may mean you don't have as many returning clients as you could. This reduces the lifetime value of a customer and makes it more costly to find new leads.
Read on to discover the most common and reputation-damaging fulfillment mistakes you might be making. Then the consequences of not fixing them and how you can solve any fulfillment problems you might currently be facing.
Why Is Quality Order Fulfillment (In-House, Warehouse, or for eCommerce) Important?
The final step in the selling process may just be the most important one, which is why efficient, quality and consistent order fulfillment is critical. Many consider quality order fulfillment mandatory in today's market, as it is key to ensuring that your supply chain remains healthy. You should strive to meet and exceed customer expectations. Without proper order fulfillment practices, you set your business up to make a lot of mistakes.
With poor inventory management, bad packaging practices, customer miscommunications, or any one of the shipping mistakes that will be covered in this article, you risk damaging your reputation and losing customers. Order information could be inaccurate, orders can be damaged, and high return rates will lose you precious profits. Issues can spiral, leaving your customers unhappy, losing you a potential brand advocate, and hurting your overall reputation.
Whether you outsource order fulfillment or do it in-house, you may be unaware that some of these errors are happening. If they are, they may be costing you dearly, making you fail to deliver on customers' expectations. While mistakes are bound to happen every once in a while, consistent problems will affect your reputation. Shipping problems may even dissuade others from working with you in the future. Overall, this could limit your growth and, if severe enough, may reduce current sales numbers.
According to this recent study, almost 70% of customers will choose to shop elsewhere if what they've ordered doesn't arrive to them within two days of the expected date. The damaging effects of bad shipping practices can be lasting. But what common mistakes could you be making with your order fulfillment, and how can you fix those mistakes?
The Most Common Order Fulfillment Mistakes
Very little about shipping out numerous product orders, especially if your product needs specific packaging, is simple. This is particularly true if you need the assurance that important information, manuals, extra parts, or special protection need to go with each product. The more complex your shipping needs, the more vital it is to streamline your shipping practices to ensure that all orders are consistently packed and ship on time.
Just because it's difficult, however, it doesn't mean that figuring out how to create a simple shipping process isn't important. Consistently late shipping missed orders, and broken products can make or break the success of your business in the long term. But the first step to fixing a problem is identifying it. Here are a handful of the most common order fulfillment mistakes made by businesses and some solutions to help you address these issues.
1. Inventory Management Issues
Receiving, processing, organizing, and maintaining stock are all a part of inventory management. Getting these products organized and ready for customers and clients to order is vital to ensuring that each package contains the correct order information. Improper inventory handling may make your business fall behind with orders. Certain products may be over-ordered, creating inventory backlogs and increasing shipping time.
At the worst, bad inventory management may mean that you run out of stock entirely. You never want to be in a place where you've run out of things to offer and can't sell to make a profit. Another thing to worry about is "shrinkage." Shrinkage is the process of inventory becoming lost or broken. Stock shrinkage also happens when items get stolen. It's impossible to eliminate all possible inventory shrinkages, accidents happen products break, but unaccountable inventory losses should not account for more than 2%-10% of your total product supply.
Take steps to better manage your inventory by:
Create systems that make it easy for inventory to be taken in and then logged into a data management system. All stock should be integrated into your system within one to two days of receiving.
Investing in an inventory management system. To ensure that you always have the best stock balance, you need a system that can track your inventory with real-time data. With real-time data, you can know when you should hold back on restocking, so you're always in the 'goldilocks zone.' This means you avoid having too much capital invested in inventory that isn't moving and when to order before your product supply runs dry.
If you choose to work with a third-party fulfillment center, inventory management and communication should be that center's top priority. They have to take responsibility for inventory shrinkages, so you have to worry less about calculating shrinkages.
2. Incorrect or Damaged Orders
The process of fulfilling an order is called the pick, pack, and ship process. These procedures include everything involved in packing the product. These include all necessary informational materials, finding the correct packing medium, including assembly parts, and even finding the right box to ship the product in.
To optimize this process and avoid shipping incorrect orders or having orders arrive damaged:
Ensure that each product has clear packing instructions that are easily referenceable. This ensures that packing is as accurate as possible.
Work with a third-party warehouse and logistics servicer that promises to follow these practices if you outsource your warehousing. Before committing to a service, ask about their return and fulfillment error rates.
3. Nonexistent or Inaccurate Customer Communication (Resulting in Unfulfilled Promises)
Your customer learns about your product through marketing, promotional materials, and product descriptions. Ensuring all these pieces correctly and clearly inform the customer about what the product is, how it works, and the size is essential to ensure the customer is happy once they receive their purchase. Customers should also be able to reach out to you to ask questions about the product and receive an answer in a timely fashion.
Without these things, you may be getting higher rates of returns and lower customer satisfaction. This problem is an especially big issue for eCommerce-only businesses, where customers don't get a chance to view a product in person. Ensuring that your product information is clear will help customers understand what to expect once they finally get their hands on the product.
You can make these processes more effective by:
Employing an automated bot that can answer FAQs 24 hours a day, practically instantaneously.
Ensure all facets of your business are in line with the reality of your products. Sales, marketing, and customer service should deliver consistent product information. This should avoid miscommunications that leave customers unsatisfied.
4. Slow and Overly Costly Shipping
In the current market, customers expect fast, accurate, and low-cost shipping. In the ideal scenario, they want free next-day shipping. Now, this isn't always possible and instant shipping is not an expectation, but shoppers expect shipping to happen in a timely fashion, generally defined as within two days of ordering.
An organized inventory will facilitate quick order turnovers, making it easy for employees to locate and properly pack items. However, you can take other steps to ensure that your orders are picked, packed, and shipped quickly.
If it will take longer for an item to ship out, communicate this with the customer, so their expectations meet reality. Providing automatic tracking data for their package can also help increase customer satisfaction as they know exactly where their package is at all times.
If working with a third-party warehouse and distribution center, ensure that their warehouse is in a location that makes it easy for them to hand off fulfilled orders to shipping giants, like UPS, USPS, and FedEx. Longer distances from these places will increase the time it takes to get packages out of the facilities and may increase shipping costs.
5. Poor Returns Handling
Returns aren't something most business owners want to think about, but they are a natural part of the shopping experience. This is true whether you sell products in a physical location, only participate in eCommerce, or do both. While you can take steps to ensure your products arrive to customers undamaged and always meet the expectations created by marketing, you can't prevent all returns.
Not anticipating how your business will deal with returns is a fundamental error. Knowing how to deal with returns effectively is an essential part of creating a fully successful order fulfillment cycle. A slow process could turn a happy customer (who simply wasn't entirely satisfied with a product or no longer needs it) into an angry customer who leaves a less than positive or neutral review.
You can take steps to ensure that your production can handle returns as efficiently as you process orders:
Create a space for accepting and processing returned packages. This way, undamaged products can be quickly returned to the shelves for another delivery. Returns that sit around for too long without being processed take up precious space, and slow processing times that make facilitating replacements or refunds longer make customers unhappy.
Have processes in place for times when inventory is returned damaged. What moves can you take to recycle as much of this product as possible for other packages to cut losses? Or can it be used in another area of your business? For basically new materials, consider setting up sales that customers can capitalize on to get a discounted but quality product.
For all of these issues, you can develop in-house systems that allow you to process orders, deliveries, inventory, and returns more effectively. However, you can also outsource this work to experts who know how to safely handle and ship products. This would free up employee time and allow you to focus on the aspects of the business better suited for your attention.
What is a Warehousing and Fulfillment Center?
Also called a fulfillment warehouse, this is a business that doesn't just store your inventory, it takes an active role in packing and shipping out deliveries for a business. Fulfillment warehouses are usually much larger than a regular warehouses, as fulfillment centers need the space to keep up inventory and provide packing services.
The difference between a normal warehouse and these fulfillment warehouses is that the goal should be to turn over inventory, not just keep it safe. At a fulfillment center, you don't want your business to be storing goods with them for longer than a month, as this may incur storage fees. However, you also need to be able to ensure there's enough inventory at the center to fulfill orders. This is why working with a company that has accurate real-time inventory management software is so important.
Regarding Fulfillment Center Operations
Fulfillment centers have more complex operations than a warehouse does. That's because they have to deal with all the responsibilities that a business would handle when shipping in-house.
That includes receiving and processing all incoming inventory so that it's well organized and easily processed. Then, the center has to create and manage pick lists generated by your business. These will be the directs the center uses to pick products for shipping. This would also include all kitting instructions that allow more complex packages to be shipped by this service.
They also have to manage all items needed to properly assemble a shipment. Including packing materials that guarantee your customers safely receive the package. Then they pack the boxes, ready all shipping information, and create labels. Some services also offer shipment tracking information, which you can pass along to customers to help them track their orders and manage shipping time expectations.
On top of all those shipping operations, a fulfillment center will also manage incoming returns.
Shipping Carriers and Fulfillment Warehousing Fulfilment Centers
To get the guarantee of fast shipping expected in the modern markets, a fulfillment center should have ongoing relationships with local and international shipping companies. Delivery pick-ups should happen frequently, if not daily, especially when you promise customers same-day and next-day shipping options.
Check with any fulfillment center you work with to understand their shipping schedule so that you can relay accurate shipping time estimates to customers. Often these facilities have daily cut-off times that decide whether a package will be packed and picked up the same or the next day. There may be separate pick-up times for international orders as well.
An All-In-One Solution with FuseBox One Warehouse Handling
If you ship your orders in-house but are struggling to meet demand as your business grows, there are warehousing and distribution services that can help streamline shipping for your business. Or, if you're unhappy with the service you're receiving at your current third-party fulfillment center, it might be time for a new solution. FuseBox One offers a wide variety of services that can help streamline each level of operation in your business, including shipping and order fulfillment.
Failing to make the most of your shipping processes may mean that you are wasting a lot of your business's resources—like employee time, raw capital, and workspace. Take these worries off the back of your business. Instead, trust your inventory and shipping needs with a company with expertise in this area. Whether your problems lay in late shipment times, returns handling, or inventory management, some solutions can help solve these problems.
There are no two businesses with identical needs, even in the same industry. FuseBox One offers the tools to cater your shipping to fit your brand and product needs. Click here to email and connect with a specialist.
Customizable Packaging Solutions
When you work with FuseBox One, even though you're not packing orders in-house any longer, you have complete control over the picking and packaging process. Every touch you include in a package to show appreciation for a purchase or ensure that a customer can use their product well will be included. Create special orders, including kitting plans and specialty inventory pulls, to keep your sales functioning smoothly.
There is power in the special touches you add to your packages. These personalized features help engage your customers, evoke emotional responses, and show how your business truly cares about their individual needs. Often, it's these touches that spur customers to become lifelong brand advocates and increase customer loyalty.
Digital Project Management and Streamlined Inventory Management
FuseBox One also offers easy-to-use digital project management systems that can ensure that you always know the state of your inventory. Get updates at all stages of your packages and inventory status, so you're kept up to date with the state of your product stock in real-time. This also helps you keep track of when your packages are picked, boxed, and sent out. That way, you can track your deliveries right to your customers' doors.
All this data is also kept secure, so you don't have to worry about compromised sensitive customer information. With modern facilities, your data is protected by PII, PHI, and PCI-compliant systems; FuseBox One takes all the necessary steps to preserve your data.
Send High-Quality Packages on Time
Have a warehousing and logistics partner that can handle taking on and processing your inventory. The company you work with should have a history of accurately fulfilling orders will low rates of inventory shrinkage. Before committing to a service, please get in contact with their customer service. Are you sure that this company will respond to your questions and problems when those come up in the future? If you get prompt, clear, helpful responses, and a customer service that is eager to assist you, then that's a company that you should work with.
FuseBox One offers warehousing, logistics, and shipping solutions alongside many other possible services you can take advantage of to craft more effective business operations.
Garner Higher Customer Satisfaction and Fix Costly Fulfillment Mistakes
If you have a great product, delivering that product becomes your only hurdle between a happy returning customer and a disgruntled one. You've already done the work of gaining trust and convincing your client that your product is a quality and worthwhile investment. Don't let all that investment go to waste because your shipping fulfillment process isn't as good as it should be.
The mistakes outlined in this article are common but completely fixable. Take the steps necessary to improve your customer service, get shipments out on time, and make your customers happy.
Trusting the right company to take care of your order fulfillment with a state-of-the-art warehouse that guarantees quality service can take all these worries off your plate. When you work with FuseBox One, you can ensure that your packages will be shipped based on your specific business needs. That way, you can focus on other aspects of operations while you know fulfillment is taken care of. Utilize the variety of customizable and affordable shipping solutions and real-time tracking information you can rely on to collaborate with shipping better.
Whatever you do to solve your fulfillment problems, taking care of these issues will help your business reach higher levels of success. So, keep your customers satisfied, get your shipments out on time and accurately, and ensure that every aspect of your business is working as effectively as possible. Schedule a demo with FuseBox One today.
Sources:
https://www.symbia.com/blog/in-house-fulfillment-mistakes
https://www.falconfulfillment.com/blog/common-ecommerce-fulfillment-mistakes-costing-you-sales/
https://www.newcastlesys.com/blog/8-common-ecommerce-fulfillment-mistakes-and-how-to-fix-them
https://www.wisys.com/5-ways-order-fulfillment-errors-hurt-your-business/
https://logistics.newegg.com/intro/2020/08/11/things-that-could-go-wrong-with-in-house-fulfillment/
https://www.rswebsols.com/tutorials/ecommerce-tutorials/ecommerce-order-fulfillment-mistakes-avoid
https://www.shipbob.com/blog/differences-warehouse-fulfillment-center/
https://redstagfulfillment.com/ecommerce-fulfillment-definition-process-resources/