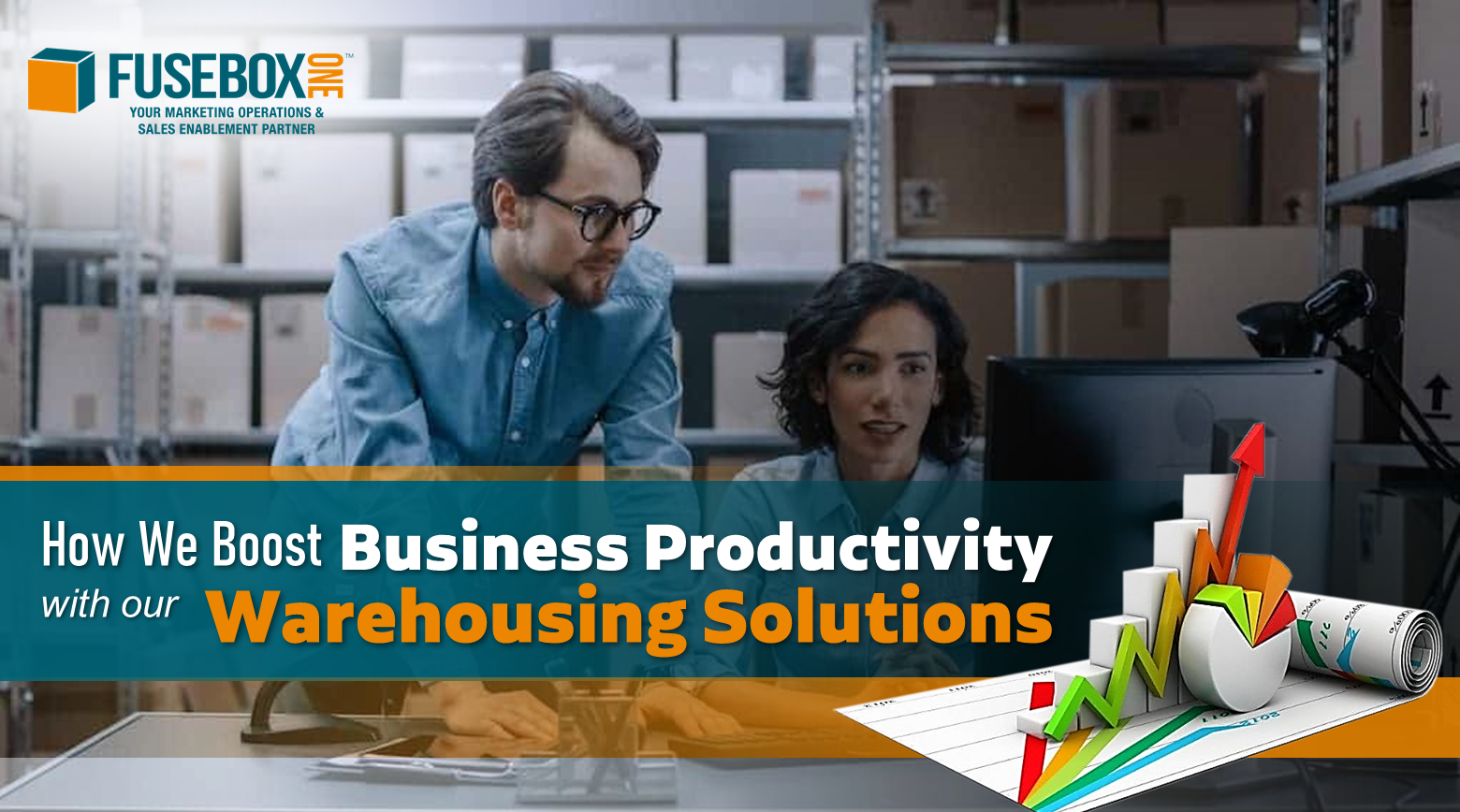 Inventory management, order fulfillment, and proper storage solutions should be at the forefront of a business owner's mind. These are something every business needs to stay competitive, especially in the rapidly moving eCommerce market. Notwithstanding the growth of these markets, storage solutions have always been key to creating a smoothly operating logistic strategy. Finding the right warehousing solutions is an essential part of ensuring your supply chain is well managed. It also ensures that products are delivered to your customers accurately and efficiently.
If you're currently unhappy with the warehousing and logistics service you're using or are looking to transition away from in-house shipping, there are options. FuseBox One can offer you a variety of warehousing and distribution solutions.
A quality warehouse management system can help you optimize labor and help you make the most of your current space, cutting down on operations costs. Automation tools can help you retain control of your inventory, making inventory management simpler. On top of that, warehousing solutions can help improve the accuracy, speed, and quality of your marketing materials and product shipments.
There are a lot of benefits to using a warehousing service, some of which are obvious and other secondary benefits which bring many benefits to your business.
The Many Benefits of Utilizing Warehousing Solutions Offered by FuseBox One
A warehouse can offer any business with selling and delivering products to customers. Having all your inventory in-house can drain your resources. It may be difficult for your employees to keep up with demand as the business grows, and storing your inventory can take up facility space.
These tasks can distract you from the parts of operations that are your expertise or need more attention, like customer service and product development. Instead of worrying about concerns better left to experts, capitalize on the benefits of outsourcing this work to a quality warehouse.
Focus on Your Expertise Instead of Dealing with The Warehouse
Most likely, you are not in the business of operating warehouses if you're looking for warehouse solutions. Leave the responsibilities of dealing with storage, picking, packing, inventory management, and other aspects of business that warehouses deal with to the experts in the field. Ensure that the warehouse service has well-equipped and safe facilities that can store physical and digital assets. These will hold your inventory and information securely and can assemble shipments at the standard and volume you need.
When working with FuseBox One, operate with the confidence that your inventory is stored in a climate-controlled environment. You can be confident your sensitive and confidential material will be safe alongside your physical products.
Operate Your Business More Efficiently
A warehouse has specific floor plans that are built on an understanding of what the best workflow for the warehouse will be. They are made considering elements like easy item retrieval and the ability to adequately organize all stored materials. This reduces waste from time wasted looking for products and premium floor space that could be used for inventory handling and packing instead of storage.
If you don't have this kind of optimized space, you could be wasting employee time. This would also contribute to longer inventory processing times, and increase the time it takes to send a shipment. An outsourced warehouse will have the facilities to deal with your stock effectively and safely, allowing for deliveries to be expeditated quickly.
Automate Inventory and Stock Management
When you work with a warehouse, you can have real-time inventory management information sent to you. This allows you to track sales trends and ensures you aren't over or under-anticipating current inventory levels. These tools allow you to better manage how you create new inventory orders. That way, you can avoid overordering or backorders. Avoiding both of these issues puts you on the road to increasing customer satisfaction.
Trusting in a warehouse run by FuseBox One means that you don't have to worry about your inventory getting lost, misplaced, or forgotten. With all this information at your fingertips, you'll always know your current stock levels and how each of your products are performing. When demand is lower for certain products, you can avoid losing revenue by investing more in that product and focusing more on where the momentum is.
Analyze this data to see where some of your marketing tactics are working. It may also reveal where some strategies may be lacking. Having inventory flow data and easy-to-use management software on hand will make operating your business and building selling strategies easier.
Increase Consistency (And Increase Customer Satisfaction)
Having a warehouse handle your inventory and shipping needs can ensure that your business is sending out materials at a high-quality level. There will be care and precision used when putting together each package. While your company handles the inbound concerns, the warehouse ensures you can follow through as your product is outbound and sent to customers.
When you work with a warehouse company, confirm that they can handle creating specialized kits for your business. Your packages should include all marketing material, user guides, and pieces of your product that need to be delivered to ensure customer satisfaction. FuseBox One is prepared to work with you to make mailable marketing content and guarantees that everything you want in a package will be sent to your customers.
With the right warehouse and distribution partner, the risk of your product being damaged before, during, and after processing is greatly reduced. Customers are happiest when they receive complete packages with fully intact goods delivered on time. Working with the right distribution company can make this consistency a standard and grow your business's reputation.
While initially, it may seem like warehouse and distribution couldn't be further away from the customer experience, the work done in a warehouse directly affects customer experiences. Proper inventory management helps prevent over-ordering issues that delay packages further than necessary. Faster, more accurate, and safe shipping are all aspects a warehousing and distribution partner can provide you.
Warehouses Easily Scale with You
It can be tricky to create space to store new inventory for a business that is expanding. Eventually, you'd have to invest in a larger facility that could handle your new stock level. Buying or leasing a new building can be a big commitment that the rest of your business may not be ready to support. But when you're dealing with more inventory, you need extra space to store and process those materials and items.
When you find an effective warehouse solution, like one offered by FuseBox One, you can grow knowing that your warehouse partner can grow with you. As your business grows, you will also be able to rely on your warehouse partner and work together to maintain current standards or create new packages.
Reduced Risk of Returns
When you ensure that your packaging is standardized and consistent, the likelihood of products arriving damaged or with incomplete information is significantly reduced. Plus, you can be positive that the product sent to consumers is always exactly what's described in your listing.
Working with FuseBox One means always getting marketing materials and products that are consistently branded with accurate and enticing information that you can confidently deliver to them. With the correct materials included in your package, customers will have the tools to use the product effectively. Instead of going through returns processes, which are often a hassle, other issues can be addressed by your customer service representatives.
Save On Overhead
Dealing with your own inventory, shipping, labor, supplies, space, and other costs associated with warehouse management can be a drain on your business. This can be especially true if you don't have high-tech and solid warehouse management skills to ensure your resources are being used effectively. While working with a warehousing and distribution partner has its own costs, the quality assurance and efficiency make it well worth it.
On top of eliminating costs, you reduce the need for excess management. A warehouse management partner would take care of everything from taking in your inventory, fulfilling the orders, and sending them out to customers. Instead of having to build up your own warehouse equipment, employees, and resource management tactics, you can trust the experts to take care of it for you. A warehousing partner can also get you in contact with companies to create deals that may make sending out products more cost-effective.
Returns are often costly and mostly unnecessary expenses that can be avoided with proper protection in shipping, accurate marketing, and product descriptions. Continuously sending out new products to replace broken ones, or refunding purchases to unsatisfied customers, costs your wallet and reputation. These extra costs can be reduced when you work with a quality warehouse and distribution partner.
What to Look for in a Good Warehousing Solution Provider
Finding the right provider will ensure that you receive the benefits outlined above. Look for the right qualities in whatever servicer you use to ensure that they are trustworthy. Then you know they will provide you with the best service possible. When deciding on a company, ensure that they exhibit the following characteristics.
Learn How to Partner with FuseBox One
Where are Their Services Located?
Pick a service that is located in a place that facilitates fast shipping and affordable costs. This means ensuring that the business is located nearby significant mailing service outposts, like UPS, USPS, or FedEx. Facilities that aren't near one or several of these mailing giants may increase the cost of your shipping overall.
A bad warehouse location may also affect some of the other benefits you'd be looking to receive from working with this service. Another possible side effect could include increasing the time it takes for your packages to be delivered.
Do they Guarantee Fast Shipping Times?
Having a convenient location is just one piece of the shipping puzzle. They may be near a mailing service facility, but not deliver the fastest shipping possible. After all, you want your warehouse and distribution partner to provide more than storage space, they should facilitate your package delivery. While it's impossible to guarantee immediate delivery and individual customers will get deliveries at varying times, the goal is to get material sent fast. Getting those products out of the warehouse and on the road should be the main priority of a distribution center.
This is especially important if time-sensitive marketing materials, like coupons or holiday-centric deals, need to be delivered to customers during a specific time frame. Have an open conversation with any company you're looking to work with to see if their turnaround times will work with your business.
What is Their Warehouse like?
A warehouse should provide climate control to ensure that your products, marketing materials, and sensitive information (like customer data, manuals, or proprietary information) are kept securely. To avoid unnecessary delays or accidents, ensure that the facility is equipped to safely handle any products or information that you handle on and off-line. This is especially vital if you're working in the medical industry.
If you aren't fully confident that the facilities adequately store your products or company data, then you should look elsewhere for a warehousing and distribution servicer.
Can They Create Custom Kits?
If you're a business that bundles many products or provides custom kits to customers, you need a facility that can follow through with accurately delivering these orders. It's important to note that not all distribution services can, or will, provide this service. In fact, you should be sure that any warehousing and distribution company you work with can provide for the specific needs of your business and industry.
When it comes to kitting, they should have kitting plans available to you. These should ensure that your special touches will be included in your packages. This includes things like thank you letters, catalogs, and other kinds of promotional material. Ensure that your new provider can enclose these materials in your packages so your customers get the best experience possible.
While you're at it, see if they can provide for other specialty orders as well. Are they able to quickly get out materials in bulk, so your marketing campaign hits all your customers simultaneously?
Do They Provide Inventory Management Resources and Real-Time Data Updates?
When you work with a warehouse, you're entrusting this service with a lot. From products to promotional materials, you need to trust in their packing and delivery facilitation. That doesn't mean you shouldn't be able to track your packages and inventory levels, however. Consider working with a company that provides you with inventory monitoring tools.
Look at Their Reputation and Customer Service
Learn about the service's brand. What are their goals, and what do they stand for? Do they have a good history? Are other clients satisfied with their services? Do enough research to get a clear picture of what the company goals are, how they deliver them, and past clients' experiences with the service.
Like you should with any company, ensure that their customer service is adequate. What kind of customer service option do they have, and considering possible time zone differences, will they be available for you when you need their help? Are there easy-to-use resources that can help you accesses their digital services?
You don't want to work with a service that has a history of slow communication or one that ignores help requests. Before committing to a service, reach out to their customer service, and ask them questions about their service. If they are rude or can't answer your questions in a timely fashion, you may want to look elsewhere for a servicer.
The Services Offered by FuseBox One
FuseBox One provides many warehousing, distribution, printing, and marketing services that your business can use to reach the next level. This includes services like:
Picking
The FuseBox One warehousing and logistics service let you utilize standardized 'pick-and-pack' solutions that are easy to use and easy to customize. These tools ensure that every little extra touch you include in the packages which makes you stand out from the competition. Whatever needs to go in your packages, from full kits or seasonal marketing tools, each box will deliver whatever you need.
Inventory Management
You always need to keep an eye on your inventory, even if you're not going to be directly responsible for storing and distributing it anymore. This ensures that you don't have a glut of backorders on a product that's running low. A real-time inventory management system keeps your business informed about your real inventory status at all times.
With FuseBox One, you can make the best business strategies based on accurate inventory information.
Shipping
Get every shipping need you have met when you work with FuseBox One. Each of your unique marketing and product deliverables will be taken care of and shipped with the utmost care. This will help ensure that your customers are receiving your products in the safest packaging possible. They'll also have all the materials you include that they need to start utilizing your product right away.
Digital Project Manager
With FuseBox One, you get more than real-time looks into your current inventory. You also gain access to a digital project management system. With this program, you can track the phases your projects are in, from start to finish. This can give you the real-time insight necessary to coordinate marketing plans and facilitate sales.
Get Printing Service Capabilities Along with Promotional Product Creation
Get your physical marketing and product distribution needs to be met in one place when you work with FuseBox One. That's because, in addition to warehousing and logistics services, FuseBox One offers many kinds of marketing enablement solutions. One of these services helps you print high-quality marketing materials that you can include with your products or use for mailing marketing.
By combining these services by getting them through one vendor, you won't have to be concerned about orchestrating your resources. You won't have to worry when your distributor has all the materials needed to complete your orders. Instead, you can choose to work with one company that can have it all handled. This streamlines processes further, saving on capital and making product delivery more consistent.
You don't just have to use these services for your shipping needs. You can use this service to print flyers, company banners, wraps, bold floor graphics, important signage, murals, educational materials, and whatever else you need. This includes more than paper-printed products as well. You can get other marketing materials like merchandise with your company's logo. T-shirts, pens, bags, notepads, and small electronic accessories can be customized for you then sent to customers so they can become active brand advocates.
Get The Warehousing Solution You Need
Finding the right warehouse to work with your business can be the key to ensuring your products are treated and delivered with the best care. With the right partner, you can be sure that shipping is happening according to your instructions. This ensures that your customers are satisfied with the products delivered to them. This way, you can focus on core operations without distraction.
Finding the right warehouse solution to work with is essential if you want to capitalize on these benefits, however. Get the warehousing solution that can be molded to fit your business's needs when you work with FuseBox One. The service is guaranteed to be high quality and effective. And you can use all the offered automation systems to keep an eye on your shipments and products as they are curated, fulfilled, and shipped.
If you require other business marketing and asset management services, Fusebox One can become an all-in-one portal for your digital and physical marketing needs. With a wide range of services that can offer a variety of marketing solutions, FuseBox One can make it easier for you to craft constant and targeted marketing content.
Interested in any of the listed services? See if FuseBox One can start making your production more efficient by taking care of your storage, warehousing, shipping, and marketing asset management needs. Get in contact with one of our industry experts or schedule your demo today!
Other Helpful Resources:
11 Things to Look for in a Warehousing Partner
Reasons to Have a Warehousing & Logistics Partner
Sources:
https://clarkstonconsulting.com/insights/benefits-of-a-warehouse-management-system/
https://www.redwoodlogistics.com/how-does-warehousing-benefit-your-shipping-process/
http://ivkwarehousing.weebly.com/6-advantages-of-warehousing.html
https://www.plslogistics.com/blog/3-benefits-warehouse-services