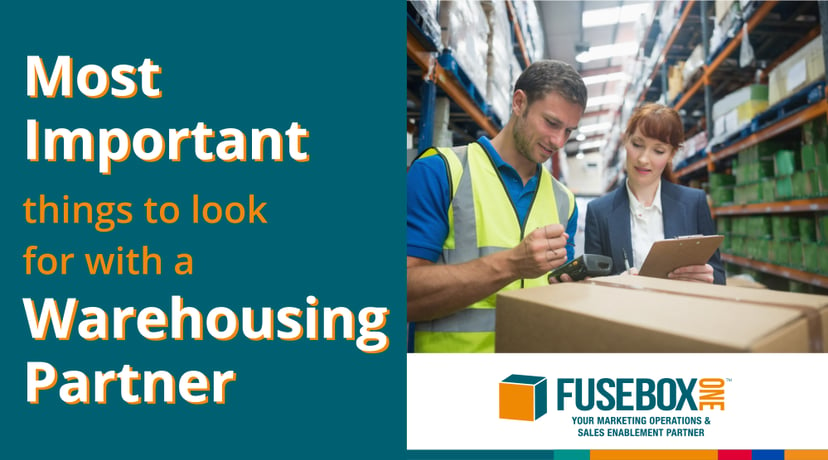 As your company starts to grow, it is no longer feasible to handle warehousing marketing materials or other items at your office. You have too many products and marketing materials that need to be stored, and you are running out of room. One of the best solutions is to work with a partner that can provide you with the warehouse space you need.
Rather than just leasing a warehouse in your area, consider working with a partner that can provide logistics services, as well as warehousing. You'll find that this tends to be the best solution for any sort of business, even if what you are storing is mainly your marketing materials. Let's get a closer look.
Why Work with a Warehousing Partner for Marketing Materials?
How much space do you have available in your current building? If you are like many companies, you have a limited amount of free space since most of it will be used for running the business. Businesses that aren't manufacturing and storing products on-site or at a warehouse don't usually have a lot of extra space. Any available space you have will likely be used for materials and products directly related to the business, not marketing materials.
Having a warehouse is simply a smarter idea than trying to get a larger building. Of course, you don't need a full warehouse for your marketing materials.
Therefore, it's smarter to work with a company that can offer the perfect amount of warehouse space for your materials. Even better, you'll find a company that can handle the printing, storing, packing, and mailing of all of those materials when you need them for your marketing campaigns.
It can be difficult to find a warehousing and logistics company that can take care of all of those things for you, but they do exist. Below, you'll find some of the most important features you should be looking for when choosing one of these companies. Use them as a guideline when you are making your decision.
Warehouse and Hub Locations
Where are the warehouses and their hub locations found? You want to make sure that you have affordable and fast shipping solutions, and a big part of that will be the location of those facilities.
Ideally, you will find a company that offers a centralized location along with regional hubs that can be used by popular carriers like UPS, USPS, and FedEx. Location is important for operations strategy, so you need to be careful when you are picking your warehouse partner. Otherwise, it could push up the cost of the mail deliveries and lengthen the time of fulfillment and delivery.
Speed of Shipping
While different types of mail and packages may take different amounts of time to reach their destination based on the location of the recipient, speed should always be a factor. You want to find a provider that offers more than just warehousing space. They should also provide fast shipping times.
Keep in mind how important timely deliveries are when it comes to marketing. You want catalogs, coupons, and similar materials to arrive in your recipients' mailboxes during certain dates, so they can make use of the material.
Talk with the company you are considering about their turnaround times. How quickly can they mail out materials when they are requested?
Can the Services Scale with your Company?
One of the other important questions that need to be answered is whether the company can provide scaling services. You might have relatively small needs when it comes to your marketing materials currently.
However, this could change over time. As your business grows, you will need to have more materials for your larger marketing campaigns. You might need to have the ability to create and ship promotional items, for example. Maybe you need to have a point of sale container made and shipped to retail stores, banners shipped to a conference or convention location. You may need to have emergency materials distributed for regulation changes, new company manuals printed and sent to you, etc.
The point is that your needs may change and grow over the years. You have to make sure the company you are choosing to meet those needs can scale along with you.
What Types of Services Should the Company Provide?
In addition to warehousing and logistics, what else should you consider when choosing a company? Think about the benefits that could come from using a provider that can handle all of your marketing management, including the creation of your materials to printing, warehousing, shipping, etc.
Some can even provide a full marketing management platform that lets you create designs for the marketing materials, store all of your digital assets for marketing, and send them to print when needed. Always examine the features and services offered to determine whether they are a good option for you or not.
Does the Company Offer Printing Capabilities?
In addition to the warehousing and logistics services, will the company be capable of printing your marketing materials? Having an all-in-one solution for your printing, warehousing, packing, and shipping makes a lot of sense.
It will speed up the process of getting those materials out, and it will reduce costs on your end. You won't have to hire one vendor to make the materials and then ship them to the warehousing location. It's yet another way to keep everything streamlined.
Promo Products and Direct Mail
Along the same lines, you have to consider what types of products can be created through the company if they offer printing services.
Do they offer digital printing for short runs and one-offs? Does the company offer offset printing, which is helpful for larger jobs? You may also want to find a company that offers wide-format printing. This could be helpful for banners, wraps, floor graphics, signage, point of purchase materials, murals, etc.
Can they produce all types of direct mail materials based on what you create? This includes more than just letters. Can they create brochures, postcards, and promotional items, such as shirts, water bottles, pens, and notepads?
All of those items, whether they are sent to customers or are given away at conventions, can be great marketing tools. If you can find a company that makes those and can store and ship them for you, you will save a lot of time when compared with finding different vendors to handle those needs.
The Warehouse
You should also know as much as possible about the warehouse and how the materials will be stored. Can you be certain they are safe and in a controlled environment? If you have certain confidential material, such as proprietary information in an employee training manual, how will it be kept secure in the warehouse until it is shipped to you? How are materials that could contain customer information handled? Is the facility HIPAA compliant?
Look for facilities that can provide climate control, as well, to ensure proper storage for all of the materials you are storing.
Picking and Packing
Having your items stored at a warehouse where their staff can handle the picking, pulling, and shipping will make your life easier. However, you need to be sure the company you choose can offer a range of different types of services for packing and shipping. You need to be sure they can meet all of your specifications.
Will you be able to create special orders? Can you have materials for emergency matters created and mailed quickly? Make sure that you can create pre-scheduled inventory pulls, as well. This will ensure that you are staying on top of your marketing campaigns and getting all of the materials out on time.
Kitting
One of the other features that you should look for and which is not offered by all companies is the creation of kits. Having kitting plans available, which will provide the warehouse personnel with a list of items to include in the kits being sent, can be a huge help.
For example, you might want to thank someone for making a large order by sending them a thank you letter, a catalog, and some free promotional products. Can your warehousing and logistics partner do this and mail it out quickly so your customers see your appreciation.
Inventory Management and Data
If you are storing a substantial amount of materials at the warehouse, you naturally want to find a way that you can keep track of it all. Work with a vendor that can provide you with an interface that provides inventory monitoring. Often, this will be accessible through the same portal as all of the other tools that the company provides.
Cost of the Services
Naturally, the cost will be one of the factors that come into play when choosing a vendor. Companies enjoy saving money whenever they can, and this seems to go double for marketing. It's important to keep in mind the importance of marketing and shipping out those materials, though. Without marketing, it would be difficult to keep any business operational.
You have to weigh the potential return on investment against the cost of the services. You will find that when you find a vendor that can offer all of the types of services mentioned above, it can help to improve the ROI when compared with having just a warehouse service.
Do not let cost be the factor that prevents you from using these services. Working with an all-in-one marketing solution should help you save compared to what you would have to spend with multiple vendors or solely in-house operations.
Consider how much it would cost for you to handle all of these different tasks with your employees, as well as how much time it would take. Not to mention, you may not have space for the marketing materials you will need.
Reputation and Quality of the Company
Learn more about the history and reputation of the vendor you are considering, not just the services they provide. This is a good practice when working with any company, not just for marketing and logistics needs.
You want to know more about their brand story, their goals, and how they aim to help customers. What types of solutions are they trying to offer, and how effective are those solutions? Do they have a lot of happy customers? Do they have robust, easy-to-use tools? The more you learn about them and their reputation, the better.
Good Customer Service
What type of customer service can you expect when you work with the vendor? You want to find a company that will take the time to answer questions that you have and that can help you find solutions to your warehousing and logistics issues. What you don't want is a company that ignores requests for help and more information.
Check their website to see what options are available for contacting them. Do they have online chat? Do they have a toll-free number? Can they provide resources on how to use their marketing management software?
If you find that the customer service is lacking or rude when you are trying to get more information about the services, it's likely to be much worse once you are a customer. Always avoid bad customer service.
How Will It Improve Your Efficiency?
Before you choose a partner for warehousing and logistics, you need to consider your needs and the various features and services the company offers. How will their offering improve efficiency in your company? Knowing how you can use the service and how it works is essential. This knowledge can let you know right away whether it's the right solution for your company or not.
Find a Good Warehousing and Logistics Partner
You should now have a better overall understanding of what you should be looking for when you are choosing a company for help with logistics and warehousing. It's time that you streamline your operations. Cut out costs and waste and reduce the number of vendors you are using.
These types of services can help you to increase conversions per lead, retain more customers, and engage customers in new ways. It has the potential to increase customer loyalty, and you won't have to worry about too much wasted time with follow-ups. The right partners will allow your marketing to do its job.
Choosing a company that can offer a range of different services, as mentioned, can allow you to limit the number of partners and vendors you have to use. This will simplify things on your end, and it can help to make your marketing process more efficient from start to finish.
Consider your needs for promotional items and marketing materials, along with warehousing and logistics. Then find a solution that will meet those needs and, hopefully, surpass your expectations.
Check Out a Demo to See How it Works
Many companies that provide warehousing, logistics, and marketing management software will provide a demo. This allows you to get a better understanding of how those services work and how you could put them to use in your business. Keep in mind that not all companies provide demos.
If the company you are considering doesn't, it could be a red flag. You will want to check out reviews from those who have used the service to see what they have to say about it.
Resources:
https://www.logisticsplus.com/factors-to-consider-when-choosing-a-warehouse-partner/