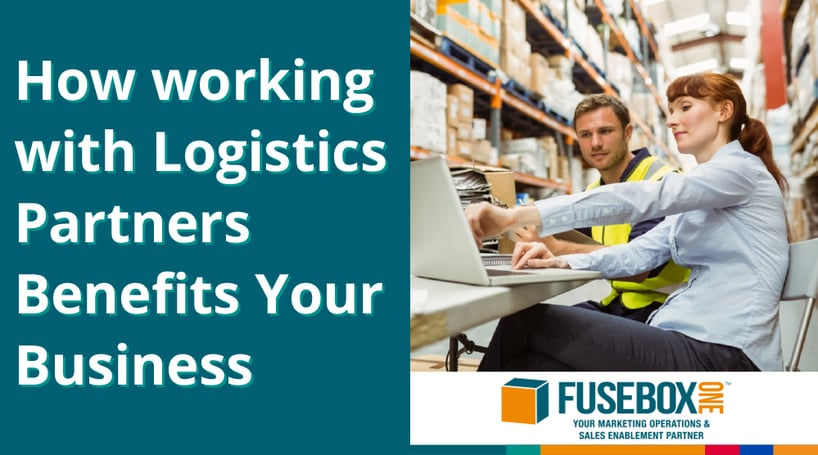 Logistics is a term that refers to the process of managing the procurement, storage, and transportation of materials to their final destination. Finding the proper companies to provide these services is a major part of logistics management, and it is important for companies of all sizes and types. This is true whether it's a construction company that requires materials for homes they are building or a large law firm that needs help with marketing logistics.
Why Is Logistics Important for Marketing?
Marketing logistics is used to ensure that marketing materials are created, stored, and delivered on time and accurately. It works similarly to any other type of logistics, such as those for products a company makes. The only major difference is that the materials being delivered will generally be marketing items. This might include things like direct mail and promotional items, for example.
These materials need to be handled with the same care and attention to detail that is placed on any other products a company produces. They need to be delivered to the right people at the right time. The advertisements you are sending, for example, need to coincide with the timeframe of all of your other marketing efforts. Otherwise, they will be wasted.
A reliable logistics service that can help with your marketing materials can improve your workflow, improve your business value, and the success of your marketing campaigns. It can also help you build your brand and create a positive image.
Third-Party Logistics Is Better than Handling It Yourself
Although some companies like the idea of keeping logistics and as many of their processes as possible in-house, it is difficult. This is particularly true when you have a growing business. You won't be able to keep up with the increasing demands without making major investments into your infrastructure and hiring more employees.
Logistics is an essential part of your business, but it's one that you probably don't have enough people and time to handle on your own. Trying to do everything on your own can get you into trouble. Outsourcing is one of the best options for logistics considering how difficult it can be to keep up with everything.
Consider all of the elements that go into logistics.
There's warehousing and storage, inventory management, assembling materials, pick and pack, fulfillment and distribution, and more. There is a lot to think about and you might not have the capacity to handle it all on your own. Allowing another company to handle these tasks can free up you and your employees, so you can focus on other aspects of your business.
Let's get a closer look at some of the biggest benefits using quality logistics has the potential to provide for your business.
Improved Efficiency Overall
Efficiency is the cornerstone benefit of marketing logistics. It helps to reduce the amount of work you and your team have to do in-house, speeds up the processes, and is what allows for many of the other benefits discussed below.
Speed and efficiency are essential to your marketing campaigns regardless of their scope. Having a logistics partner that can take care of all of the various duties will make a difference in how efficient your company is regarding direct marketing.
You can get your marketing materials through the pipeline faster, which means they can be sent out to your leads and current customers to align with the rest of your marketing campaign. With some help, you won't have to change the way other parts of your business are running just to accommodate an increased need for logistics management.
Save Time and Money on Shipping
When working with a logistics company for your marketing needs, it can help you save a substantial amount of time. You don't have to worry about finding the right carriers for the job or trying to get a discount. Many times, the logistics partner will already have existing relationships with carriers. They can pass the savings of shipping and sending materials to you, which also helps you to save some money.
Another way your company will be saving money is by not needing to invest in bringing aboard new employees that would otherwise be required for these tasks. Hiring and training employees is a massive expense and one that could be avoided with a good marketing logistics partner.
Technology is another cost that can be avoided. If you were trying to handle it all on your own, you might have to invest in sorting machines and printers to create the marketing materials. Working with the right logistics partners ensures you don't have to invest in those technologies because they already have them available.
Fulfillment Accuracy
When sending out marketing materials, you need to be sure they are going to the right destination. If you have multiple campaigns and types of materials that need to be shipped, it can lead to errors when you are trying to do it all on your own. Working with a logistics company ensures that the materials are being sent to the correct customers and leads.
Letting the pros handle this will provide you with more peace of mind. You'll know that the correct materials are being sent for each campaign. You can be sure new leads are getting the right materials to help bring them into your sales funnel and that current customers are getting offers, upsells, etc., that makes sense for them.
Although it might sound simple, you might be surprised at how often companies make mistakes with their marketing material accuracy when trying to do it on their own. Sending items to the wrong people, not using curated lists, and using a scattershot approach is a waste of time and money. Take those risks off the table.
Provides Faster Delivery
If you are responsible for mailing all of the physical marketing materials you create, consider the amount of time and effort it will take. You have to prepare each piece of mail that you've had printed, find a carrier, and mail it out. By letting a logistics company take care of these tasks, you can be sure the mail will go out on time and be delivered quickly.
Logistics Companies Have Specialized Knowledge
Most companies, particularly smaller companies, do not have the resources or the knowledge to handle marketing logistics on their own. After all, a real estate office, dermatology clinic, or electronics company spends their time and money focused on the main areas of their business, not logistics.
If logistics aren't your main focus, they will naturally suffer. If you put a lot of focus and effort into handling your own logistics, other parts of your business could be neglected.
Hiring a professional company for help with logistics management brings in this type of specialized knowledge, so you don't have to learn it all on your own. The companies can provide storage space for products, pick and pack, ship, and more. Some companies will offer printing services, as well, which means you have to find fewer vendors to handle all of your marketing needs.
Loss Prevention and Improved Inventory Management
Storing and maintaining products, along with cataloging inventory, takes time and can be costly. When working with a great warehouse and fulfillment facility, it will make it easier to manage inventory.
Logistics management can help to prevent loss, as well. It can do this through inventory accounting, which means your company will always know how much stock you have available for your marketing materials at any given time.
Logistics companies can provide project management tools that will help you have a view of all of the printing projects through each step of the process. They can provide tracking and real-time insights. You will know when you need more materials, so you can have them printed and shipped. This reduces the chance that stock will be lost or misplaced, as well.
Quality storage and warehousing facilities help to ensure that the products are safe when they are being stored, as well. Only choose a company that can provide secure, temperature-controlled facilities for the products and materials you are storing. This is true whether you're manufacturing direct mail materials, promotional items, or any other products.
Some of the most important things you should be looking for when choosing a partner include:
A secure facility

Climate control

Periodic inventory audits

Flexible storage plans

Online access to inventories–ideally, they will include images, as well.
If the company you are considering can't offer all of the above, continue searching for a provider that can provide these features.
Easier Expansion and Growth with Warehousing
If you are like a lot of businesses that are handling their own marketing mailing, you're likely still a relatively small business. You have the space for your marketing and promo items to be stored at your site. However, this will change as your company begins to grow and expand. Your marketing will need to grow along with it, and that means you have to use more space in your current facility for your marketing materials.
Eventually, you are going to run out of space, and it will no longer be feasible to do it all from your current facility. You have a couple of choices. You could invest in a larger building, or you could reclaim that space by working with a logistics partner that can provide warehousing and shipping for you.
When you have a logistics and warehousing solution in place, it's generally much easier to expand. Those companies can provide you with the added space you need, can pick up the production of your marketing materials, and still ensure they are sent out on time. It makes scaling your business much easier and more affordable.
Gain a Competitive Edge
Are your competitors using marketing logistics partners to help them with their direct mail and getting promotional items mailed out? Chances are they are still trying to do most of this in-house, which is slowing them down and reducing their efficiency. By engaging the services of one of these logistics providers, you can get a step ahead of the competition.
Instead of putting all of your resources into picking, packing, and shipping your materials, you can have someone else handle it for you. Reinvest that saved time into other areas of your business.
Poor Logistics Could Damage Your Business
Now that you have seen the myriad ways that good logistics can benefit your company, it's time to look at what could happen with poor logistics or no logistics help at all.
Not only could there be inefficiencies in production and fulfillment, but it could affect your business's bottom line. If you aren't able to send out your marketing materials on time, for example, your marketing campaign will not net you the results you need.
For example, you might have a coupon on the postcards you are sending out. If those coupons have an expiration date and arrive late, it's a massive waste of money. The customers that receive those out-of-date discounts will lose faith in your company when they aren't able to redeem the offer.
There's also the risk of upsetting your customers. If you send out quarterly catalogs, promotional items, or regular discounts they count on, they come to expect those items in the mail. If they are late, delivered to the wrong address, etc., it could shake your customer's faith in your business.
Naturally, you want to avoid having these issues happen with your company, as it can seriously damage your marketing efforts and your reputation.
Find the Right Partner for Warehousing and Logistics Help
One of the reasons that marketing logistics is so difficult is because business owners are working with multiple companies to take care of their marketing needs. This is true even when they are creating many of their marketing materials in-house.
They might have a vendor that provides a digital asset management tool and another company that handles the digital distribution of marketing materials. They may also have other partners that are handling the printing of direct mail, a company for promotional materials, and another company for warehousing and shipping those materials.
Having all of those companies in the pipeline can be a major problem for a host of reasons. If just one of those areas has trouble or falls behind, it can throw off or delay an entire marketing push.
The best option is to find a provider that can help you from the conception of your marketing plan all the way through the distribution of your marketing materials and beyond. Having just one provider that can help with the printing, provide tools for digital asset management, etc., can help to ensure a better, smoother workflow.
Choose a partner that can provide a marketing platform, commercial printing, apparel, and promotional items and that can store the materials and provide fulfillment for you. It can help you save time, money, and effort. You'll find that the cost of a service like this is well worth it because it can provide a great return on investment.
Of course, not all providers can offer all of these different services. You should strive to find one like FuseBox One that can provide exactly what you need and that will keep the number of partners you need to use to a minimum.
Resources:
Resources: https://www.fuseboxone.com/shipping/
https://ziplinelogistics.com/blog/10-benefits-to-working-with-logistics-provider/
https://www.investopedia.com/terms/l/logistics.asp
https://smallbusiness.chron.com/four-functions-marketing-logistics-21833.html