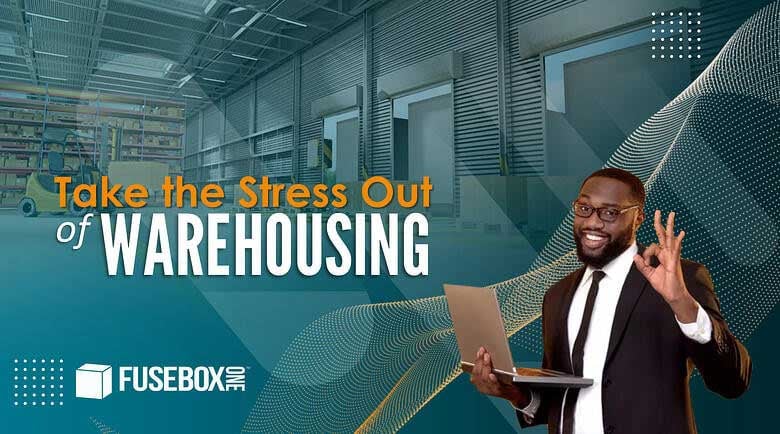 One of the greatest fears is running out of products as a business owner. Inventory control can be stressful for owners and managers alike. If you don't have an effective way to manage your inventory or the other aspects of your warehouse, you can cost yourself money.
If you aren't sure what a warehouse management system is, continue reading to learn the basics. Not only will we discuss what a WMS is, but also we will cover benefits, what to look for in a warehouse management system, and the types of warehouse management systems available. We will also touch a little bit on the types of vendors you might deal with when choosing your warehouse management system.
What Is A Warehouse Management System?
A warehouse management system (WMS) is software that helps you track the operations of your warehouse, making it easier for you to manage. Warehouse management systems allow you to use your space and workforce effectively. They are designed to provide support for all aspects of the supply chain.
A WMS will save you and your workers time and effort, causing productivity to increase. The system automates processes that were once done manually. The warehouse management system contains all the data for inventory and shipments, so when a customer places an order, the system can immediately determine if the product is in stock.
A warehouse management system can help you efficiently organize your warehouse. You can use it to place items from raw materials to finished, ready-to-ship products and everything in between. This feature alone can help reduce errors in order fulfillment and reduce the wait time between orders and shipments.
How Can Warehouse Management Software Benefit You?
The digital world we live in has changed how customers purchase and return items. They have come to expect nearly immediate customer service. A warehouse management system can help you meet the customers where they need and want you to be. Let's look at how these systems can benefit you.
Rapid Fulfillment
With customers expecting a nearly immediate turnaround on their orders, businesses must adapt quickly to the new climate. A warehouse management system can help you fulfill orders promptly and efficiently.
Using a cloud-based system, you can adjust your supply system quickly. You also get the functionality that comes with an on-premises system without the additional costs associated with an on-premises system. You won't need extra people in the IT department to monitor and maintain your system if you have a cloud-based system.
Lower Front-end Costs (Cloud-based)
When you use a cloud-based warehouse management system, you have lower costs at the outset because there is no hardware to buy. You also don't need to hire additional IT personnel to maintain your system. You do not need an administrator for a database because it's all managed on the cloud.
A company that opts for an on-premises WMS will have the upfront costs of hardware installation, software purchases, and the hiring of IT professionals to manage it all. Due to the fluid nature of technology, it's possible to require an upgrade several times within a short timeframe. Sometimes, when an upgrade is necessary, you have to reinstall and reconfigure it completely.
No Need to Upgrade (for Cloud-based)
Software as a service (SaaS) systems include regularly scheduled updates with the subscription. Your system will update automatically, similar to the way your smartphone updates. Your data is saved on the cloud. Your WMS always has the latest version of the software because of the automatic updates.
Scalability
With a warehouse management system, you can scale quickly to meet the requirements of peak seasons or other market changes. Flexibility in business is crucial as the digital marketplace grows and changes. If you're using a cloud-based system, updates are automatic, and you won't have a lot of extra expenses.
Integration (Cloud-based)
Warehouse management software can seamlessly integrate with enterprise resource planning (ERP), supply chain solutions (SCM), and merchandising (MMS) systems. Integration allows you to send data across several programs. Integration between systems can be used to create automated warehouses.
Inventory Control
Warehouse management solutions help remove the fear of not having enough products as well as the equally stressful issue of having too much inventory. With a WMS, you can create reorder points within the system that will help manage inventory. With reorder points, you can set the quantity that is necessary to have on hand and the maximum number to have so that the system keeps you from ordering too many of the same item.
Warehouse Structuring
A warehouse needs to have order to run efficiently. If your personnel doesn't know where to go to pick orders, it can take an unusually long time to fulfill them. A warehouse management system can help you organize your warehouse by assigning locations and sub-locations to everything within the system. The system can help you identify sales trends so that items that are typically purchased together also get placed together in the warehouse, for example.
Employee Empowerment
Employees who feel pressured to get more done than they have the tools to do will produce less than satisfactory results. One way to help empower employees to be productive is by incorporating a warehouse management system that works with mobile devices. Allowing them to use their own smartphones or tablets to perform order fulfillment tasks will reduce the time it takes to complete tasks and increase your overall efficiency and productivity.
What to Look for In Warehouse Management Software
Once you decide you need to purchase a warehouse management system, you need to know if your system will work for you long-term. There are a few points to check to validate that your system is indeed the right one for your business. We'll discuss those in a little more detail to help you learn what to look for in a warehouse management system.
1. Functionality
What can your warehouse management system do for you? Will it make your processes easier? How will it help you measure productivity? A good WMS will give you reports of what has been done and by whom, so you get a clear view of workers' efficiency.
A WMS helps you use fewer resources to accomplish more. The system maximizes efficiency while minimizing effort.
2. Easy to Use
An easy-to-use WMS will help reduce training time for employees on every level of your warehouse hierarchy. Employees spent less time getting ready for daily tasks and less time monitoring those tasks. This allows employees to adapt quickly to new expectations.
New employees can be trained and ready to go in less time than was previously the case. Training takes hours rather than weeks. Everyone should be able to utilize all the functions of the WMS.
Choose a WMS that has menus that are easy to understand and follow. Help screens that are easy to navigate will improve usability. An automatically updating dashboard will give users one place to find all necessary data.
3. Door-to-door Transaction Management
A sound warehouse management system manages your entire operation from receiving to shipment. You want good, detailed information for all steps of the process. Your system should at least track:
Receipt of goods.
Storing of received goods.
Orders that are picked.
Shipping of orders.
Inventory audits (cycle counts)
Any time items are moved within the warehouse.
As you track the processes in the warehouse, you can create analysis reports to help you choose the right candidates for job openings and help you efficiently stock merchandise.
4. Flexibility
A good warehouse management system will scale with your company and continue to meet requirements as the company grows. The first step to finding a scalable WMS is determining if it works with most ERPs. You need to look at all ERPs because you might eventually change systems. Therefore, it's necessary to know if your WMS will work with all ERPs.
Is the warehouse management system built on an open architecture? Your WMS is more likely to work with new operating systems and future applications. This means you won't be forced into a specific platform.
Another test of flexibility is the compatibility with hardware. Your WMS should be able to work with RF scanners, label printers, scales, and mounted RF terminals.
The warehouse management system should work with businesses of all sizes. As your business grows, your WMS should grow too.
5. Useful Metrics
You want your WMS to provide you with data. It's important that you can understand the data provided by the WMS. Your system should allow you to easily create charts or reports that give you a picture of the efficiency of your warehouse.
Good warehouse management systems track various metrics regarding the running of the warehouse. You might have access to comparisons between groups. These groups could be shifts, divisions, or any other separation you may use in your business. The important thing is that you are getting metrics that are useful and easy for you to understand.
6. Integration
A warehouse management system should integrate with your enterprise resource planning (ERP) system. The ERP controls things like invoicing. The WMS handles inventory control and fulfillment processes.
You'll want your WMS and ERP systems to be compatible. When you choose your WMS, ask the vendor about compatibility. Additionally, your WMS provider should also be able to develop ERP integrations for their system.
7. Proven Results
You want to choose a system that has a successful track record. If the system doesn't work well, you won't actually use it. One of the best ways to gauge the system's success is to check reviews. If possible, actually speaking to customers who currently use the system will help you understand how well the system works.
If another customer will let you, visit their facility to see the system in action. Preferably make that visit without the presence of a salesperson. Ask questions about scalability, reliability, and functionality. Attempt to get a complete picture of how well the warehouse management system works.
8. Return on Investment (ROI)
Lower upfront costs may not mean the best value. There is more to consider. The flexibility and functionality of the system factor into the return on investment (ROI). Other factors in the ROI include how easy it is to use, the scalability, and the amount of integration.
If your WMS doesn't meet your company's needs for growth, your ROI will not be worth the cost. In the long run, a warehouse management system that doesn't work well for your business can cause you more expense for integration tools and customization costs. At the offset, choose the solution that has the most features you need—even if it's a little more expensive upfront.
9. Vendor Focus
Is the vendor focused on providing warehouse solutions? Or, do they provide multiple business solutions, with warehouse management being one of a suite of tools? How do you know if they are focused on warehouse management?
One way to know if the vendor is focused on warehouse management is to determine how often they update software and how extensive the updates are. You can also gauge how they handle customer feedback. Also, knowing how much the upgrades cost is a bonus.
Types of Warehouse Management Systems
There are integrated warehouse management systems and stand-alone software. The type you need will depend upon your goals if you want something that will keep track of inventory, orders, profit margins, and your other warehouse processes, an integrated system. Stand-alone systems generally focus only on the day-to-processes within the warehouse itself.
Integration makes it easier to determine which products merit your investment. An integrated warehouse management system is typically an addition to an Enterprise Resource Planning (ERP) provider. The ERP handles the accounting and invoice functions while the WMS handles orders along with shipping and receiving functions.
Stand-alone warehouse management systems are specifically for the management of the warehouse. They may not have functionality that handles accounting or inventory. However, you'll find that stand-alone software maintains the functionality of the warehouse itself—shipping and receiving, product picking, and inventory.
Another decision you need to make regarding your WMS is whether you want an on-premises system or a cloud-based one. With an on-premise system, you basically run your own server. You maintain the software and the hardware associated with your WMS. While you have complete control of the security of the system, you also have the responsibility for all maintenance as well as the upfront costs.
The alternative to an on-premises system is a cloud-based system. A cloud-based system is hosted on a remote server, and someone else is responsible for maintenance. These types of systems are typically run on a subscription basis, meaning you pay either by the timeframe or by the feature depending upon your host.
Main Capabilities of Warehouse Management Systems
All warehouse management systems offer some basic capabilities. Some of the functions of any warehouse management system include:
Receiving
Stocking
Location of stock
Inventory management
Cycle counts
Order picking
Merchandise replenishment
Packing
Shipping
Labor management
These are simply the most common of the functions. Each individual system can add to these.
You can purchase complete systems, or you can buy individual components for your system. Either way, you want to verify the system has the functionality you need to scale your business. If your system doesn't function the way you need, you won't use it.
Types of Warehouse Management System Vendors
There are five types of vendors in the warehouse management system market. Those are:
Application Mega-suite Vendors
These vendors offer a wide range of applications that cover many categories. They offer full systems rather than independent components.
Supply Chain Management (SCM) Suite V
endors
These vendors deal with systems that are multiple application systems utilizing holistic warehouse management to manage the supply chain.
Specialist WMS Suite
These vendors focus mostly on holistic warehouse management suites. They don't deal exclusively with holistic warehouse management suites, but that is their main focus.
Indepen
dent WMS Component Vendors
These vendors specialize in stand-alone components but do not offer complete warehouse management systems.
Material
Handling Equipment/ Automation Vendors
These vendors focus mainly on the support of electromechanical portions of automated warehouses that run large-scale operations.
How Do Warehouse Management Systems Differ from Each Other?
While many warehouse management systems offer the same core benefits, they also have differences. The WMS offerings differ in areas such as usability, adaptability, and scalability. They also differ in the areas of decision support and life cycle costs. The usability, simplicity, and cost of ownership are the crucial factors in less complex work environments.
How Does Warehouse Management Technology Work?
Warehouse management technology uses mobile devices, bar code scanning, and sometimes radio frequency identification (RFID) scanning to create the system's foundation. The system delivers accurate information in near real-time.
Some warehouse management solutions allow you to use personal smartphone or tablet devices to control inventory. When employees can use their own devices, they feel more empowered to complete their tasks efficiently. It gives them ownership of their workload, which increases overall productivity.
What Fusebox One Offers
FuseBox One recognizes that all businesses are different. Since all companies are different, all businesses have different requirements when it comes to warehouse management systems. The warehouse and distribution services offered by Fusebox One mean that customer delivery is handled.
The team at FuseBox One handles the distribution details allowing you to focus on other portions of your business operations. Using the Marketing Management platform, they offer means that you can access the market and meet deadlines and order fulfillment requirements.
The shipping solutions offered by FuseBox One are not only affordable, but also they are customizable. You receive real-time information regarding tracking. The insights you gain help you collaborate with other businesses.
Final Thoughts
Warehouse management systems (WMS) help you streamline how your warehouse works, leading to more efficient productivity. Your system should integrate with your ERP for a comprehensive warehouse management experience. If it has the ability to integrate personal mobile devices into the system, your employees will feel more empowered and better able to do their job.
Warehouse management systems benefit you by providing inventory control, scalability, rapid fulfillment, and employee empowerment, among other things. There is more than one kind of warehouse management system available to you. There are on-premises systems that require the purchase of hardware and in-house IT personnel to run the system. You are responsible for maintaining every aspect of this kind of system, and it may require almost total replacement if you need to scale.
Software as a service (SaaS), also known as cloud-based systems, is housed entirely online. Someone else is responsible for maintaining and managing the system. These services are typically subscription-based, which means their upfront costs are lower. Also, upgrades for cloud-based solutions are generally automatic, without the need to completely replace your system when it's time to upgrade.
Are you dealing with lost products or dissatisfied customers? If you constantly have overstock or receive multiple complaints regarding order fulfillment, it's likely time to consider a warehouse management system. If you're still on the fence about your need for a warehouse management system, consider how you want your business to grow as well as how efficiently your inventory is maintained.
Choose the system that will make your warehouse run the most efficiently. Look for functionality first of all. If the system functions the way you need it to, you are more likely to use it. You also want a system that is flexible and scales with your business. A good system will integrate with your current ERP and be compatible with others for maximum scalability.
https://www.forbes.com/advisor/business/software/what-is-wms/
https://www.gartner.com/reviews/market/warehouse-management-systems
https://www.oracle.com/scm/what-is-warehouse-management/#:~:text=A%20warehouse%20management%20system%20(WMS)%20is%20a%20software%20solution%20that,center%20to%20the%20store%20shelf.
https://www.explorewms.com/taking-the-stress-out-of-warehouse-management.html
https://www.inboundlogistics.com/cms/article/13-keys-to-choosing-the-right-warehouse-management-system/
https://pathguide.com/news/7-musts-for-a-warehouse-management-system/
https://www.fuseboxone.com/services/