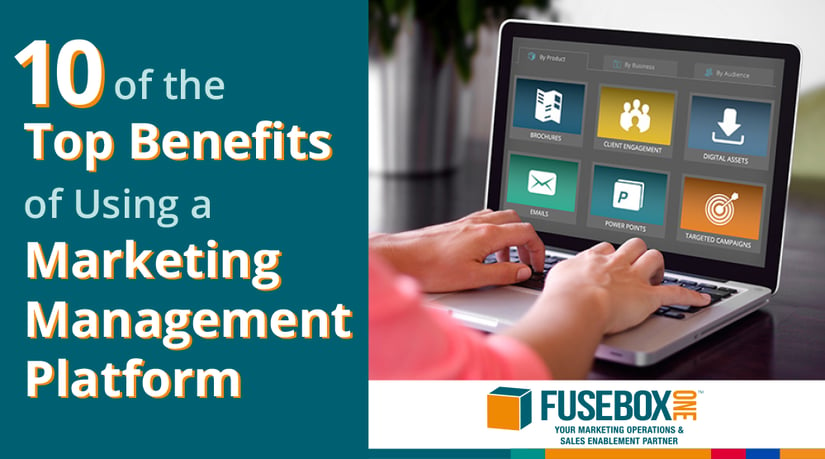 If you run a business, you need to get better control of your marketing. As your company starts to grow, your marketing needs grow. You create more assets to use in your campaigns. Therefore, you need to have a simple, streamlined way of integrating and storing those assets, updating them, and using them across all of your marketing channels. It can be difficult.
Trying to manage everything using multiple programs often turns into a confusing mess, which is the last thing you need. It should be fast and easy to find the perfect images, the right size logo, text, etc. when creating the materials. To make matters much easier, consider using a marketing management platform. It's an investment that can provide your business with a host of benefits.
What Can a Marketing Management Platform Do?
When you have a quality platform, you will find that it becomes much easier to manage all aspects of your marketing, not just the assets. The right tool can work well for businesses of any size. Whether you are just starting or you already have a growing, thriving business, this tool can work for you.
These platforms can make it easier to use custom branded assets, will have simple to apply templates, and will allow for personalized messages and images. They can work well for a range of different types of campaigns—web, email, and print. When choosing a platform, make sure it can be used for all of those types of marketing efforts. Having an all-in-one solution is a better option than using multiple programs.
Look for a program that provides social media tools, as well. For example, if you have pre-stocked social media assets, you can use them for faster posts. Quality tools will let you post across multiple social media channels, as well. As important as other aspects of marketing are, you can't deny that social media is essential for marketing and brand building.
Ultimately, the platform will help to make the process of marketing easier at all levels. Below, we'll be looking at some of the biggest benefits that businesses can enjoy when using a great marketing management platform.
Boost Efficiency
A good marketing management platform will help you to get better control over your digital assets, your customer insight, marketing messages, personalization, and so much more. Consider just how much time and effort you and your employees are spending on the various facets of marketing.
If you have to switch between programs and you have to sort through dozens or hundreds of folders to find assets, It's going to take a long time. If you don't have an easy way to access your mailing lists and have to do it manually, you are looking at even more wasted time.
By using a marketing management platform, you will eliminate this waste. Everything will be fast and easy to access. Employees can find what they need quickly, so they can put it to use, whether it's an asset, insight into how a campaign is going, personalization of marketing materials, etc.
When you boost efficiency, your business will save money. It will also eliminate frustration for both you and your employees. No one likes to spend an hour looking for that one specific image or piece of art that they need. Better digital asset management can make a far bigger difference than you might realize.
Allow for Personalization
When people are contacted with marketing messages, offering personalization is generally a good idea. While it may not be possible to personalize everything that you do in your marketing efforts, you will find that personalization on emails, direct mail, etc. is often possible with one of these platforms.
Why is personalization important? It helps to build stronger connections between the customers and the brand. The customers and leads realize that you see them as an individual. When they receive messages crafted specifically for them, they are more likely to read them all the way through. They want to see what you have to say and what offers you might be presenting to them.
The more you know about your customers the better. It will allow for more accurate personalization that goes beyond just their name. For example, if you have information on what products or services the customers have bought in the past, you can then use targeted marketing to help upsell and cross-sell to them. There are a lot of possibilities, and personalization helps to add a connection that translates to more sales.
Reuse Assets and Never Lose Them
Have you ever had a folder vanish into the ether on your computer or server? Have you had files that were mistakenly deleted? If you have your marketing assets vanish on you, imagine just how much it would slow down your marketing. You would have to try to find older versions that you could update and use, or you might have to start over from scratch.
By keeping everything together with a marketing management platform, you can put those fears to rest. You can find current versions and older versions quickly and easily. This also means that the assets can be easily reused whenever you need them. Build them once and have them forever.
Allow access to assets for those who need to use them in all of the various marketing materials or promo materials that are being created. It's a far better solution than having everything in hard-to-find folders.
The methods that some companies are using to keep track of their marketing assets are abysmal. The folders might not be named properly, which will make them difficult or even impossible to find. The files themselves might not be properly named or dated, as well. There's just too much that could go wrong.
It's a better solution to set up a name, date, and version convention, so everyone knows where to find what they need and which asset to use. Using a marketing management platform will help to make this much easier.
Target New Customers
Finding the right customers to target can be one of the most time-consuming elements of marketing. If you have multiple lists of leads and current customers, trying to sort through them each time that you have a new marketing campaign can be a major hassle to you and your team.
A better solution is to use a marketing management tool that will let you generate lists based on specific audience segments. This will allow for better targeting and can lead to much better results when it comes to converting those leads. You don't have to use the scattershot approach with your marketing and hope that something hits.
The best marketing management platforms today can allow you to quickly and easily generate lists based on a range of different parameters. For example, you could create lists of businesses, consumers, or vendors. You can also create lists based on audience demographics. This would include things like information about automobiles, income, property status, etc.
There are options for all manner of businesses, and when used correctly, they can help you focus on finding the right leads and customers. For example, if you own a business that installs solar panels for residences and businesses, you want to target the owners of those properties. You wouldn't want to send your marketing materials to those who are renting or leasing the property.
Easier Marketing Scheduling
The marketing team has a lot to do and they often have a limited time in which they need to do it. Getting everyone on the same page can be a nightmare, in many cases. However, when you have better control over the other aspects of marketing, including assets, email campaigns, social media, etc., it becomes much easier to handle.
You or the marketing leads can create workable schedules that take advantage of the efficiency and features the platform provides. Working from a single platform will ensure that it's easy to track and monitor all of the various efforts.
Easier to Align Branding and Marketing Efforts
A big part of building a business is branding. Using these platforms helps to ensure your branding is aligned across all platforms. You want to use the same logo, colors, tone, and style across all of your marketing efforts. This consistency is important not only for the "look" of your marketing and site but also for how people perceive you.
Consistent, aligned branding across your marketing materials will help people to get better acquainted with your company. They will know they are receiving mail or a product from you based on your visual branding. Constant repetition of the brand can build trust with them even if they haven't bought from you yet.
It often takes seeing your brand several times before people want to learn more and become a customer. Therefore, your branding will be more effective when you are more consistent. It sounds simple, but it does matter.
Easy Access for Employees Who Need to Use the System
While this might not seem like much of a big deal, it's one of the biggest benefits of using a single marketing platform. Instead of needing to remember half a dozen or more passwords for all of the different sites and tools you are using, you just need to remember one password. This will provide you with access to all of the different components on the platform.
This will reduce frustration for you and your employees. It will also help to increase security since your employees won't be writing down countless passwords that they could misplace. It also means they won't need to have browser windows open for all of those different programs.
It's just another way using a single platform to manage your marketing materials will improve efficiency.
Obtain Actionable Insights
You need to be sure your marketing efforts are paying off, and the best way to do this is with improved business intelligence. This will help you see which marketing materials are working and which ones aren't, so you can make changes to your campaigns going forward.
A good platform will provide you with insight and analytics into your assets so you can make the right decisions regarding your campaigns. Streamline your marketing and improve your success rate.
Stay Within Your Marketing Budget
Although marketing is easily one of the most important aspects of running a business today, many companies are hesitant to spend on marketing. This is because marketing can be a gamble when it's not done correctly. They know that marketing is essential, but they want to keep their costs down. They set up a marketing budget and they do not want to go over it.
When you have a simple-to-use platform that can provide you with all of the benefits discussed above, it can help to keep you within your marketing budget. You will not have to wait until a campaign is complete to see which of your assets performed and which didn't. You can make changes more easily.
You won't have to waste time finding the right assets, and you can make changes and customize quickly. The streamlining provided by the platform will help to reduce costs for marketing overall, as well.
Increased Revenue and Growth for Your Business
Ultimately, the goal of any business is to grow and to increase revenue. Better, smarter marketing means more leads and more customers that convert. When you factor in all of the benefits that a good digital marketing platform provides, you can see why it is an essential tool to have in your arsenal.
Saving time and money, thanks to the tool, helps you to increase your bottom line, as well. Remember, you won't have to continually remake assets. Your employees won't have to waste time digging through assets and trying to find something that will work for the latest marketing campaign. Everything will be fast and easy to access.
You can schedule smarter, have a deeper insight into your assets, and you will know what is and is not working with your marketing. This will make it easier for you to make changes to your marketing to reflect what's needed to convert more customers.
Find the Right Marketing Management Platform
It's important to keep in mind that marketing management platforms are better than others are. They may not all have the features that you want and need. Therefore, you'll need to learn more about the options you are considering before making a decision.
Remember, you want to choose a robust platform that offers a wide range of features. Below is a list of some of the things you should look for when you are choosing a system:
Asset management

Creation of product templates

Custom design options

Social media

Email campaigns

Direct mail

Easy, fast login process

Mailing and lead lists

Streamlining for asset approval and printing
You should strive to find a solution that is easy to understand, navigate, and use. Talk with representatives from the company offering the platform to get answers to other questions you have, pricing information, and to get a better understanding of their overall customer service.
If you want your business to thrive, you need to improve your marketing efforts. The best way to do that is with a quality marketing management platform. Find your solution today.
Resources:
https://directlync.com/blog/10-benefits-of-a-digital-marketing-platform