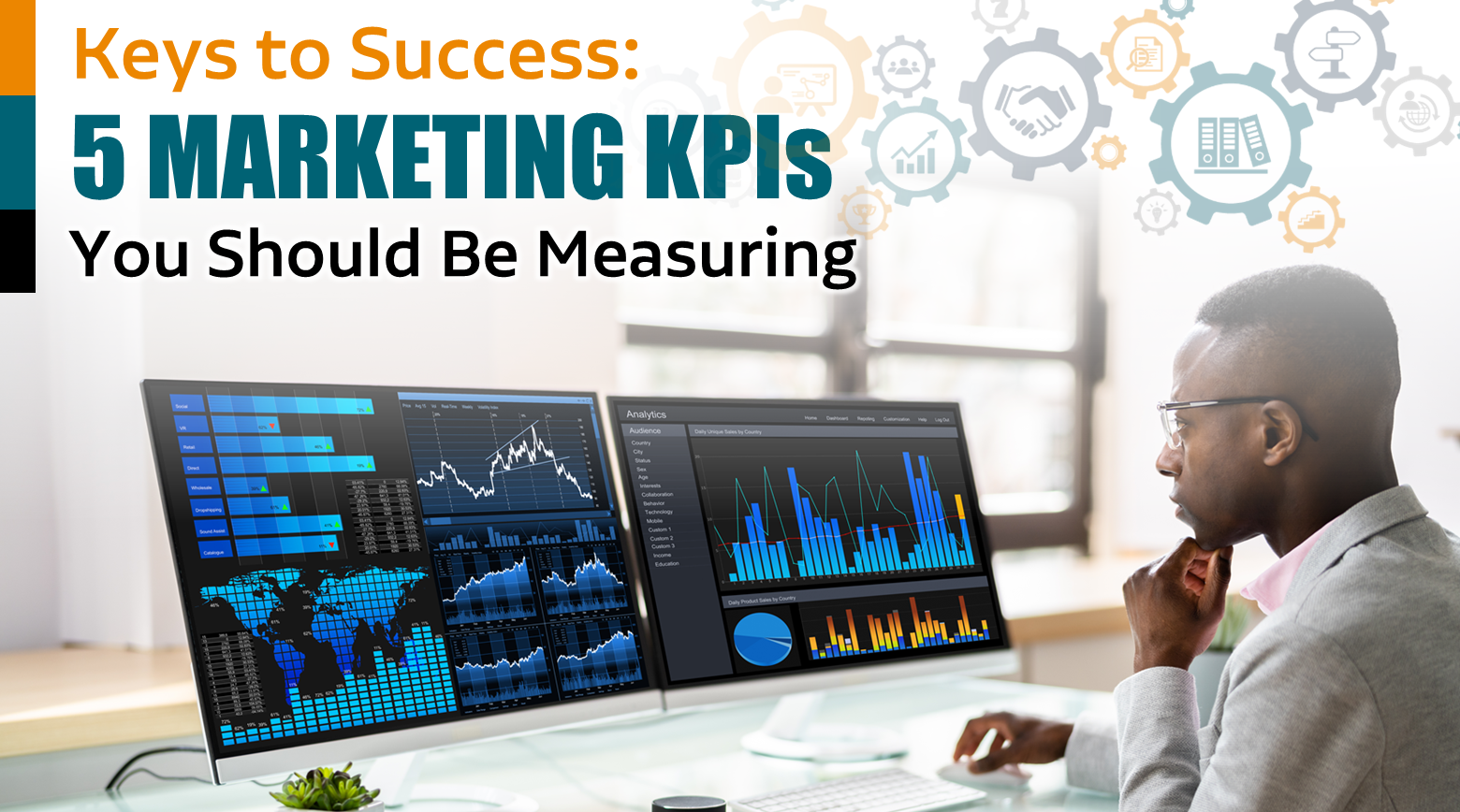 Business owners want to see their businesses succeed. That's just common sense! But how do you really know that your employees are hitting the company goals and quality standards you want? The answer is, if you're not using key performance indicators, also known as KPIs, you have no idea.
At the end of a quarter, you'll get sales numbers and see the state of your business. But you'll have little idea of how you got to these numbers. What practices are your employees following? What marketing strategies worked, and which didn't? What goals are your team reaching for, and how do they get there? Which employees are working more efficiently than others? Is your business on track to meet annual goals?
The only way to find this essential information out is by setting up indicators. These reports will give you quantitative and qualitative data that describes the inner workings of the business. Overall, this helps you make decisions that will shape the direction of management, help marketing hit goals, and ensure your meet annual targets. This article will explore what a KPI is and why you need to use them for your marketing team. Then it will also get into some essential performance indicators you should be measuring.
What Are KPIs?
Key performance indicators are a huge aspect of the selling and marketing process. But you can use KPIs to measure performance in all aspects of operating a business. In finances, operations, marketing, and sales, they all have goals. KPIs help ensures that progress is being made towards those goals.
Key performance indicators are different than other kinds of marketing metrics because they are directly tied to a specific project or campaign. In contrast, other marketing metrics are how the current marketing campaign status will be tracked. Marketing metrics are still important. These are what you check with to ensure projects are meeting outlined KPIs.
An indicator will offer insight into how specific parts of current project expectations are being met or falling behind. This helps a marketing team understand how a campaign worked during its run. Then it can also help interpret the end results of a campaign.
It's as simple as that! However, the complex part of KPIs is picking the right indicators for your business and individual teams. After that, you can use data collected by these indicators to ensure efforts are being made toward meeting goals. Then, identify when strategies are workings as well as they were expected or make adjustments.
Why Track Marketing KPIs?
Marketing efforts create a huge and essential part of your business's success. Marketing is how your customers get to know your business. It's how you teach people about the value you offer them. It also helps you stand out from the litany of competition you likely face in your industry.
The right key performance indicators can help you determine the effectiveness of your marketing. Then it can help you adjust your marketing strategies quickly. This is because indicators help you see where the project is going as it's being enacted. From the start, has the project been meeting expectations? Then, it helps you understand how you got your final results. What did you do during this campaign which made you get these results? From this data, have you created more marketing strategies that may increase the likelihood of positive results in the future?
In marketing, KPIs are important for several reasons. One, they help prove the worth of marketing to upper management and clients. Two, they enable marketing teams to make more strategic marketing decisions that are based on data and previous experiences.
The KPIs to Keep Track Of
There are a lot of KPIs to choose from. Your business may want to focus on keeping up ROI or understanding how marketing is turning passive interactions into clients and customers. While there are dozens of options, each of them has merits. It's up to each business to understand what indicators are most important to a specific project.
Always choose a combination of indicators that will offer valuable insight, but don't overload your campaign with them, as this can create a confusing message. With that in mind, there are also common indicators that are usually highly valuable. Consider these when deciding on your key performance indicators. They include:
1. Digital Marketing ROI
One of, if not the, most important metric to track is the return on investment or ROI. You want marketing to help generate more profit and not be a drain on your finances. If a marketing strategy isn't working well, you'll want to adjust the approach as soon as possible. In times of success, understanding the ROI of your current digital marketing strategies can inform how you'll make more successful plans later.
To assess monthly and annual marketing performance, calculating the digital marketing ROI should be the top priority. Do this by first picking a time to analyze. Then take sales growth numbers and subtract the amount spent investing in marketing. Take this number and divide it by the same marketing investment number. This will give you the digital marketing ROI over this period or for the lifetime of a particular marketing campaign.
2. New Contact-to-Lead Raito
In a day and age where so much lead generation is done by directing leads to your website, understanding how people use your website is vital. How do people find out about your website? How long do they stay on the website? Do you have a high bounce rate? These are all metrics you might look out for. These will tell you if your website is meeting KPI goals.
You also want to know if your website traffic is generated organically or through direct contact, social media, shares, and referrals. If you have a steady amount of organic traffic, that's a great sign. However, if traffic is increasing but the "new contact," or traffic generated lead rate, is low or decreasing, then you may have a problem. Customers that do come to your website aren't finding what they were looking for.
To solve this problem, you may need to optimize your website pages. This means finding out what your lowest-performing pages are and addressing them first. Look to your best-performing pages or to third-party heatmap tools which can help you understand how visitors are using your website. Then you can decide to optimize how content is organized or make information easier for readers to find.
3. Lead-to-Client Ratio
After turning contacts into leads, how many of these leads actually become sales? This number will help your marketing team understand if marketing efforts are generating customers. These people should be highly interested or fully committed to purchasing a business's product or service.
If you have a high and quality lead generation rate but a low lead-to-client ratio, then you may have a sales issue. To improve this number, consider how sales have been dealing with customers. Ask current and tentative clients what their problems are with your current service or what they're looking for.
4. Customer Acquisition Cost
Do you know how much it costs to turn a passerby into a customer of your business? That's what this metric is supposed to measure. It includes factors like all human marketing costs like employee salaries and commissions. It also considers overhead costs, like the technology, programs, and software used to create leads and turn them into customers.
There are two sides to this metric. One is digital, and the other is outbound. Digital marketing costs to acquire a customer include creative and technical manpower costs, technological expenses, and overhead. Outbound marketing costs include sales and marketing manpower, the cost of advertisements, and the overhead associated with these activities. The combination of these costs added then divided by the number of customers generated over a set time is the cost of customer acquisition.
Wondering how to improve this rate? If you have a high acquisition cost, find ways to optimize customer conversion rates. Or find ways to create a website that tracks your customers to relevant pages. Maybe consider changing how you approach sales and highlight how your product or service helps solve your customer's problems.
5. Social Media Lead Conversion Rates
Many companies still do not understand the value of a good social media profile. Or how valuable one can be for generating leads and gaining audience engagement. But a marketing strategy that harnesses social media can be immensely successful. If you do choose to work with a social media platform to create a new marketing strategy, you should track the social media lead conversion rate. This is just as you should do for your website.
There are a lot of social media platforms to choose from, and starting off with just a few is a good idea. Pick the best media for the kind of marketing content your produce and where your target demographic is. A high engagement rate with social media means you are building up trust with your audience and that your content is resonating with them.
See how many of your conversion links are followed through social media to see if this content has been an effective lead conversion tactic for your business.
Other KPIs You Should Consider
The above list only includes a few of the indicators you could be tracking. Below are a few more examples of important KPIs you may want to prioritize instead.
Revenue
This category outlines the key indicators which deal with the revenue a marketing campaign should bring in. These include literal marketing-attributed revenue to the lifetime value of customers. These KPIs track how marketing helps attract and keep customers, to improve revenues.
Marketing Attributed Revenue
This key indicator is often at the top of people's lists because it tracks how much revenue has been directly made because of your marketing strategy. Return on investment is vital to defining how effective a campaign is, as the goal of marketing should be to drive customers and indirectly create sales. After all, you don't want to invest time in a marketing strategy that doesn't generate interest in your product.
Through tracking this metric, you can see individual slices of your marketing plan have increased revenue and how it's affected review as a whole. This can include measuring how blogs, social media posts, and ads contributed to customer interest.
This metric should look beyond how many qualified leads complete the cycle and become buyers. This is about seeing how those leads got to your sellers or selling outlines in the first place. This can be a motivating metric. One that helps marketers understand the monetary value of their content. Plus, showing the effectiveness of marketing in terms your shareholders care about helps them understand the value of content marketing.
Customer's Lifetime Value
Do you know how much value you may receive from a customer over their lifetime? Knowing this number is crucial, especially if you track the cost of acquiring a customer. The more value your business gets from a single customer, the more worthwhile the acquisition cost is.
Look at how much a customer spends on average during a single sale and how many times they return. Then consider how many months or years they consistently purchase from you. By multiplying these numbers, you can find the lifetime value of an average customer.
Customer Retention Rates
Speaking of a customer's lifetime value, do you have a high customer retention rate? This KPI tracks how good your business is at keeping the clients it has gained. Keeping current customers should cost less overall than getting new customers, so a high customer retention rate is a goal of most businesses.
This rate may reflect a good reputation with your customers, have quality customer service, alongside a positive overall customer experience. However, a low rate may suggest that customers are not receiving everything they needed or expected from your company. Listen carefully to reviews and customer service to see where these issues come from.
Website Traffic Rates
Understanding how customers interact with your website is also vital to understanding the effectiveness of this sales and marketing content. These KPIs can help your marketers understand if your website is effectively answering customer questions. And ensure that it's turning motivated leads into clients.
Landing Page Conversion Rates
You may have a lovely landing page. It follows all the best practices, is easy to read, and effectively turns leads into customers. But is it really? Even if the website gets a high amount of traffic, that means little if those readers aren't being turned into paying customers. If this is your situation, this may be a red flag. Something about your landing pages needs to change.
Maybe the text isn't persuasive enough, and readers don't understand that your website offers a product or service to them. Or it could be that the colors of your webpage or conversion links don't stand out enough. Test out a few solutions that may help increase this conversation rate.
Top 5 Webpages
Organic traffic is like gold. This kind of traffic is completely natural, meaning people find your website by doing a search on their own. They choose to pick your website out of the many other options out there.
The key to getting more organic traffic is to optimize your webpage with SEO-enhanced keywords that will help query searchers find your content. However, to keep these random searchers around and boost the effectiveness of your content, it has to both contain SEOs and offer valuable content that's related to these terms.
Look at your top 5 landing or blog pages. Are these pages over a year old? Have you updated or optimized these pages with relevant conversion links? Try to offer your customers as much value as possible in these posts, so they come to your sales team educated by your marketing content. This makes closing a sale easier.
Are There Things You Shouldn't Measure with Key Performance Indicators?
While KPIs are great for measuring marketing performance, some things don't need to be measured. Mainly, this includes things that simply can't be controlled. If you can't change it by making changes in your strategy—like market environments—then there's no need to measure it.
You should also avoid excess or vanity metrics. These are things you can control but distract from bigger concerns (like increasing ROI). Or don't make a difference in the long run. This includes being in the top ranks for a keyword that doesn't get much traffic or generate converts.
Find a Marketing Management Program to Help You
Choosing the right KPIs is crucial. With indicators in place, you know your marketing team is reaching the right engagement goals. These KPIs also help marketers understand where their marketing efforts can be improved going forward. However, it can be challenging to manage all this data without the best technical support, like the marketing asset management service offered by FuseBox One.
Keep Track of Data
FuseBox One helps keep assets, data, forms, KPIs, and more with a business intelligence tool that is meant to streamline marketing operation processes. With this tool, you can get all the analytics you need to keep track of to ensure that you know what marketing materials are receiving a response and which ones aren't. This kind of data makes it easier for you to make smart marketing decisions that allow you to capitalize on user trends.
Not only is all the marketing analytic information you'd need just at your fingertips when you use this service, but it's also incredibly customizable and easy to use. Get a better understanding of your key demographic with the list acquisition service, with a precise tool that helps generate what content is best for different groups of customers.
The FuseBox One service plan can do that and so much more. New to social media, or do you want to ensure that your brand message is consistent no matter where customers find your business? Then the automated social media tool may help you. FuseBox can also help you create the best email campaigns, which will help you generate more leads with digital marketing efforts.
If you deal in physical media, FuseBox One can also assist businesses with commercial printing. With high-quality graphics, easy content building, and a wide variety of printing options which include lamination, if you have a printing need, FuseBox One can help. All marketing materials you use are sure to be of the highest quality and have consistent delivery. Even use your customer data to create targeted physical content to ensure your printed materials make a high impact on your customers.
Ensure Your Success by Keeping Track of Progress
Set yourself, your business, and your team up for success by choosing the right key indicators. These will help you check the progress of your business at vital points. This way, you can adjust current plans so you can work towards meeting annual goals and crafting better marketing strategies. KPIs can also help managers identify skill gaps in employees, so those can be addressed by training or coaching.
Overall, KPIs are a huge part of the sales and marketing conversations. These indicators help marketers review previous practices. They can push innovative thoughts forward to make the best marketing choices when moving to new projects.
Key performance indicators are incredibly valuable markers, and so picking the right ones to measure success by is also valuable. In sales, KPIs are a little more straightforward. Did you hit your quota or not? But in marketing, there are a lot of factors that need to be considered if you want to make an informed decision about the future—considering these factors during and after each campaign.
Also, consider how using the right marketing asset management system can make tracking KPIs easier. A marketing asset management system, like is offered by FuseBox One, can help marketers use KPI data effectively and can help automate the campaign creation process.
Want to Learn More?
Sources:
https://www.impactplus.com/blog/the-10-marketing-kpis-you-should-be-tracking
https://www.formstack.com/resources/blog-sales-marketing-kpis-to-track
https://www.toucantoco.com/en/blog/the-most-important-kpis-to-track-for-improved-marketing-efficiency
https://blog.hubspot.com/marketing/marketing-key-performance-indicators
https://blog.alexa.com/what-is-a-kpi-in-marketing/
https://www.sailthru.com/marketing-blog/written-12-experts-define-key-performance-indicators-kpis/
https://www.smartinsights.com/goal-setting-evaluation/goals-kpis/choosing-effective-digital-marketing-kpis/