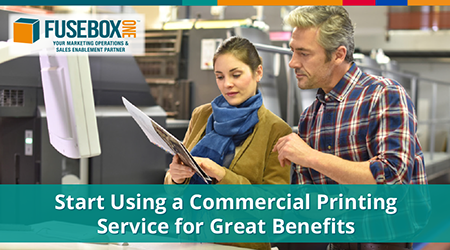 What is your company doing regarding its printing needs? Some companies are trying to handle all of their printing in-house, which tends to be a bad idea for several reasons including a lack of quality and the fact that it is time-consuming. Yet, you still need to have printed materials that can be used for direct mail, in-house use, tradeshows, conventions, and more.
If you are using an outdated printer at your business, or if you are currently working with a costly, low-quality printing company in your area, it's time for a change. You should consider the benefits that come from working with a commercial print company. Check out some of the best reasons to choose this option below, and then learn more about this service from FuseBox One.
Create a Range of Materials for Marketing
When you choose to work with a commercial print professional, you will find that you tend to have far more options when it comes to the types of materials that can be printed. You can create a host of different types of marketing items, such as menus, brochures, flyers, catalogs, and more.
Some printing companies might even have other types of printing they can do. For example, they might be capable of printing on merchandise and making promotional products like banners. These are things that you could never do on your own, at least not without a major investment.
Professional Quality
Of course, one of the main reasons you will want to work with a commercial printing company is because of the professional quality products they can provide. A great company will have the best printers, binding services, lamination, die-cutting, and more to help make marketing your brand effectively much easier.
Creating professional materials, whether they are used for your marketing materials or handbooks within the company is the best option. You will be happy with the results and your customers will be impressed. If you choose a lower quality, cheap printing company or try to do it on your own, the results could be less than stellar. You don't want to make this mistake.
The Right Colors
The correct colors are important for your branding. If the colors in your materials are off even by just a small amount, it could cause a customer not to recognize that the item has come from your company unless they take a closer look. Getting the colors right and having them match the logo that you use online and on your signs is not as easy as you might think.
Even when you have the correct colors, if you aren't using the right machines for printing, they could be slightly off. When you work with a commercial print company, they can ensure that the colors are exactly what you require.
Save Time and Increase Efficiency
Working with a commercial printer will help you to save a lot of time. You won't have to worry about print jobs not being finished to your specifications. The materials will look great, and it will help you to save quite a bit of time on your end. Once the design is complete, you can just send it to the printer, and they can take care of the rest for you. This is far more efficient than trying to handle all of the intricacies of printing on your own.
Commercial Printers Can Handle Large Jobs
What if you have a major marketing campaign coming up soon and you need thousands of pieces that can be sent to your customers? Printing them on your own would be impractical and likely impossible. However, commercial print companies have the capacity to take on large jobs and make sure they are finished when you need them. Putting your printing needs into the hands of professionals gives you the peace of mind you need. Of course, those same printers can handle the smaller jobs you need to have completed, as well.
It's More Cost-Effective
Some might be thinking that they could save some money by printing the materials they need on their own. Perhaps this is what they've been doing, and they do not see any reason to change. While it might be possible to print materials, you have to think about the reality of doing it, along with how much it could end up costing.
If you are using the printers at the office, which are likely inkjet or laser printers, the quality will not be as high as what you would get through a professional print company. This immediately puts you at a disadvantage.
If you were to invest in the printers that are needed, it will cost a lot more than you realize. Keep in mind that you need to learn how to use those machines properly, and they need to be maintained to stay in good working order. You would also likely need to hire employees to run those machines. This would be yet another cost you would have to pay for.
Most companies do not have the time or resources to do this, and even if they did, it would be a waste. It's much easier and cheaper just to work with a professional print company.
You Have Printing Options
When you choose a good and reputable printer, you will typically find different printing options including offset and digital printing. Offset printing tends to be the best choice when you have some larger jobs, while digital can often be a better option for shorter print runs.
Digital printing tends to have lower setup costs, and there are generally lower minimum quantities. The advances in digital printing over the years have helped the quality to increase to a good level. You don't have to worry about the runny colors that were common in the past. Of course, this doesn't mean that you want to use a standard office printer for your digital printing needs. It's generally not going to be as good as those that you will find with a commercial print company.
Offset printing allows for large quantities to be printed at reasonable prices. Typically, the more you print the better the price will be. This type of printing can provide you with the best print quality with all of the details intact and with perfect colors.
Consider what you are printing, and which option will be the best solution for it. If you aren't sure, you can always talk with one of the professionals to get a better idea of what will work best for your needs.
Improves Brand Reputation
If you received a piece of direct mail in your mailbox and the font was blurry and the colors were off, what would you think? If the paper was flimsy and the photos weren't centered properly, you might feel that the company did not put much effort into its marketing. Knowing that marketing is an important part of a company's success might then lead you to believe that the company didn't really care about it when they provide shoddy marketing materials.
If they don't care about those materials, how much effort goes into the products and services the company offers? Maybe they don't care about them either. Perhaps they don't care about their customers.
Even though it's just their marketing material, there is a good chance that you would not want to do business with them. After all, you want a company that you can trust can take care of you.
By choosing a professional company for your commercial print needs, you won't have to worry about making those mistakes that other companies make. Your materials will look professional, which will help to improve the reputation of your brand.
Looking For A Commercial Print Partner?
Other Features and Services
A commercial print service is fantastic, but you should check to see whether they have any other types of services they might be able to offer, as well. Sometimes, the company might also have a warehousing and logistics service, so they can keep some of the marketing materials you create and ship them to customers for you. This can save some time and it's a great way to increase the efficiency of your marketing campaign.
You might also find that the company has a marketing management platform as part of a larger platform. This can make it far easier for you to organize, use, and keep track of all of your digital assets used in your marketing materials and other endeavors.
The platform might also have other tools that can be used to make it easier to create the marketing materials and even promotional products in the first place. For example, they might have templates that can be used, along with some easy design tools.
Companies that have quality printing services should have a Digital Project Manager tool that you can access, as well. This should be a simple interface that's easy to connect to and that will provide real-time status on all of your active jobs and oversight of assets in warehousing. Many companies are moving to a tool like this to simplify project management and reduce vendors.
Of course, these types of features are not always offered. You will want to determine what the company you are considering can provide.
Direct Mail Marketing Still Works
We live in a digital age, so it's easy to see why so many people believe that direct mail has gone the way of the dodo. However, that's not the case at all. Direct mail is not as outdated as you might think. It can still be a fantastic way to reach your customers, and with the right commercial print services, you can make it work for you. The response rate to direct mail is higher than you might realize, making it a good option to at least consider for a campaign or two.
In addition to direct mail having a high return on investment, you will find that it is easy to target. USPS, for example, has a tool called Every Door Direct Mail, which can be used to send mail to select customers in certain areas. The tool can provide you with some basic demographic information that will make it easier to target potential customers.
Direct mail is not as common as it used to be, which means that it's more likely to gain the attention of the recipient. This is particularly true when the mail is personalized. Direct mail is also tangible, which means it can be saved. A coupon or flyer could be put into a drawer or put up on the refrigerator, for example.
Of course, this doesn't mean that you want to only use direct mail as part of your marketing operations. You should instead combine it with your digital marketing for the best results.
Find the Right Commercial Print Company
As you can see, some great benefits can be had when you work with a good commercial print company. However, when you start your search for a printer, you will find that there are countless options available. Some might be located close to you or promise good prices.
However, you need to be sure that you are putting in a bit more are when it comes to choosing your commercial print company. You don't necessarily want the closest or the cheapest. You want the best.
Take the time to look at the types of services and the quality of services provided by the company. Can they offer more than just printing? For example, do they offer a warehousing and logistics service for the marketing materials you have had printed? You may not have space for them at your office, so if the commercial print company can also warehouse and ship them for you, it could save time, effort, and money.
Remember to learn as much as possible about the features and services provided by the company, as well as more about their reputation. Find a solution like FuseBox One that can offer everything you need when it comes to commercial print services. Get in touch to talk about your needs and see how the company proposes to help.
Resources: https://www.professionalgraph.com/the-benefits-of-working-with-a-commercial-printing-company/
https://www.lasvegascolor.com/business-benefits-professional-printer/