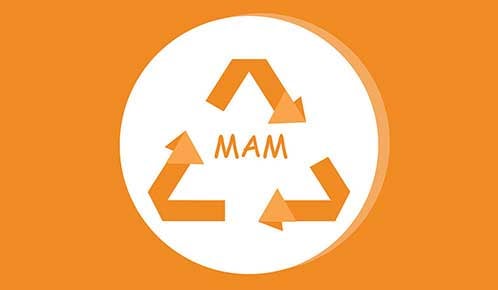 If your marketing department is trying to stay on top of advertising trends, then they are likely spending a lot of time managing assets and creating new content. Marketing assets are digital (or sometimes printed) tools published on various platforms, like social media and your website. They are used to visually promote your business to your target audience. This is the essential role of the marketing division at your company: to research consumer trends and implement strategies and campaigns that will create effective messaging to drive sales.
In some cases, assets can be reused and recycled in the creation of new content. This can save you a lot of money when it comes time to hire freelancers and designers to constantly make new content. However, creating new content from recycled assets can also consume valuable staff time. This is time that could be better spent creating new content and using new research materials.
But the larger a company grows, the more difficult it can be to manage all marketing assets efficiently. Between social media graphics, branded content, written posts, and email campaigns, there is a lot of content circling around – both internally and externally. Poorly managed assets can lose you money. You won't get as much use out of your assets because they may be tricky to find and it's also easier for files to get lost in the company archives.
Our FuseBox One team has a direct, on-demand solution for cutting down this wasted time and maximizing marketing efficiency:
this is an all-in-one tool that assertively optimizes the workflow and productivity of your whole marketing division. And it isn't just limited to marketing. In fact, marketing asset management systems are utilized by entire companies to create smooth cross-departmental workflows, execute effective sales strategies, and to keep all types of assets in one place.
Using a MAM is an excellent solution for any company--large or small. When you have any assets, managing them should become a priority in the business to ensure that employees can effectively make use of these investments. Having well-organized internal content can help your employees work more efficiently as well. Everyone in the business will waste less time searching for the content they need to get their jobs done right.
That's not the only use of an AMA system, however!
Your MAM can also automate the content creation system entirely. This means that your MAM can be trained to use intelligent templates that effectively reuse the assets you give it. This way your marketing team receives fresh content to use every day without having to do the busy work of creating it themselves.
Interested? Consider how marketing asset management systems can work for your business needs.
Features of Marketing Asset Management
MAM is the only tool that allows you to fully customize your marketing content without using multiple programs. This permits you to create new content without making your marketing team collect and format the assets themselves. This frees up their time to work on more important things, like up-to-date market research, new campaigns, and marketing strategies.
How Does it Work?
First, you get to install your MAM and feed it all the assets you want to be managed and stored. The system will collect all of your content and investments and sort them into dynamic templates. You can make and customize your templates to match your brand and to fit whatever need you have. Whether you want to make a blog template for your podcast or set up a quick way to produce branded social media posts, there's a template for that.
Each template has its own number of edit fields that can be changed to match your brand's vision and the direction of your marketing strategy. Pick images, colors, fonts, logos, backgrounds (and more!) that fit your business. Watch how MAM generates unique content from similar assets in your library.
Once the template is set, the MAM system will handle the rest. This automated tool will use the template to create new content and efficiently recycle assets to give your marketing team plenty of new media to use. And the management system can even schedule it to be posted on social media or sent in an automated email campaign all on its own.
The beauty of this program is the synchronist simplicity of the system. Once it's set to run, you tell the program what to do, and it does it automatically. No hassle, no confusion, just results.
Why is Asset Management So Important?
Marketing asset management systems allow you to streamline your marketing workflows, but the MAM can reach beyond your marketing team and be effective in your whole business. But how is this possible?
Besides making templates out of assets and content that you input into the system, a MAM is also great for general storage and organization of content. All companies should have some kind of data management system, even if it's not a formal construct. Your files must be stored in a localized place so that the employees who need to access those files can do so with little issues. You may use a third-party cloud-based data storage system like Google Drive, among others, to store your files.
If you use more than one storage system, you may actually be causing more confusion in your business than you think. If a file isn't easy to find, it can be a giant distraction in your employees' day.
Looking through your archives for a specific file with keywords that don't pull up the correct information can waste a lot of time for employees and management. For employees, it stops their workflow and makes them less effective at their tasks. If management made the content employees can't find, then time was wasted on making a resource that isn't usable. Or you may waste your entire investment on an asset that gets lost or forgotten in a poorly managed data system.
Not to mention, even if these files can be found, they might have been corrupted somewhere along the chain of exchange, which will add even more time to the employee's distraction as they report corrupted files. Even saving 30 minutes in your employees' day can save you thousands of dollars over a year.
With a MAM, you can wave goodbye to your storage and file access issues. With all your content in a convenient place, you can make file access easier than ever. Plus, you can organize your data with important information. In the marketing team, this may include notes that define what kind of IP or geographical limitations images, sounds, and regulations the data falls into.
Make All Communications Customizable
Marketing and branding are vital to your business. Your brand is what people recognize when they think of your business, and good marketing makes you stand out from the competition. However, branding and marketing strategies are only effective if they are clearly communicated to the customers.
If your marketing isn't clear, all you have is a pretty ad that doesn't tell anybody what they need to know about your company.
On the other hand, if you have effectively communicated your brand's message to your intended client base, your marketing has done its job. You'll find that with more effective marketing you'll see better ROI's. This means your business is getting better profits and has the potential to become even more successful.
Getting the Most from Your Marketing
Effectively and consistently communicating your brand through marketing is called market communication. Promotional Drives describes marketing communications as all messages, media, and content that a company uses to communicate with its market.
When you're investing in market communication, you need to make sure that your communications are conveying the value of your product to the customers. This is the essential goal. With social media, it's even easier to reach out and remind your customers of how your product creates value in their lives. The more beneficial your products are, the more a customer wants to buy them. At best, you'll be able to communicate this value so well that that want becomes a need!
If you're not doing that, you're not getting the most from your marketing. In fact, your business will suffer if you aren't effectively communicating your value to your customers. In general, fewer people will be interested in something they can't obviously see the use of.
When you're making your marketing plans, you want each piece of advertisement, be it social media posts or newsletters, to contain essential elements. Things like:
A clear definition of the product (either visually or through text)

Clear usefulness and function of the product

Easily recognizable reasons why your product is better than others
Overall, this must be done so that your customer understands why they should be loyal to your service, and that you provide them the best you can offer. Once you've created an effective marketing strategy that works for your business market, the key is crafting the consistency that comes after effectiveness.
A marketing asset management system can help with achieving the consistency you want.
Saving Capital and Time with Automation
It can take much time and effort to make distinctive posts every day or even each week. Even though you know the value of market communication, it can become a hassle to create and post it.
But why?
You already have all the assets you need to make these posts, and your marketing team understands how to create posts that fit your branding style. In fact, their system could be called a "template" to begin with. Instead of making your marketing staff do the work of filling out this template over again and again, automate this process with a MAM.
Marketing asset management systems can churn out custom content such as:
Social media posts

Email newsletters

Printed materials

Digital ads

Branded content

Blog and web copy

Lead generation forms and capturing tools
With a marketing asset management system, it's not just about creating the content for the messages, it's about creating effective strategies for conveying those messages to your audience. A MAM can help with that as well – and yes, that part is customizable, too.
The Value of Branding and Custom Marketing Communication
While it's even easier to reach out to customers all across the world with the internet, in many ways it is actually harder to catch the gaze of the people you're looking to market to. Firstly, there are a lot of other businesses out there looking to capitalize on the market you have to compete with. But when it comes to running a company, competition is a part of the game.
The real game-changer for business in terms of marketing on the internet is increased customer choice. Nowadays, customers can be very picky about who they choose to receive communications from. When there was only the newspaper, billboards, radio, or TV to advertise on, customers didn't have much choice on which ads they were exposed to. On social media, you can choose to add or block ads and channels you don't want to see anymore.
This means that businesses have to be more open to customizing their communications to market to people more directly. Geography-based ad campaigns and personalizing ads for different demographics are even more vital than ever. Appealing to location, demographics, dialects, and recent events can help your product and business stand out from the others. It shows you care and can show your customer where your product can help with their specific needs.
However, when you're busy churning out ad formats every day, rather than utilizing your marketing team to come up with the most effective ads for certain areas, you're wasting capital and employee time.
Stop squandering time.
Get your marketing done more efficiently so you can focus on making your ads the best, rather than only focusing on making them to begin with. With Fusebox One, your MAM templates are fully customizable. They make it easier for you to make the most out of your marketing assets. That way you don't waste any more resources.
Customizing Your Marketing Output
You have your brand; you know your customer, and you know how to effectively brand your product or service. You also have all the assets you need to make marketing campaigns to advertise these products and services, but how are you going to use it all? Are you effectively using these assets to communicate to your market?
A vital part of using your marketing assets effectively is knowing where your marketing efforts are going. When you have control over the customization and implementation of your marketing strategies, (something a MAM can give you) you can make the most out of your assets no matter what kind of company you're running.
Individualized Users
Your business could operate in a wide variety of ways. Depending on the kind of business you run and what your customer demographic is, you may have different needs that must meet a diverse array of demands. This can be difficult to manage while trying to market yourself.
Your marketing asset management system can be fine-tuned to all the details of your business, such as helping you with everything you need to be a success in your target markets. From customizing menus in restaurants to making promotional brochures for a small farmer's market, an asset management program can help with it all.
Exploring a few examples can help you understand how a MAM can offer value to any business. Let's explore a few:
Auto dealers often need to use specific advertising templates for weekly rotations of sales and promotions. While the deals are changed weekly or monthly, the template is not. Yet, without a MAM you'll have to build these from scratch each time you make new promotional fliers or booklets. With a standardized promotional template, all the dealership has to do is make small changes to make it unique. Then the business focus can be on more important things than creating a consistent marketing tool.
Restaurant chains

need to mass-produce custom menus while simultaneously focusing on

local advertising efforts

to attract patrons in the neighborhood. MAM systems can delegate general assets to every chain. But it can also assign local assets to individual regions, all through the same company account. So, if you need to make minor changes to menus, or implement a wide-reaching ad campaign, your MAM will help you build those tools more effectively.

Real estate agents and brokers

need templates that pertain to local neighborhoods while also keeping branding consistent across state or city lines. The complementary tools that come equipped in one MAM package will allow for each department to use the streamlined system in the way that works best for their department. All without putting a damper on the fast-paced real estate schedules or needs of the others.
A medical device company and hospitals both have marketing needs, even if they may seem less traditional than in other markets. These companies still need to reach out to the public (or each other) to relay important information. Time that is better spent dealing with patients in a hospital can be saved by implementing a MAM that makes it easy for communications to be created and dispersed automatically. All without straining staff time and attention.
The true benefit of the marketing asset management system lies with its ability to be so custom-tailored. Whatever your need is, if you have assets and need to communicate information internally or externally, a MAM can help you do so with its automated templates.
Choosing to Invest in a MAM for Your Business
It's then clear to see that customization is not the only benefit of using a marketing asset management system. These systems add so much efficiency to your marketing campaigns. Not only that, but these systems can also be used in every division of your company to make internal communications more effective.
By choosing to invest in a MAM, you will receive a bounty of benefits that your company will find continued value in. By automating the smaller repeated tasks that used to take up too much of your marketing team's time, your staff members can focus their efforts and skills on pushing new content and developing winning strategies.
When you open up these opportunities for automation, you're not just increasing your efficiency, but you are also allowing your marketing team to become as effective as possible. Where before it was truly impossible to deal with every market you put ads in, now your team can focus on making ads as individualized as possible.
This isn't just to get your ad in front of more eyes, but also to get your product or service in the hands of more people. Your company will also make more effective uses of expensive assets like stock or custom photos and logo artwork. Plus, you'll be able to create a clear brand with a voice that will be consistent across all platforms you use.
The Benefits are Clear
Cut down on time spent on simple ad creation and get rid of customer confusion. Create a clear brand identity and effectively implement it in all areas of market communication. This is all made so much easier with a marketing asset management system that automates much of the ad and communication processes, helping your staff focus on more important marketing aspects.
Get Your Marketing Needs Met Now!
FuseBox One has the tools available to give your business the spark that it needs to maximize content and create better spaces for advertising. Having a system dedicated to automating all of the busy work can free up your marketing team to work on executing new campaigns. Plus, they will always have the reliance of their MAM to provide and organize any asset they may need.
Get a MAM that is ready to take on all the responsibilities you need so that your business can start running as effectively as possible.
Sources:
https://www.templafy.com/blog/marketing-asset-management-is-your-key-2018-investment/
https://www.lucidpress.com/blog/what-is-marketing-asset-management
https://www.zuzaprint.com/customization-with-mam/
https://promotionaldrives.com/blog/marketing-communications-importance/