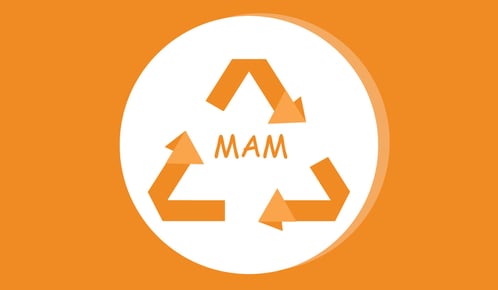 If your marketing department is making an effort to stay on top of advertising trends, then they are likely spending a lot of time managing assets and creating new content. Marketing assets are digital (or sometimes printed) tools that are published on various platforms as a way to visually promote your business to your target audience. This is the essential role of the marketing division at your company: to research consumer trends and implement strategies and campaigns that will create effective messaging to drive sales.
But the larger a company grows, the more difficult it can be to manage all marketing assets efficiently. Between social media graphics, branded content, written posts, and email campaigns, there is a lot of content circling around – both internally and externally. In some cases, assets can be reused and recycled in the creation of new content. However, it can eat up a lot of a staff member's time that could be better spent creating new content and using new research materials.
Our FuseBox One team has a direct, on-demand solution for cutting down this wasted time and maximizing marketing efficiency:
Also known as MAM, this is an all-in-one tool that assertively optimizes the workflow and productivity of your whole marketing division. And it isn't just limited to marketing; in fact, marketing asset management systems are utilized by entire companies to create smooth cross-departmental workflows, execute effective sales strategies, and keep all types of assets in one place.
Your MAM can automate the content creation system, intelligently reusing the assets you give it so your marketing team receives fresh content to use every day. Consider how marketing asset management can work for your business needs.
Features of Marketing Asset Management
MAM is the only tool that allows you to fully customize your marketing content all in one place. The system will collect all of your assets and content, sorting them into dynamic templates. Each template has its own number of edit fields that can be changed to match your brand's vision and the direction of your marketing strategy.
Once the template is set, the MAM system will handle the rest. This automated tool will use the template to create new content and recycle assets in an efficient way to give your marketing team plenty of new media to use. And the management system can even schedule it to be posted on social media or sent in an automated email campaign all on its own. You tell the program what to do and it does it automatically.
Make All Communications Customizable
In the marketing world, it's about communication. If you have effectively communicated your brand's message to your intended client base, then you will start seeing a growth in sales and an increase in your ROI. Promotional Drives describes marketing communications as all messages, media, and content that a company uses to communicate with its market. And all of those are things that can be edited and customized in the marketing asset management system.
MAM systems can churn out custom content such as:
Social media posts




Email newsletters




Printed materials




Digital ads




Branded content




Blog and web copy




Lead generation forms and capturing tools
With a marketing asset management system, it's not just about creating the content for the messages, it's about creating effective strategies for conveying those messages to your audience. A MAM can help with that as well – and yes, that part is customizable, too.
Customizing Your Marketing Output
Knowing where your marketing efforts are going is another important piece that adds to your overall maximization of marketing efficiency. You have your brand, and you have the visual goods, but how are you going to use it?
Each industry naturally comes with its own specific needs and a diverse array of demands. Your marketing asset management system can be fine-tuned to the very details of your business, helping you with everything you need to be a success to your target markets.
For example:
Auto dealers use specific advertising templates for weekly rotations of sales and promotions, which are changed out very frequently. Having those templates at the ready can save a lot of time during the week in preparation for the next big project.




Restaurant chains need to mass-produce custom menus while simultaneously focusing on local advertising efforts to attract patrons in the neighborhood. MAM systems can delegate general assets to every chain and local assets to individual regions, all through the same company account.




Real estate agents and brokers need templates that pertain to local neighborhoods while also keeping branding consistent across state or city lines. The complimentary tools that come equipped in one MAM package will allow for each department to use the system in the way that works best for their department, without putting a damper on the schedules or needs of the others.
The true nature of the marketing asset management system lies with its ability to be so custom tailored yet so efficient for every different division across your company. It automates the smaller repeated tasks that used to take up too much of your marketing team's time; now, your staff members can focus their efforts and skills on pushing new content and developing winning strategies.
Get Your Marketing Needs Met Now!
FuseBox One has the tools available to give your business the spark that it needs in order to maximize content and create better spaces for advertising. Having a system dedicated to automating all of the busywork can free up your marketing team to work on executing new campaigns. Plus, they will always have the reliance of their MAM to provide and organize any asset they may need.
Sources:
https://www.templafy.com/blog/marketing-asset-management-is-your-key-2018-investment/
https://www.lucidpress.com/blog/what-is-marketing-asset-management
https://www.zuzaprint.com/customization-with-mam/
https://promotionaldrives.com/blog/marketing-communications-importance/