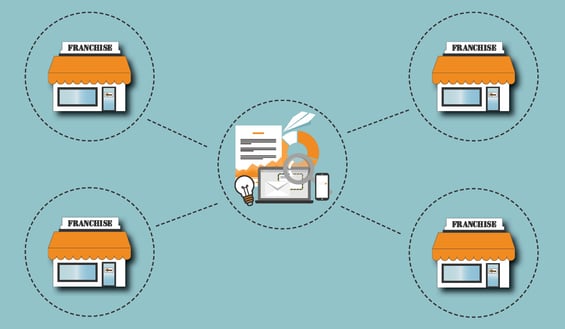 Owning a franchise business immediately connects you with other franchise owners and chain managers across a national – or possibly global – market. When starting a franchise for the first time, it is essential that each store keeps in line with the corporation's overall branding guidelines. This means staying true to the logo, color palette, mission statement, and advertising mottos.
How can you navigate your loyalty to the overall brand while also creating a marketing strategy that appeals to the locals? How can you balance your local store marketing while also building an audience for the company's vision?
Using a marketing management platform to create plenty of assets for each franchise owner is a helpful strategy for ensuring that stores can appeal to their local market while maintaining brand identity. Fusebox One believes in an on-demand solution to creating, customizing, sharing, and distributing your assets throughout the entirety of your franchise. Give franchisees the opportunity to manage their own individual marketing campaigns while you provide the guidelines. Consider the following top methods for giving local franchises a local marketing kit.

Create Strategies Based on Local Audience Behaviors
According to Lucidpress, one of the biggest mistakes most growing companies make is that they spend too much effort trying to advertise across every platform available. While this may be an effective strategy for multi-channel corporations with a global audience, it's important to help local franchises focus on local audience behaviors.
What social media channel does the local audience find itself on the most? Use these outlets as the stronger methods for pushing effective marketing content. It is also important to learn the time, money, and knowledge capabilities of each franchise before sending out marketing assets that may not be the best resources to work with.
Use Branding Methods that Work Everywhere
While it is necessary to keep in mind what appeals to specific local audiences, be sure that the proceeding marketing method is still on-brand. As an example, if your company typically provides more text-based content rather than written content, make sure that one franchise doesn't rely too heavily on image-based creatives. If your company is known for making dynamic Instagram posts, push that as a good local advertising method as well.
Moreover, branding needs to be congruent across all channels. If your company has a catchphrase in a specific font, make sure it is used everywhere equally. Franchises shouldn't disregard the unique elements that make your brand just because they are focused on local audiences. Bring the big picture of your national or international franchise to each local area through consistent messaging and cohesive visual style.
Here are some tips to keeping your branding consistent across all locations:
Create a brand guide with policies and examples for maintaining visual consistency.




Make a "best practices" resource that local franchises can use to their advantage.




Make digital analytics your best friend. Track your "viewed" or "visited" statistics on Facebook, Instagram, and even email, to get data and relay that data to locals to give them an idea of what works and what doesn't.
Keeping all members of your company up to date through an official brand guide and a list of resourceful examples can help franchises – and franchisees – appeal simultaneously to local and global audiences.
For more tips on how to Achieve a more Cohesive Brand click the button below:
Use a Marketing Asset Management Tool
An all-in-one marketing management platform will give you a complete set of tools and templates that you can use to create a customized branding experience for your marketing team. Not only can you upload, edit, and share all of your different assets at once, but you can also create automated workflows which will work with your brand guidelines to maintain brand identity while simultaneously creating new content. A marketing management platform is great for physical and digital marketing assets.
Our FuseBox One MAM also allows for a single sign-on solution that will give each franchisee the ability to access helpful marketing assets all in the same place. Upload specific, locally-tuned assets to a template which can be used, reused, and customized by each individual franchise.
This is the best way to keep all of your information in place while also managing brand cohesion among all different local areas. You can be as hands-on or hands-off as you need to be with each franchisee, who will be given everything they need to take local marketing strategies into their own hands.
Generate Leads Automatically
Lastly, a helpful source of information to guide franchises towards the best local advertising methods is with lead generation. Getting insights on local audience groups, as well as their social media behaviors and consumer habits, is good for optimizing a local advertising strategy.
FuseBox One offers list building as one of the automated tools within the MAM system to allow you to take localization trends even further. This process makes it possible to search for lists of consumers based on geolocation, target audience, phone operation details, consumer behavior, and much more. These lists are updated constantly and can be used dynamically with your planning strategies. This will also keep you closer to local trends, which may influence or evolve your marketing operations altogether.
Put Your Local Success on a Global Scale
Local success equates to global success. Any franchise company, whether operating within or without the country's borders, needs effective strategy that is fine-tuned to each local area of franchise. Beyond that, a consistent brand identity must be upheld while focusing on more local buyer needs. The best way to handle these operations effectively is with a marketing asset management system. This on-demand source gives you the tools you need to build, plan, customize, change, and distribute marketing creatives and assets.
Sources:
https://blog.hubspot.com/blog/tabid/6307/bid/28437/3-Steps-to-Create-an-Effective-Local-Franchise-Marketing-Strategy.aspx
https://www.lucidpress.com/blog/essential-elements-franchise-marketing-strategy
https://marcom.com/blog/why-restaurant-franchises-need-a-local-marketing-strategy/
https://qiigo.com/local-marketing/overcoming-the-franchise-local-store-marketing-challenge/