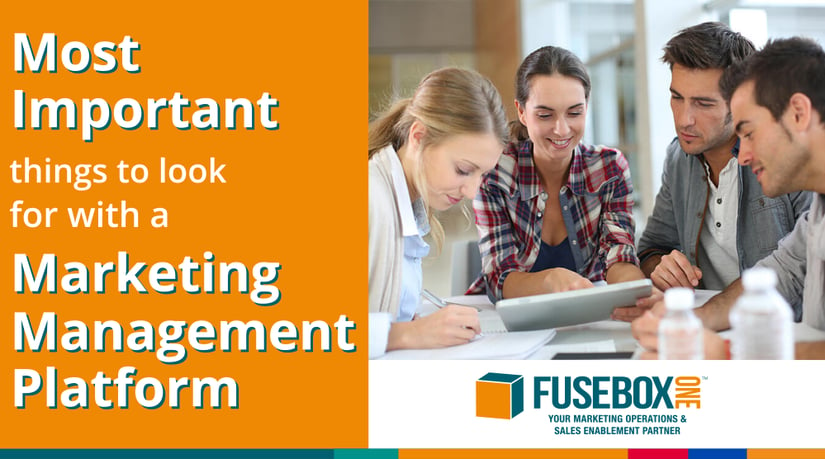 You want to grow your business and you want to get a better handle on your marketing. If you are using the traditional methods of managing your marketing materials and activities, you will start to fall behind.
Marketing is complex, and you and your team need to handle a host of different components of marketing to be successful. You should invest in a quality marketing management platform, which can make most aspects of marketing far easier.
Why Use a Marketing Management Platform?
These platforms are used to help streamline the marketing process. They can provide a range of different types of functions. They can help to make it easier to manage and access your company's digital assets. The tools help to save time and increase efficiency for all who are using them. These platforms allow for better insights into what is and isn't working, customer lists, personalization, and much more.
What's Right for You?
These platforms are used to help streamline the marketing process. They can provide a range of different types of functions. They can help to make it easier to manage and access your company's digital assets. The tools help to save time and increase efficiency for all who are using them. These platforms allow for better insights into what is and isn't working, customer lists, personalization, and much more.
Upload Your Own Designs
One of the biggest benefits of using these tools is the ability to quickly find and access all of your assets. Any good platform will allow you to upload your content and designs, so you can use it with the tools the system provides. However, when you are examining your options, check to see what types of file formats can be uploaded and how they will be stored.
You need to be sure that the system will work for your needs and the types of files that you have. Most of the platforms will allow you to store just about any type of digital file that you might have.
Product Templates
You may find that you want to do more than just upload your designs, though. Look for a platform that can provide you with a wide range of tools that will let you create the designs and market your way. Template-based customization options will make it easy for you to quickly create a wide range of materials using your branded assets.
Why should you consider working with templates? Rather than creating everything from scratch, you will find that it's faster and easier to simply use templates. You can plug in your logo, images, text, and other assets. Creating the final product will take far less time and less design work. Even though you might be using templates, the designs can use a range of assets, including yours, to make them unique and branded. Custom asset creation is fast and simple, which helps you save not just time, but also money.
Choose a platform that has a robust number of templates for brochures, direct mail, social media, etc. Some might also offer templates for things like videos and PowerPoint, for example. This gives you even more ways to brand.
Personalization for Marketing Campaigns
Personalization in marketing can provide you with a competitive advantage. Today, it's something that more and more customers are starting to expect. You don't want to disappoint them.
Personalization will help to advance and strengthen customer relationships, and it could help to improve the customer experience. It makes people realize that they matter to your company. This builds trust, which means a greater likelihood that the customer will buy from you.
A good marketing platform will help you provide a customized experience that's tailored to your customers. These types of marketing materials will help you differentiate your brand, and with the right platform, it's easy to do.
You can apply images, graphics, your logo, text, and personalization in the materials you create. They can be created for a specific individual that provides more of a "one-on-one" experience with them via the mail.
For example, if you operate a dentist's office, you could send out personalized postcards to your patients reminding them of when it's time for a cleaning. You could even send out holiday postcards.
Email Campaigns
Email can be a fantastic way to communicate with your customers. Of course, people tend to get quite a bit of email during the day, and it's easy to get lost in the shuffle. You want to find a way to stand out in their inbox, so they know that they should open and read your email without deleting it.
Using email templates can be a good, fast way to get their attention. You can add your own text and images to the template and know that it will look professional when it arrives. A good marketing management tool will provide these templates, as mentioned. They will also make it easy for you to get your marketing messages to the right people at the right time.
When you are choosing a platform, check to see what types of email marketing tools it includes.
Social Media
You can't forget the importance of social media for your marketing campaigns. However, it's often difficult to keep track of all of the different platforms that you have to update. Make sure the platform you choose can let you automate the posting across multiple channels, saving you time and effort.
Additionally, you can find solutions that will provide you with media assets that you can use in your social media. This can help you save time when you are looking for the perfect image to add to a post. Of course, you don't have to use the stock options. You can always upload and use your own media.
Submit Jobs for Print
Keep in mind that you aren't only focused on email marketing, online ads, and social media. You will also want to remember the importance of print marketing for things like direct mail and even promotional products. Choose a platform that will allow you to submit all of your print jobs through the interface. This will help to speed up the process of getting the materials printed and shipped since you can submit the job around the clock.
Just make sure that you choose a company that allows you to proof the projects in real-time and make final approvals. When you are in charge of quality control, you can make sure that the projects are completed to your specifications.
Additionally, make sure that you can create custom settings that can be used for future print jobs. This will help speed up the process even more.
Not all platforms will have printing options that are so easily accessible. Often, they require that you use a different vendor, which means more hassle for you. Find a solution that's integrated with the platform for more efficiency.
List Acquisition
Customer email and home/business addresses are important for any business's marketing campaign. Certain marketing management systems can provide list acquisition options, allowing you to create lists based on certain audience segments. This can be done in just minutes, helping you to save hours of your time that would otherwise be spent trying to match the right marketing information to the right customers.
You could create lists for businesses, consumers, or create lists based on zip codes, radius mapping, etc. You could also have lists for your audience demographics, which can allow you even more control over who is receiving your marketing messages.
When you have access to the type of information that can be gleaned from a great marketing platform, it becomes easier to organize your lists of customers, leads, vendors, etc. It's helpful for the sales and marketing team, and it will make personalization possible.
Business Insights for Assets
You will also appreciate how much easier it becomes to manage all of the assets that you have created for your marketing. Not only are you able to find what you need faster, but you can keep track of how and where you used each of those assets. You can even find how many times you've used the assets and who has been using them.
With insight and analytics tools like these, you can find out how well each of the assets is performing. It allows you to find those that are underperforming, so you can replace them with assets that have netted better results. The data makes it easier for you to improve your marketing campaigns. Make sure the platform you choose provides these features.
Easy Sign-On
If you are currently using multiple programs and pieces of software to handle the things that a single marketing management platform can provide, it means that your employees have to deal with a lot of passwords. They need passwords for all of those programs and websites, and they often need to have several browser windows open at once.
However, with the right management system, all of the tools are integrated into the platform. Everything can be reached after signing onto the main system. Just navigate to where you need to go whether you are working on an email campaign, building new assets, or working on social media.
It might seem like a simple thing, but you can save a lot of time and frustration when you have everything accessible via one interface.
Make Sure the Platform Can Grow with Your Business
If you have a relatively small business right now, you will benefit from using a quality marketing and digital asset management program just as much as larger companies. However, your company won't be small forever. It will grow, and this means that you may have greater needs in the future than you have right now.
Make sure that the platform you choose is capable of providing you with the services you need no matter the size of your company. Otherwise, you will have to learn how to use a new system in a matter of years.
Direct Mail Options
You can't forget about the benefits that direct mail provides. Reaching out to customers via traditional mail is still a wonderful way to get new leads, nurture clients, and get your best buyers to keep using your products and services.
However, with the push toward digital, you will find that not all marketing platforms will provide options for direct mail. The one you choose should make direct mail just as easy as all of the other marketing options. Ideally, you will find a company that can also print and send out the materials for you. This can help you save time and money that could be better spent on running other aspects of your business.
How Well Does It Integrate?
There's a good chance you are using other tools to help run your business. You might like some of the features that they offer but may also need to have a more robust marketing management platform. Some of these platforms will integrate with popular options like Salesforce, Marketo, and Google Analytics.
If integration is important to you, check to see whether the platform you are considering offers the integrations you need.
Ease of Use Is Important
Find a solution that will be easy to use and that offers an interface that's easy to understand and navigate. You want the platform to be as easy as possible to use for you and your employees for several reasons. First, it will make adoption faster. It will also mean you won't have to worry about some of your employees regressing and using their old methods of finding and using assets.
Of course, you still need to ensure that your employees are properly trained on the platform and that they can get answers to any questions they might have. The vendor should be able to provide you with resources that can help to answer many of the questions you have and that can get you and your team up to speed.
Try a Demo First
Choosing a marketing management platform is a big decision that you can't take lightly. You don't want to start using a system only to find out in a month or so that it's not suitable for your needs. Check to see if you can request a demo to get a better idea of how it all works.
The demo should provide you with a good overview of the platform, how to use the tools, and time to see what the interface is like. You can then make an informed decision as to whether it will be the right solution for you or not.
Additionally, explore the company's website to learn more about all of the various features it offers to see how you might be able to use them for your business. A little research will go a long way in making sure you choose the right marketing management solution.
Now that you have a better understanding of what you should be looking for in one of these platforms, it's time to find one that works for you. Examine the options you are considering, compare the features, and reach out to the company offering the platform to have any other questions answered. They should be able to provide you with the information and insight you need.
It's also a good idea to learn more about the company and its reputation. Check out the help and customer service options available. Can you get some assistance if you are having trouble with the platform? These are all things worthy of considering in your search.
Resources:
https://www.fuseboxone.com/marketing-resource-center/