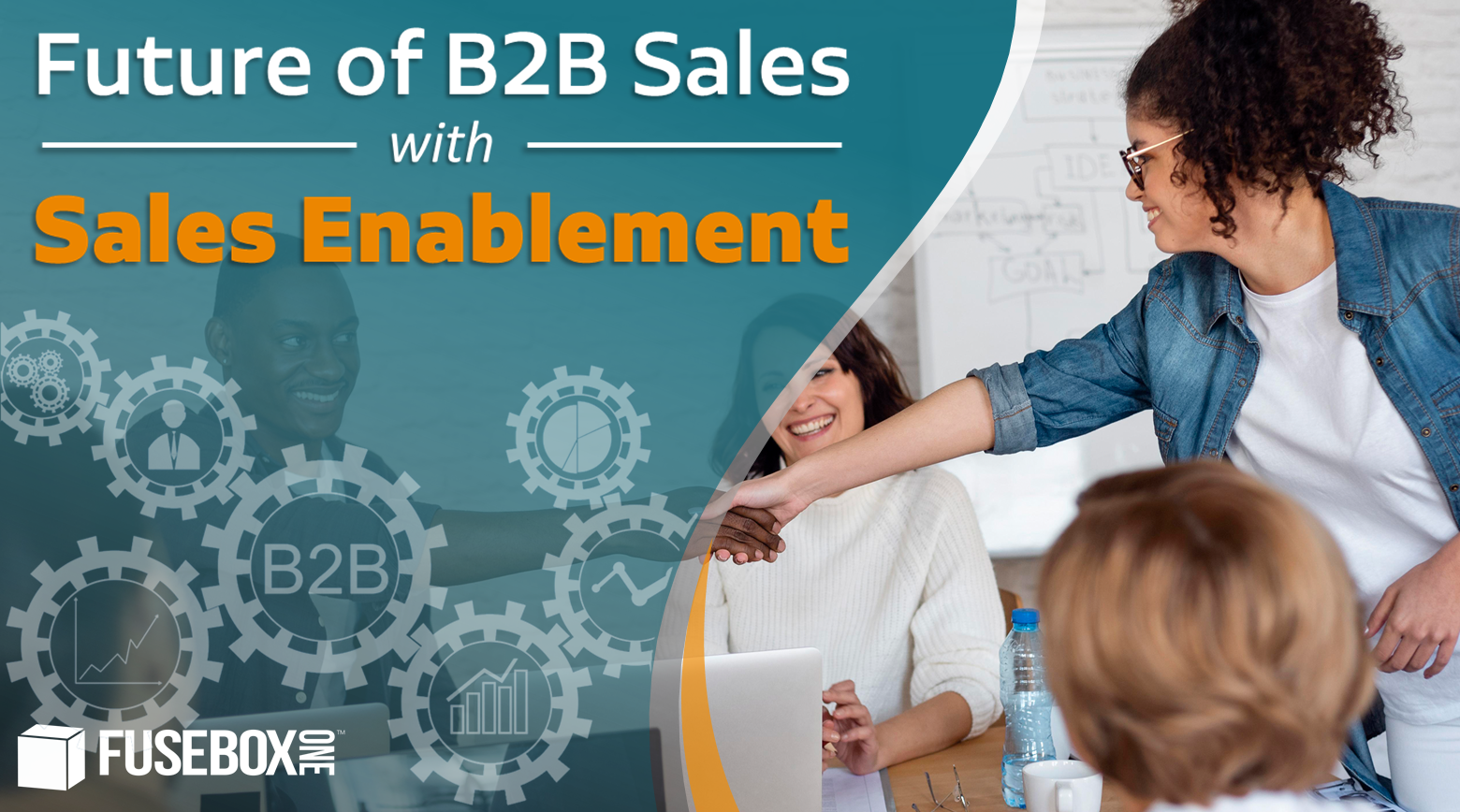 Sales enablement is a business operation strategy that has been growing in popularity over the last few decades. As more and more businesses find success using sales enablement strategies, more kinds of sales-based businesses are seeing the value in implementing enablement systems. If you have a B2B sales-based company and you're reading this article, then you've likely been considering if employing sales enablement is the right choice for your business.
There are many benefits to using sales enablement strategies and making the change in your business operations to prioritize selling time. If done well, this can create the work environment that helps your business soar to new heights of success. But what exactly is sales enablement, and how does it work in a B2B style business model?
What Is Sales Enablement and How Does It Impact B2B?
Your talented salespeople are the most valuable part of your company because they are what drive your profits higher. Sales enablement is meant to make every second these salespeople work on the clock as productive as possible. Many companies see an exponential increase in sales and consistently meet sales quotas.
However, sales reps aren't the only people involved with closing a deal anymore. With more and more commerce being completed online, you're trying to convince people to buy your product from the moment they see your first landing page. Marketing's role in sales has increased dramatically, as marketing is in charge of creating all that content. This means that ensuring marketing and sales teams are communicating is vital to making the best buying experiences.
Sales enablement works to tie marketing and sales teams to communicate. This way, the best-selling methods can be found, messaging will be consistent across the buyer experience, and prospects don't encounter sales material that is redundant or overly clunky at any phase. A sales enablement system should streamline how marketing content is used by sellers and make it easier for B2B businesses to digitize selling methods. But we'll get more into how sales enablement helps transition your company into the digital selling market later.
Free Resource to Help Marry Marketing and Sales
What Qualities Define Sales Enablement?
Sales enablement will look different in each business. Each business faces unique challenges, has an individual brand, talented sellers, and expectations. However, there are some features of sales enablement strategies that are consistently employed by companies looking to create this system for their business. Some of these features include:
Automating selling and marketing tasks (like prospecting, appointment scheduling, and direct messaging features)
Qualifying leads
Organizing all sales and marketing content
Create communication templates and other basic prospect communication assets
These features offer a myriad of benefits to your business if you can successfully employ a sales enablement system.
How Does it Benefit Your B2B Sales Business?
All businesses want to start working more efficiently, saving capital on overhead costs, and making more through sales. This is the trying force behind most, if not all, businesses. However, getting there is not nearly as easy it sounds. Unfortunately, the B2B market suffers from a lot of the same efficiencies faced by other kinds of markets.
The situation for B2B is different than that for B2C businesses, though. B2C sellers deal with individuals who are more likely to buy on impulse. They likely don't need to build a lasting relationship with your company and don't have to involve other people in the decision to buy.
B2B sellers have to carefully persuade other businesses that investing in your product or service will add more value to their company. They have to think about how their customers will feel if their brand is associated with yours and about the quality of your product. Five or more people could be involved in making the decision to buy from a B2B business.
They also have to consider how easy it will be to buy from you in the future. Then how communicative your customer service is amongst other sales experience factors. They don't want to make a major purchase with a company they won't want to work with in the future, as they likely aren't going to purchase something just once. This makes careful and information-hungry buyers who are harder to get to commit to a sale.
Over half of the buying process is spent searching for content that tells the prospect what your business does and how your product or service works. On top of that, so many buyers believe that the marketing content they receive is not personalized enough. Meaning the marketing makes your business seem irrelevant, inapplicable to them, and not aligned with the needs of their company.
Click Here to Learn How Sales Can Create Custom Content on the Fly
It gets worse. Many buyers simply aren't understanding the value that a company is trying to offer them. They want to buy from a company that clearly communicates this value by asking and answering questions like Why buy? Why buy from us? Why buy now? In fact, an ineffective value message may be the biggest hurdle keeping prospects from doing business with you.
Broken down, this means that buyers are looking intently to find out what value your company can offer theirs, and they are not finding it easily.
Sales enablement can help solve most of these problems.
Keeping Up with Technology and Using a Digital-Frist Approach
A key part to making your sales team more efficient--and to start solving problems that drive customers away before they even reach a sales representative--is by using technology that makes addressing these issues easier. Automation, templates and activities tracking sales enablement software can help make delivering the right content to prospects easy.
Create sales plans, email templates, and content protocols that allow sellers to easily employ several selling personas based on what the prospect needs. A sales enablement software can then store and recommend these resources to sellers at prime opportunities. This system can also tell you how a client uses a delivered piece of content--like if they actually open or even share it. This information will show you which kinds of content are more useful to certain clients and what deliverables should be sent in similar situations.
This technology can also make it easier to keep track of what stage in the buying process a prospect is in, what content they've previously responded to, and what kind of persona should be used.
Making Client Experiences Personal and Secure Consumer Loyalty
Clients are looking for valuable content that teaches them about your product and how it brings them value for their specific situation. Then the goal becomes orienting material sent to them with that specific prospect's point of view while highlighting your value. Automation can also help your business implement multiple messaging tactics easily.
The automation also helps free up seller time and can make prospect follow-up more consistent. After all, a program told to email a customized message to a client won't forget to do it in two weeks from now!
This bot can also help nurture a lead. For example, if a prospect engages with one of your whitepapers, the system can send them more content that is more in-depth or similar to what they previously interacted with. On top of that, ROI calculating tools, case studies, and other materials directly show how you provide tangible and increasing value to that prospect.
The Future of B2B: How to Create a B2B Sales Enablement Strategy
The last few years have brought challenges to everybody, but when your business faces a challenge, that's an opportunity to improve. Despite uncontrollable circumstances, as times change, buyer expectations are sure to change with them as well, and they have. Now, buyers don't just expect a B2B seller to build a relationship with them. They may even expect your company to anticipate their needs. This is not easy.
The pathway to making a system that serves clients and prospects better is by taking a business approach that helps enable sales as much as possible. This means using new technologies to collect data on current trends and making the bestselling decisions possible. Overall, this makes selling simpler, so sales reps can use their time as effectively as possible. They can build client relationships and start closing more deals.
Crafting the perfect B2B sales enablement plan won't happen quickly. In fact, much like how the companies you service look for value in your business, you should look to maximize the amount of value a sales enablement plan will offer your company. The creation of this plan should be a careful process that works to solve problems that your business faces, not create more.
At each stage, from the planning process to implementation, be sure that your sales team understands the value of these new processes. And also ensure they are actually applying them to day-to-day operations. With a successfully implemented sale enablement system, you can operate your B2B sales business looking towards the future, especially now that you've implemented a system that will make getting sales easier and will be easy to update as time continues marching forward.
Understand Current Work Processes and Create New Processes
To make the best work processes going forward, you need to understand what your sellers are currently doing. Then analyze how that has brought success to your business and where it has been weak. You should want to retain best practices if possible and then use sales enablement processes to solve consistent problems your business has been having.
Consider what parts of your operations can be automated or streamlined. Do you have some redundant selling processes, or similar enough, they could be made into one phase of the selling process instead of several? If a prospect reaches out to create a proposal or get a quote, can they receive an automated message that can keep their interest or expedite the process and save salespeople time?
This won't work in all cases; some businesses require more human interaction with the potential client than others. Still, try to find the little places where prospects can get the information they need faster, while salespeople can focus on tasks that truly require human intervention.
Get the Team on Board
A sales enablement program isn't just a new set of rules that your sellers and marketers will have to follow. It's about changing the culture of your business, promoting communication, and making the best content possible to enable sales and make the buyer experience better. While your goal is still to close deals, the framing of this changes. You're not just a seller in the modern landscape; you're solving client problems.
By getting marketers and sellers to communicate with one another, more valuable and applicable content can be provided to buyers. Sellers are the people closest to the clients, after all. So, they can offer the marketing team valuable insight into what kind of content buyers are actually looking for. Marketers make content and understand company demographics on a wider scale than sellers do, making them a great resource for developing sales personas.
That's not all, though. By enabling sales, you're opening up the whole company to help facilitate better buyer experiences. For example, customer service may offer insight into how return policies, FAQ pages, and other kinds of guides can be improved or made more accessible. This way, clients can find what they need faster, cutting down on information search times.
For A Digital Market Utilize Digital Tools
The modern B2B market is moving more and more to the digital world. Consumers expect to create their own selling experience, spending less time talking to people and more time exploring websites and consuming marketing content. The sales rep will never be obsolete; however, the skills expected of sellers will change. Sellers will need to utilize new digital tools and selling strategies that help make prospects into clients in a modern market.
Management's job is to supply these tools and to set sellers up for success. They need a diverse set of tools that help provide the same information customers would expect to get from face-to-face selling without direct human interaction. Be directed to the right tools by your customers' behaviors.
Sales enablement is built to evolve, and in a marketplace where more business is being completed digitally, you need to find digital solutions to keep hold of customers.
Ask Key Questions Along the Way
When making a system, and while your business is transitioning to use it, there are some questions you should ask management staff through the planning process. These are important to ensure that the sales enablement program is being effectively utilized.
Will selling processes be clearly outlined, starting from the prospecting to deal close, and even with continued customer relations? Ensuring that your workflows are easy to follow makes it more likely that your team will actually implement the workflow while also making it easier to onboard new employees. Clearly outlined selling steps also makes it easier for sellers to be more efficient with their time. This makes them more efficient throughout the day while also making decision-making easier.
Are there clear definitions at each stage in the sales and marketing process that employees can easily define and use in reports for a standardized system? This secondary question tries to make it easier to execute the first point. To make a clear workflow, you need clearly outlined steps in the selling process.
After all, it's hard to make clear directions for a task when the stages and steps are nebulous. It will also be more difficult to create reports on these activities if sellers and marketers are unsure which categories their current prospects and workload fall under. Workflows should also eliminate questions, not make more. Keep this in mind when crafting your new system.
Do we have clearly mapped out selling personas to match your main clientele, and do we have selling plans that fit these buyers? Having all the marketing resources in the world won't help sellers if they can't be delivered to the clients at the right time. And certain clients will need creative selling resources at different times to convince them to buy into your product or service. Ensure that your sales enablement strategy takes this into account by including persona strategies in the seller content you create.
Another way to ensure that seller personas are used in the right situations is by having a sales enablement program that suggests personas based on prospects' data. These will make it easier for sellers to access the selling plans associated with those personas and make getting that deal just a bit easier.
Does our sales enablement program allow us to keep current or returning customer information on hand, so redundant deals or unnecessary services aren't offered to this client? You want a program or organizational system which allows you to know what web pages they've seen, what emails they've received and opened, what past deals have been offered to them, and other important information like that.
Buyers appreciate an individualized selling experience that makes their problems and unique situation a priority. Keeping track of all that information in a localized digital hub in a sales enablement program means that any seller can pick up a client and have all the information necessary to pick up the deal.
Do sellers have access to the content they need, like ROI calculators, presentations, product demos, links, email templates, and more? If you understand the value of these assets, then you understand that making them is an important part of implementing a sales enablement system. Before a system is rolled out, or after feedback from your sellers, ensure that all this content is actually easily accessible. If not, adjust the system or ask them why content is still difficult to find.
The sales enablement program may not be user-friendly, or the sellers may need more training to use it effectively. This open communication will ensure your sellers can make use of this content in real-world situations and the investment is not wasted.
Learn How a Marketing Management Platform Can Help!
Will there be formalized and incentivized ways for sales and marketing to communicate with one another? At first, it is going to be difficult to break the silo barrier that likely exists between the sales and marketing departments. Expecting these issues is key to making the transition from your current management system to a new one smooth. Set your team up for success by creating formal times for sales and marketing to discuss with one another. What this looks like in your business will be unique, and trying several tactics may be necessary. Ensuring that it happens will help sellers learn from marketing presentations and use seller experience to guide new marketing content.
Use these questions to check in on your new sales enablement plan to ensure that you're covering all your bases and anticipating potential problems. Think about how sellers will actually use the new system and ensure that it is not going to just create more busy work for them. Focus on making it easy for sellers to pick up the new program and to start communicating across departments.
After you've created a plan and implemented a sales enablement strategy in your business, it's important to track its progress by using key performance indicators and seller reports. This allows you to see how well your sellers are actually implementing the system and what effect the sales enablement program has had on your business.
Here is a Free Resource to Help!
Embracing the Future and Utilizing Sales Enablement
The future of sales is sales enablement. If your sellers are the core of your business, then enabling them to make the most effective use of their working hours is essential. That is if you want to increase the rate of sales and profits.
If you've been using a traditional selling strategy and it's been difficult for your salespeople to meet quotas or sales numbers have been steadily stagnating, then it's a great time to make a change. Sticking with old processes hoping they eventually prove themselves, isn't going to help your business succeed. Sales enablement strategies can solve many of the problems faced by B2B sellers by giving sales reps the resources they need to make deals happen.
Check out our related articles:
Sales Enablement Resource Page
Sales Enablement and Why it Needs an Amazon Experience
How Your Marketing Department Can Help With Sales Enablement
5 Problems Business is Having With Sales Enablement and How to Solve Them
Other great resources:
Check out our free promotional products guide here
Sources:
https://accent-technologies.com/2020/03/16/what-is-sales-enablement/
https://www.gartner.com/smarterwithgartner/future-of-sales-2025-why-b2b-sales-needs-a-digital-first-approach
https://accent-technologies.com/2013/10/17/5-content-marketing-strategies-to-enhance-b2b-sales-enablement/
https://customerthink.com/b2b-sales-enablement-trends-2022-becoming-future-fit/
https://oroinc.com/b2b-ecommerce/blog/sales-enablement-for-b2b-business/
https://www.trewmarketing.com/smartmarketingblog/10-questions-b2b-sales-enablement-strategy