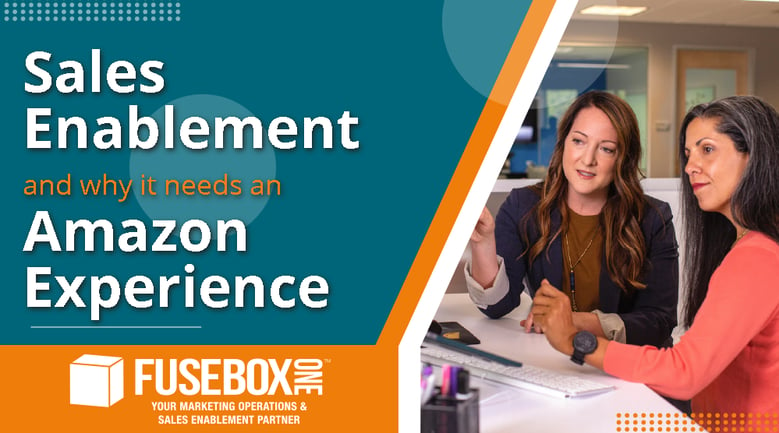 Sales enablement typically refers to the processes used to make sure that the salespeople have the training, tools, and content needed to increase the number of sales being made or the dollar value of individual sales. This can be achieved in several ways.
Good sales enablement helps to ensure that the agents working at the company have the training and guidance needed to use various assets to engage with and sell to customers.
Best Practices for Better Sales Enablement
Marketing and sales need to work together, which is something that once seemed impossible with many companies. Too often, they would have a contentious relationship because they may have seen their goals and objectives as being different. They might have had issues with miscommunication. However, the teams from these two departments need to work with one another to achieve the best results for the company. Without a harmonious relationship, it can put a damper on sales enablement.
Sales enablement should be a strategy to ensure the sales team has the tools, skills, and resources needed to be more efficient and improve sales. This should be done through onboarding and continual training, communications with sales, and having the right tools and resources available, as mentioned. Below, you will find some of the best practices to help you succeed with your sales enablement.
Bring the Right People Into the Company
You naturally want to make sure that you have the right people on your teams. Today, this means hiring people who are flexible and who can work well in a team environment with others in sales and marketing alike. The people that are brought aboard should be capable of learning how to use the various tools you are using for marketing and sales. Naturally, you want to be sure that they have your company's best interests in mind.
Create Quality Processes
If the team does not follow consistent processes, it could mean that the sales will be inconsistent, as well. Therefore, you will want to make sure that you develop processes for selling rather than allowing the agents to take a "rogue" approach to sales. When you have processes in place, it will help you to measure and analyze sales. You can learn where interest gets lost, where people decide to buy, and where the deals break down.
Knowing this information helps you then refine and improve your processes further. After all, improving the sales or marketing of your company is not a one-time job. It needs to be continual. To implement new processes, though, you first need to know what works and what doesn't work. Take the time to evaluate each step of the current process to see where any problems might exist and then find ways to eliminate those problems.
The Right Technology
Having quality technology integrated into the sales enablement plan is essential. Good tools will help to streamline the work and will provide repeatable steps that can be used to improve the overall strategy and sales. It can provide better efficiency and productivity for sales, marketing, and more depending on the types of tech that you integrate.
Digital asset management tools are beneficial for the marketing team and the sales team, for example. With proper DAM tools, it will reduce the amount of time that it takes for team members to find and build content.
However, this doesn't mean that you want to start bringing in all manner of new technology to the business. You need to research it, see how it works and how it could help you to attain your goals, and then you need to determine whether it's the best solution for your business or not. Of course, even after you bring the tech aboard, you need to be sure everyone is trained, which leads to the next best practice.
Proper Training
When people are brought aboard the company, they need to undergo all of the training they will need to be an employee and to do their job. However, training during onboarding is just the first step. There should be ongoing training to ensure that everyone has the same level of knowledge and that the things they have learned are reinforced. Training needs to be provided whenever new pieces of software and other tools are integrated, as well.
Listen to the Employees
Sometimes, the best source of information on how to improve the sales process will be those who are actually working in sales each day. They have a better understanding of how to use the tools and how the processes are working than those who are only observing them. As helpful as data can be when it comes to improving the processes, your staff will be a powerful resource, as well. Ask them about any issues that they might have, as well as suggestions. By working together, it can help to improve marketing, sales, and more.
What About Content Marketing?
Although having quality content is part of marketing, it is important to understand the differences between this and sales enablement for your business. Content marketing is the process of creating and distributing a range of different types of assets that are used to help generate leads and eventually to produce sales. Some of the types of content that might be created by a company include:
Blog posts

eBooks

Whitepapers

Videos

Podcasts

Social media posts
Content can be used using outbound efforts or inbound strategies. When you have a quality content generation system, along with a digital asset management tool, you will find that it becomes easier to create and store your content. The content and the tools used to manage it are therefore part of the overall sales enablement process.
Types of Sales Enablement Content
Buyers will tend to move through several stages before they get to the point that they buy or that a deal closes. This includes awareness, consideration, and purchase. It is important for marketing and sales to realize that these are three distinct areas that are all important when it comes to sales enablement. Each of the stages needs to be successful for the customer to move on to the next stage and eventually make their purchase.
The Awareness Stage
The assets that are used to market to potential customers at this stage are typically for buyers that are at the top of the funnel. They know that they want or need to buy a certain type of product or service. However, they are just getting started with their research. Typically, top-level assets are used to inform the consumers without necessarily being specific to a certain vendor. They tend to be more general in the content that they provide, and they aren't necessarily steering a person to a particular vendor, make, model, etc.
Some of the types of assets that are used at this level include articles, blogs, newsletters, eBooks, white papers, and social media posts. When these are seen and consumed, they will typically bring the customer along to the next stage.
The Consideration Stage
At this point, the buyers are starting to look for more detailed information on the items they want to buy. They want to know more about the product and what it can do for them. At this point, the content that is being used for marketing and sales will be geared toward providing them with a deeper understanding. It can provide them with more differentiation between the manufacturers and vendors that are available.
Again, the same types of content mentioned in the first stage could be used here. However, they will be more focused on the specifics of the product. At this stage, some customers might also be looking into customer testimonials, datasheets, and case studies to learn more.
The Purchasing Stage
When the customers have reached this stage, they are close to making their purchase. However, they aren't there quite yet. The assets that are used in this stage should provide a thorough examination of the products you provide and what type of return on investment it will provide for the customer. The content will help the buyers to decide on whether your product is right for them or not.
At this stage, the customers might have narrowed their selection to a couple of potential products. It is the job of marketing and sales, through their assets and their connection with the customers, to get them to buy.
Tips for Creating a Sales Enablement Strategy that Works
The content marketers and the sales enablement team should make sure they are aligned when it comes to the revenue goals for the company. This will help make it easier for the marketers to determine what content needs to be prioritized, and it ensures the sales enablement team will have their sales reps outfitted with the right assets needed at the time.
The teams should strive to work together to achieve their overall goals. It shouldn't be a competition between the departments. Collaboration and feedback between the teams are essential. Everyone should be trained on the tools they are using, and the sales team should have fast and easy access to content through a good digital asset management tool.
Why Is the 'Amazon Experience' Important for Sales Enablement?
Think about your own online shopping experience. If you are like a lot of people, Amazon is likely the go-to store when buying just about anything on the web. Take a moment to ask yourself why that is. It's because shopping on Amazon tends to be easy and convenient. It's easy to find the items that you want, you can compare prices, you can add the items to your cart, and check out easily. It tends to be cost-effective, and it is possible to get free shipping. You can have the items that you want brought right to your door in a matter of days—sometimes the next day or even the same day.
Amazon can develop loyal customers because of what they can offer and how they offer it. This is true from the products they offer all the way to their customer service department. Customers have access to reviews, transparency in pricing, the product information they need, and good communication overall.
The Amazon experience is about convenience, and this is something that you need to make sure that you provide to your customers. Whether they are buying directly through your site, buying your products through Amazon, Walmart.com, eBay, or another platform, everything should be simple and secure.
Amazon builds loyalty among their customers, and this is why people go back to them time and again. It's why you probably think of Amazon first when you are making an online purchase. If you want your company to have a similar type of loyalty, then you need to consider the ways that you can cultivate a similar experience on your own site and store.
How to Improve Your Customer Experience
As a company that wants to increase sales, you need to make sure that you are providing a customer experience that is as good as possible. Although you might not have the reach of Amazon, this doesn't mean that you can't work to improve the experience your customer has whenever they deal with your company. Let's look at a few ways that you can do this.
Improve Your Listings
One of the first and most important things you will need to do is make improvements to your listings. Too many companies skimp on the work they put into their listings because they see it as costing too much time, money, and effort. However, if you have poor-quality listings, customers are going to move on and find a different seller. You wouldn't buy a computer, a television, or just about anything else if you don't know enough about the product.
Therefore, you want to be sure that all of your product information is accurate, and that you have a detailed description that includes the pertinent information about the item. You also need to have quality images of the product. If you can include images of the product being used, even better. Video showing the product is another good addition if you have the capability.
Balance Your Inventory
You need to be sure that you have a balanced inventory. This means that you need to have enough to meet the demand of your customers so you do not run out. If you are out of product, they will go to the competitor. However, you also don't want to have so many products that you are wasting warehouse space.
Get Reviews
Customers on Amazon will often read the product description and then head to the reviews. They want to see what actual customers have to say about the product. This will give them a better understanding of what they can expect from the item. Strive to get as many reviews as possible.
Customer Service
One of the hallmarks of Amazon is fast-acting, quality customer service. You need to have a customer service team that can provide your customers with the help they need when they need it. Make sure that the customers have multiple channels through which they can connect with your company. Also, be sure that you have a team that can provide fast, helpful service whether they are in-house or remote.
Sales enablement is essential for the health and growth of your business. With the right strategies, a collaboration between marketing and sales, quality software and tools, and providing the 'Amazon Experience' for your customers, you can take your business to the next level. Let FuseBox One help you today!
Resources:
https://www.highspot.com/blog/sales-enablement-vs-content-marketing-why-you-need-both/
https://www.hubspot.com/sales-enablement#:~:text=Sales%20enablement%20is%20the%20iterative,product%20or%20service%20to%20customers
https://www.forbes.com/sites/forbesinsights/2016/05/23/yes-brick-mortar-amazon-does-provide-shoppers-with-an-experience/?sh=708c3e9a31c6
https://act-on.com/blog/7-best-practices-for-optimizing-sales-enablement/
https://seismic.com/knowledge-center/sales-enablement-plan-and-best-practices/
https://blog.edesk.com/resources/amazon-customer-experience/