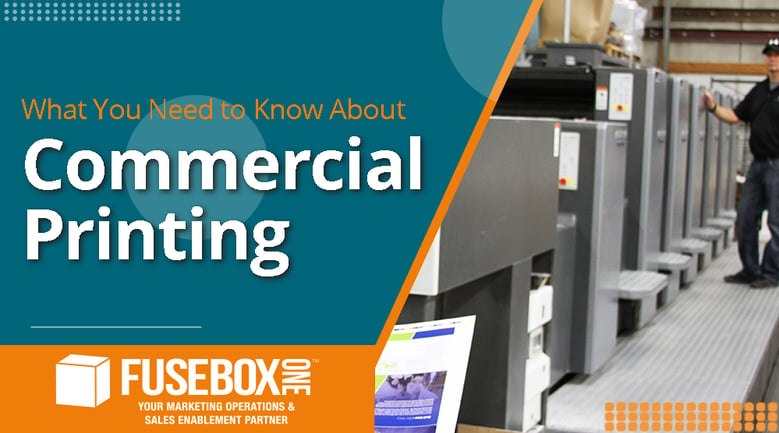 It's no secret that much of the world has gone digital in recent years. Companies have moved to digital for a host of reasons. One of the biggest of those reasons is that many people are spending an increasing amount of time sitting in front of a digital screen. Whether they are on their computers at work, at home, or they are on their phones and tablets, there is no getting around just how much time people are spending online. It's no wonder that companies are putting a lot of effort into digital marketing.
Digital marketing can be great, and it can provide a range of benefits for companies. However, this does not mean that digital should be your only focus. Instead, you will want to consider the various ways that using commercial print materials can help. Whether it is through direct mail or advertising at a show or convention, it can still be quite powerful.
Benefits of Commercial Printing
Why should companies use commercial print services? One of the biggest reasons is that it has the potential to help them with branding. Consider the various types of materials that could be made featuring your logo and your other marketing assets. Having your logo on brochures, business cards, and other items is still important. It can help to solidify your brand in the minds of customers and potential customers.
Commercial print companies can provide materials that look fully professional, which is important for any business regardless of its size. There is no substitute for having high-quality, professional materials. Commercial print companies use the best equipment and techniques to ensure this quality, but they can do so at a cheaper cost than you could do on your own.
Working with a commercial print company is also cheaper than trying to buy all of the necessary machinery on your own. The cost of digital printers, offset printing equipment, and all of the other items needed is too much for most companies that may not be using them enough to justify the expense. Not only would the expense be too much, but most companies will not have space on their premises for these machines.
Additionally, it takes specialists that know how to use the printing equipment to get the results you need. Working with a company that can offer commercial print services is a better solution.
Digital vs. Offset Printing
Typically, when you are looking for a commercial print company, you will find that some offer digital printing, while others offer offset printing. Ideally, you will find a company that can offer both, so you don't have to choose. Still, it's a good idea to understand the differences between these types of printing and when you would want to use each of them. Get a closer look at their benefits below.
Benefits of Digital Printing
Let's look at digital printing first to see why it might be worth your time. For starters, this type of printing will be a good choice for those who have short print runs and who have one-off jobs. If you don't need to have a large number of business cards or other items printed at once, it's not a problem with digital printing.
You will typically be able to choose from one to four color options and spot colors, and you can often have the printing done on a range of different materials. It makes personalized print jobs easy, and there is generally a very fast response time with digital printing. The quality of the digital printing available today is great and looks professional. It also remains cost-effective.
Benefits of Offset Printing
Offset printing offers a range of benefits, as well. While this could technically be used for short runs, it tends to work better when you have high-volume orders. The set-up process can be more time-consuming, which could add to the cost. However, when you have a high-volume order, it helps to keep the costs down because the price per piece tends to come down when you order more.
With this type of commercial print service, you can print on just about any surface that you might imagine. Not only can you create the business cards and flyers you need, but you can also print on a wide range of promotional products that can help with your branding. Promotional products could include things like pocket folders, door hangers, coasters, and magnets. There are also options for specialty finishes, such as matte, gloss, or soft-touch. Think of all of the possibilities.
What About Wide-Format Printing?
Another option that you might need to consider for certain jobs is wide format printing. Wide-format printing is for large jobs, and it might not be needed by all companies. However, it has a lot of possibilities and could be something that your marketing operations team might want to think about.
Some of the types of materials that you can create with wide format printing include floor graphics, point of purchase materials, table covers, table toppers, wall murals, window graphics, directional signage, elevator wraps, decals, event graphics, flags, vehicle wraps, and event banners. What could you do with wide-format printing?
What's Right for You?
Which type of printing is right for you? It will depend on what you need to print, as well as how much you need to print and how much you want to spend. If your company operates like many businesses, you might need to have both of these types of printing at some point. Find a company that can offer digital printing, offset printing, and wide format printing. You could even work with a company that integrates commercial print services with your other marcom technology, such as FuseBox One. The company offers these services and more.
Ways You Can Use Commercial Print Material
Consider all of the ways that you can use a commercial printing company to help with your branding, sales enablement, and overall marketing operations. Let's look at a few of the potential ways that printing could be used to help with your marketing.
Perhaps you need to have some marketing materials, such as instructions that need to be included in the items you are producing. Put together a manual and have it professionally printed. Maybe you need to have some custom boxes created for your products. You can create direct mail, which is still very effective for marketing. Commercial print companies can help you with brochures, flyers, stationery, business cards, point of sale items, and even specialty promotional products.
There are countless ways that you can use a commercial print company to help with your marketing operations. Take some time to think about how your company would benefit from having access to a commercial printing company. It could make more of a difference than you realize whether you have large jobs or just short runs of items that you need to have printed.
Why Is Printed Direct Mail Still a Good Idea?
Although the world is continuing to trend toward digital, direct mail that's printed and delivered to potential customers and current customers can still work well. It can provide you with just as much—and potentially more—success as online display ads and paid search ads.
You shouldn't forget about direct mail. It should be a part of your marketing operations and your plan for success along with social media, email, content marketing, and paid advertising. Let's look at some of the other reasons to use printed direct mail and other commercial print materials for your marketing.
Works Well with Digital Marketing
Direct mail also works well when paired with a digital marketing strategy. When you send out direct mail to your customers, you are giving them more than just that piece of printed material. You can also include your website and your social media accounts on the material. This way, the customers can head online to learn more about your company and your products. Direct mail can be a good way to bring more people to your online presence, where they will find your other marketing efforts.
Keep in mind that you should have a call to action on the marketing material that you are sending out. This could be something as simple as asking them to call or to visit your site, for example. The important thing is that you are getting more interaction and engagement from the customer.
Other Companies Aren't Using Direct Mail
Another reason that you should consider using direct mail is that other companies aren't using this type of marketing. They have fully embraced digital marketing and have forsaken direct mail. This is good news for you because it means you will have less competition making its way into the customers' mailboxes.
Why are some companies no longer using direct mail? They don't see that it is still a viable option and they are going with what they consider to be the easier option—digital. They are missing their chance, but that's good for you. When your mail arrives, it is more likely to stand out. This is especially true if you have taken the time to create good marketing material.
You will also find that many people tend to like getting mail, even when it is advertisements. This is especially true when it comes from a brand that they know or already buy from, or when they get information that applies to them.
It is Tangible, Stands Out, and Can Help with Your Branding
The tangibility of direct mail and other printed materials is another benefit. When you send coupons in the mail, people are likely to save them or put them on the fridge. When you send them a magnet with your business name, number, and website on it, they will probably put that on the refrigerator, as well. This will not only help you to stand out, but it will help to keep you in the customer's mind and help with your branding. This can work well for both brick and mortar stores, as well as for online-only brands.
Reuse Assets
You can use your high-quality assets. If you have been collecting a large quantity of digital content that you are using in your online marketing, much of that can be used for commercial print for direct mail, and more. As long as you have high-quality assets, they can be brought into your designs for your printed marketing efforts. This allows you to reuse assets, which helps to keep costs down and to ensure that you have a unified look to the materials you are producing.
You Can Track the Results
Although you will not have the ability to track your direct mail piece by piece automatically, you can still get an idea of how successful the campaign is. For example, you can add a special code for a discount that only appears on the pieces of mail that you send out. When a customer uses that code, you know that they received it because of the mail you sent. Even if that coupon code is used by multiple people from a single piece of mail, the direct mail is doing its job.
You could also use a special phone number for just that direct mail campaign. All of the calls that come to that number can be traced to the direct mail, which will let you know how many people took action after receiving the mail.
These are just some of the reasons that direct mail and other types of printed material can still work well. You can get creative with the items you are creating. You can provide people with the information they need, discounts, and an interesting piece of mail that they will keep. This isn't to say that you should eschew digital, of course. You want to find a way that you can incorporate both into your marketing operations. It will provide you with the best results.
Whether you have a B2C company or a B2B company, working with a commercial print company can provide you with some great results. Of course, you have to make sure that you are working with a great company.
Choose an Integrated Tool for Your Business
You will find that some tools will integrate into your business easily to provide you with access to a commercial print company. FuseBox One can do more than just provide you with digital asset management (DAM) tools and help with your marketing online. It provides high-quality, fast on-demand printing solutions that will work well with your other tools. There is also a Project Manager that will make it easy for users to keep their projects for commercial printing organized.
For example, you can use the data that you have collected to generate printed materials for your customers. Start a direct mail campaign that features personalized mailers for your customers. You could also opt for mass-produced marketing materials to mail out. The company also offers finishing touches for printed materials, including binding, lamination, die-cutting, and more.
When you are choosing a commercial print company like FuseBox One, always make sure that they have the features and options that you will need whether it is offset printing, digital printing, printing for a specialty product, or anything else.
Resources:
https://www.fuseboxone.com/commercial-printing/
https://martinprinting.com/5-reasons-to-use-a-printing-company/
https://www.embossplus.com/blog/printing-industry/proof-that-print-marketing-is-still-relevant/