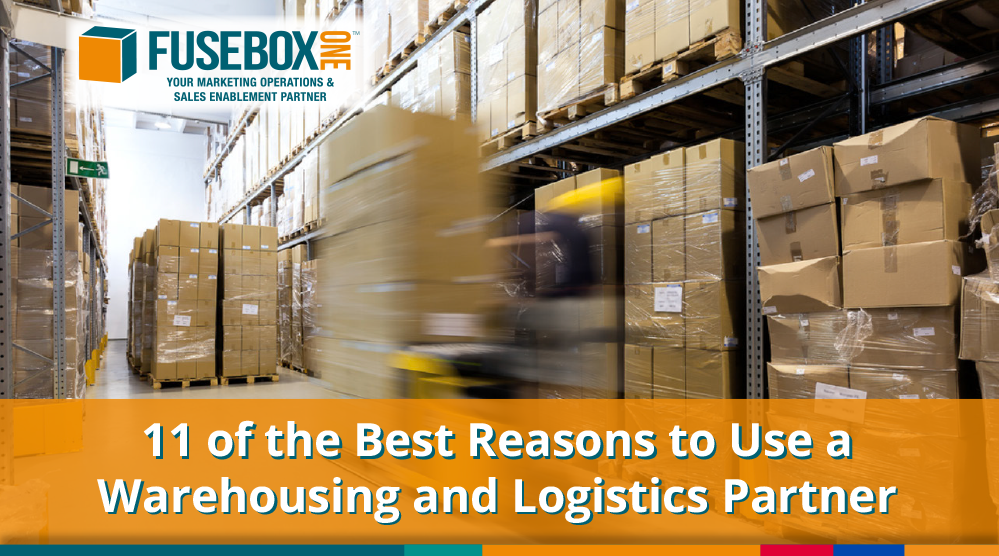 As your company starts to grow, it becomes difficult to keep your stock of products and even marketing materials on-site. You are selling more, which means you need to ship more and continue with your marketing push. Rather than trying to lease a warehouse on your own, you might instead consider working with a warehousing and logistics partner. They can take care of a lot of the work for you.
If you haven't yet considered working with one of these types of companies, consider some of the benefits they provide. Below are some of the top reasons that you should, at the very least, think about using the services of a high-quality warehousing and logistics partner.
Focus on Your Core Competencies
If you had to keep all of your marketing materials and products you ship to customers on-site, it would change the workflow of your company more than you realize. You would be spending time and effort concentrating on what's happening with the warehouse and the items that need to go out. You would have to hire people for the warehouse, for shipping, etc.
This changes the focus of your business somewhat, and it means that you aren't spending as much time as you should on your core competencies. You didn't get into business to run a warehouse. You provide services or create products for your customers, and that's where you should be spending your time and effort.
Don't make the mistake of keeping your warehousing in-house, even if it's just for your marketing materials. It's better to find a warehousing and logistics company that can help with storage, marketing operations, and more. It's time that you got back to your core competencies.
It Can Scale with Your Business Needs
One of the other reasons you'll want to use a warehousing partner is because they will be capable of scaling with your business far more easily than you could do on your own. For example, if you lease a small warehouse now where you store products and materials for your marketing operation, you might have a hard time expanding and growing your business.
If you suddenly have more customers and leads and need more space, it will require you to find a new warehouse to lease that can better accommodate you. This increases the costs, it takes a lot of time, and it's an inconvenience you don't need in your life.
However, when you instead work with a company that has warehousing and logistics as one of their main services, you don't have to worry about scaling. These companies can scale with your business as needed. This is a bigger benefit than you might realize when you are just getting started.
Benefit from the Company's Expertise
You aren't in the business of warehousing, and you aren't a logistics company. You have your specialties, and that is where you should be focusing. Working with a warehousing and logistics company allows you to rely on their expertise in their fields of specialty.
These businesses have a much stronger grasp on how to store various types of products properly and safely. They know how to keep track of the inventory and to move quickly to get products and materials out the door and into the hands of your customers.
They know the carriers, they can get good prices on shipping, they can handle large and small orders, and they simply make life easier for you. As long as you choose a good company for the warehousing and logistics services, you can rely on their expertise.
Save Space
Most companies don't have a lot of extra space. Keeping all of the marketing materials and products that need to be shipped on-site is simply not practical. You would have to set aside a certain portion of your available space for these materials, and this means less space for the actual work your company does.
Most companies like yours will not have the capability or space available for warehousing on-site. Even if you have the space, it will take too much time and effort to transform it into a viable warehousing location. It simply makes more sense to work with a company that can provide you with the space you need.
Save on Costs
Of course, one of the reasons many companies are choosing to work with a warehousing partner is because of the costs. Even though you pay the warehousing company for their services, you will still be saving a substantial amount of money, not to mention time, when you work with one of these businesses.
If you were to try to do the warehousing and shipping on your own, you would not only need to lease space, but you would also need to hire more employees. This would be an ongoing cost that includes salary, benefits, etc. You would also need added space and resources for those employees. Choosing to work with a company that already has everything needed is a smart, cost-effective decision.
The logistics and warehousing partners will also have connections to carriers for sending out products and marketing materials. They can sometimes get better deals than you would be able to get on your own because they ship out in larger quantities.
Improved Security and Safety for Stored Materials
If you were to store your items on-site, how safe would they be? Is there a chance they could become damaged because of a flood, a fire, etc.? Would it be possible for them to be damaged by the other work being done in the area? Some of the products and marketing materials could go missing, as well, if it is shelved in the wrong location.
Working with a warehousing partner ensures that your products are always stored in a safe and secure location. It means that you minimize your risk and will have fewer things to worry about regarding this aspect of your business.
Managed Inventory
If you keep all of your materials on-site, you have to think about managing that inventory. You need to know how much you have of different items at any given time, so you can order more of them if needed. While this is doable for small companies, as soon as you start to grow, it can become untenable.
Quality warehousing and logistics partners can provide you with real-time inventory management and monitoring. This will let you know that your items are being stored safely, and it lets you know what you have available. This way, you can see at a glance if you need to order more.
Picking and Packing Done for You
One of the parts of warehousing that can take up a lot of time is picking the products and packing them. This is especially true with marketing materials when you might need to have several different items put together and then sent off in a single package to a customer. Doing this on your own will take a lot of time and effort.
However, you can benefit from warehousing companies that can handle the picking for you. It's a hands-off solution that will be essential for your fulfillment and shipping needs. Consider how much time you can save when you have others handle this part of the marketing operations for your company. All of that time saved allows your team to focus on the real aspects of their jobs.
No Worry Shipping
Shipping is another area that can take a lot of time for businesses that try to do it on their own. The shipping process is made easier by having the professionals take care of it for you. Be sure to choose a company that offers flexible shipping solutions that can help your marketing operations and product fulfillment needs.
Because of their expertise, the warehousing company can ensure the packages are ready for shipping and are sent to the customers faster than you could do on your own. This benefits your marketing strategy since there won't be any slowdowns, as you might experience if you were trying to do it all on your own.
Accountability
If you are the one who is warehousing your marketing materials and products, you are the one who is accountable in case something goes wrong. This is a lot of added pressure for your business, especially when warehousing isn't your main focus. Many things could potentially go wrong.
When you work with a partner that takes care of your warehousing, the accountability falls to them. They will be responsible for the logistics, ensuring products are stored properly and shipped out on time. Since they have expertise in the field, there's less risk of problems.
The right company won't be afraid of taking responsibility for ensuring your products are stored, and that orders are filled and shipped. They will make it easy for you to track what's happening, so you can always stay on top of this aspect of your sales and marketing operations.
Faster Service
You will find that with many of the warehouse companies that offer logistics services, it will speed up the service your customers can expect. They will often get products faster than they would if you were the one doing the shipping. Many warehousing and logistics companies have preexisting relationships with carriers, as well, which makes working with them easier. You can expect faster and more efficient shipping times, which should make your customers happy.
It may be possible to track products that are being shipped, as well, which will ensure you know where they are at all times, so you can relay this information to customers and clients who might be expecting a package.
Of course, fast service is not always guaranteed when you are working with one of these logistics partners. You need to make sure the company you choose has the experience and knowledge that's needed to keep up with your business's demands. Let's look at some of the other things you need to consider when choosing a warehousing and logistics partner.
Select a Good Warehousing and Logistics Partner
As you can see, there are some great advantages that could be had when you have a warehousing and logistics partner that can help with your marketing operations. Of course, this doesn't mean that you can simply choose any company to handle your needs.
You need to think about the type of warehousing help you will need for starters. What will you be storing there and will your company be growing and expanding? If so, will the warehousing partner be capable of keeping up with those changes?
You should consider where the company is located, what they charge, and all of the various features and services they can provide. You need to be sure the company can meet your needs and exceed your expectations. After all, they have an important role to play. You need to be certain they can handle it.
Many of the warehousing partners will not be able to pick and put together the marketing packages that you want to send out to customers. Companies like FuseBox One can. You will find that FBO also offers a digital project manager as part of its platform. It can keep tabs on the printing projects, provide tracking information, real-time insights, and more. They make printing and shipping the marketing material as easy as possible.
Take the time to explore all of the various features FBO has in addition to warehousing and logistics. They can make the marketing operations at your business far easier to handle, and you can do it all right from a single interface.
Always choose a company that has the technology, knowledge, and know-how that's needed to keep your business running smoothly like FuseBox One. Check out the features and learn more about the interface. Opting for a company that has a single-user sign-on and easy-to-use interface will help make it easier to handle all of the marketing needs your company has regardless of its size.
Resources: https://www.gep.com/blog/mind/6-key-benefits-of-third-party-logistics-3pl-in-supply-chain-management