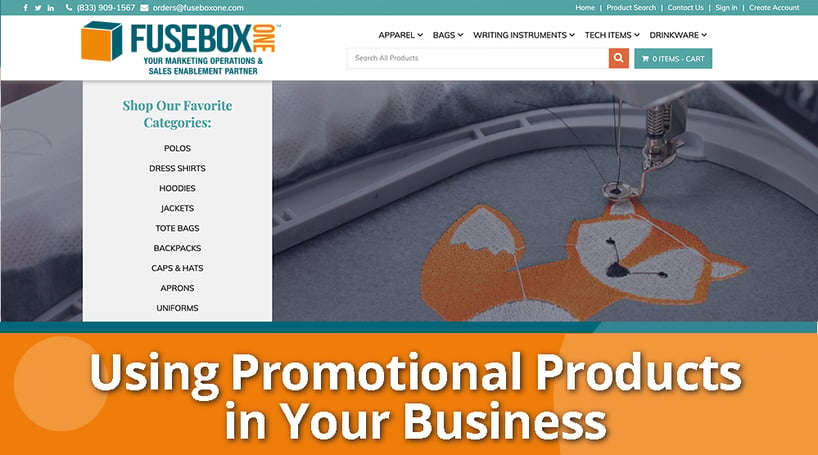 Companies are always looking for ways to promote their business. One of the ways that you can do this is with the use of promotional products that feature your logo, website, phone number, etc. These types of products, which can be given away to customers and potential customers, are a good idea for your business.
Even if you have a small business, you can start to use these products to great effect. Of course, some businesses feel like they are too small to start using promotional items or that the cost would be out of their budget. However, that's not the case. They are more affordable than you might realize, and they can give your brand the boost that it needs. Just about any company will find that using promo items will be a good idea.
Let's get a better look at these types of items, so you can start thinking about how and why you should be using them.
Types of Promotional Products
Today, your logo and information can be printed on just about anything that you can imagine. There is a lot of versatility when it comes to creating items that you can give away to customers, clients, and even your staff. Each of the items is like a little billboard that helps to get your brand more attention.
Of course, you might be wondering just what types of items might be available. Below is a list of some of the promotional products that you might want to consider.
This is a sampling of the types of items that you can use for promotion. When you work with a quality company, they can provide you with your logo and other info printed onto the goods professionally.
What Promotional Products Should you Use?
The answer to this question will vary from one company to the next. In some cases, you might want to have some simple items, such as pens that you can give to customers that visit your store or that come to a booth at a convention. You might want to branch out and provide other fun items that people are likely to keep around, such as a flashlight.
You could give out shirts to your customers, or you could have your staff wear the shirts. There are plenty of ways that you can use promotional items. Think about the types of items that would work for your company, as well as how to best use them.
Promotional Products Offer Many Benefits
When you use promotional products, you are spending money. This is something that scares some companies. They worry that they will be spending too much money on promotional items and that they will not see a good return. Don't worry. When you use promotional products, you are likely to increase your sales and see a nice return on your investment. It can also provide you with other benefits that will help to improve your business.
Below are some of the most commonly cited benefits of using promotional products.
Boost Visibility of the Brand
You want to build strong brand recognition for your company, and this can be difficult to achieve if you are only using online efforts. When you have promotional products, you can put your logo in front of potential customers, as well as other people that see the customer with the item. It helps to get your logo and your company name in front of more people, and it continues to work for as long as they have the promotional item.
When people see your brand more often, they start to see your company with a more favorable opinion. Of course, this is only true if the products are high-quality, which is discussed later. Typically, a person will keep a branded promotional item for up to two years.
Retain Customers
Keeping your current customers is essential for any business. It's easier and cheaper to sell to a customer that you already have than it is to get a new customer. However, you often need to do more than just provide great products and services to your customers. You need to make sure that you stick in their minds and that they have a favorable opinion of your brand. Promotional products are a fantastic way to do this.
Providing some sample products to your most loyal customers can be a great way to help retain them for the years to come. It also serves as a reminder to them to buy from your company.
Generate New Leads
When you give away promotional products, they will serve as a simple but effective method of helping you to generate more leads. If you give out a hundred pens or notepads at an event, some of those recipients will contact your company and buy from you. Even if they don't, they might suggest your company to someone in their life that needs the types of products and services you offer.
Keeps You in the Mind of Your Customers
Promotional products will help you stay in the mind of your customers, even if they haven't bought from you in a while. Whenever they write with a pen that you have given them or take a sip from a branded mug, you will be in their mind. By staying fresh in their mind, the next time they buy they will be more likely to choose your company than the competition.
Competitive Advantage
The uniqueness of promo items means that they will help your brand to stand out from the competition. Not all companies are using these types of products, so when you are using them, you can get a competitive advantage. You are providing people with a tangible item that is associated with your brand whether they have bought from you or not. This can help you to develop a stronger bond with these individuals, and they are more likely to buy from you rather than one of your competitors.
It's Cost-Effective
Using promotional products can give you a good and affordable means of advertising. When you order a lot of an item, you can get them for a low price. It's often cheaper than using other types of advertising, but it can provide you with some great returns. In many cases, people will give the items to friends or family, which means you are essentially getting additional "impressions" for each of the items that you give away.
When you compare it to other types of advertising, such as TV or online commercials, magazine ads, or radio ads, you will find that promotional products give you more for your money—and they keep on giving.
Many Types of Products Available
You will find that there are many different types of products from which you can choose for your promotional items. It might be nice to have a variety of product options available for your giveaways and employees, but you don't need to go overboard at first. Choose a couple and see how they work for you, and then expand your horizons and try out some of the others.
Download Our Promotional Products Quick Guide
Using the Specialty Products for Your Business
As you can see, there are plenty of benefits to using promotional products as part of your marketing operations & sales enablement. Of course, if you have never used them before, you might be wondering how and when you should use them to the best effect.
How Should You Use Promotional Products?
Ideally, you will be able to choose products that are good reflections of your business. For example, if you run a gym or you sell health products, providing yoga pants might be a good idea. Think about the products that are available and see which of them would work well for your type of business.
Of course, this is not always possible, so don't be constrained by that thinking. There might not be products that are perfect reflections of your business, and that's okay. In those cases, you will want to focus on getting items that will be useful to just about everyone. Think about the types of items that most people will appreciate. This could include technology, backpacks, hats, etc.
When you are using promo products for marketing, you can take things a step further by making them personal. This doesn't mean that the products should contain the recipient's name, of course—that would be impossible when you have a large number of products. What it does mean is that you should do your best to have the items personally handed to the recipients whenever possible.
If you are giving them away at a convention, you or your employees should hand them to the people who come to the table rather than just having them spread out as freebies. This provides more of a personal touch, and it gives you the opportunity to open up a dialogue with the visitors.
In cases where you send out promotional items to your customers, clients, vendors, etc., you can and should send along a personalized letter. Thank them for working with your company and for the loyalty they have shown to your brand. When you can personalize the interactions like this, it can help to build your relationship with the customer.
When Should You Use Promotional Products?
This is another commonly asked question. You can use them in many different situations. Check out a few of these below.
One of the most common is when you have a sponsored event. If you are running a booth at a convention or trade show, at a local event in your city, or an event at your brick-and-mortar store, make sure that you have plenty of products to give away to those who visit. Make sure that you have some extra that you can give away to those who work the event, even if they aren't part of your company. Remember, these products are all about promotion.
You could also use them for a contest either in person or online. The promotional products, along with a discount on the next purchase, can be a good way to get people more interested in your company.
Those who are taking part in the contest are likely to promote your company, as will the winners. This is a cost-effective way of getting your brand in front of more people. Social media contests tend to be very good at this. Whenever you are creating a contest, though, make sure to check the rules on the site to see what is and is not allowed.
Promotional products also work quite well as rewards. These could be rewards that you provide to your customers, for example. If they are a loyal customer, consider sending them one or two nice promo products as a thank you. You could do the same for employees at your business. Getting a nice phone charger, for example, is a great way to show appreciation.
Quality Is Essential for Promotional Items
One of the mistakes that some companies make when they start using promotional products is seeking out the cheapest manufacturers possible. Naturally, you want to save money, but the cost of good quality items is not as expensive as some think. The problems with poor quality items, though, can affect your brand.
If you were to buy promotional pens that all leak or that don't write, for example, it would be a bad reflection on your brand. Even though you were not the one that manufactured the pens, the customers who receive them might not know this. Even if they are aware, they may subconsciously equate your brand with something that doesn't work well.
The same would be true if you bought cheap water bottles that leaked, flashlights that don't work, or shirts that fall apart after the first wash. You also don't want to have logos that easily wear away. After all, they are supposed to be promoting your company. When you are looking for a company to manufacture your promotional items, you need to think about the quality of what's being offered.
Choose the Right Company to Make Your Promotional Items
When choosing your company for the promotional items, see what other services and features they can provide. They might also provide help with things like commercial print services, direct mail, and even digital asset management. When you can get multiple services through a single company, it will reduce the number of vendors that you need to work with for your marketing. You can get everything you need through a single platform.
It is important that you choose a company that can provide professional quality printing, as mentioned above. You also need to choose a company that makes the creation and customization as easy as possible. You should be able to use assets that you already have, such as your logo. Ideally, they will allow for customization if needed, as well as simply inputting text if that is all you need.
Take the time to explore the features and options of the company you are considering before you make your decision. Check out the products they offer, contact them, and get a quote.
Resources:
https://www.candbmarketing.com/benefits-of-promotional-products#:~:text=Promotional%20products%20bring%20strong%20client,People%20like%20receiving%20gifts
https://kintechinc.com/8-benefits-of-promotional-items-for-business-branding/